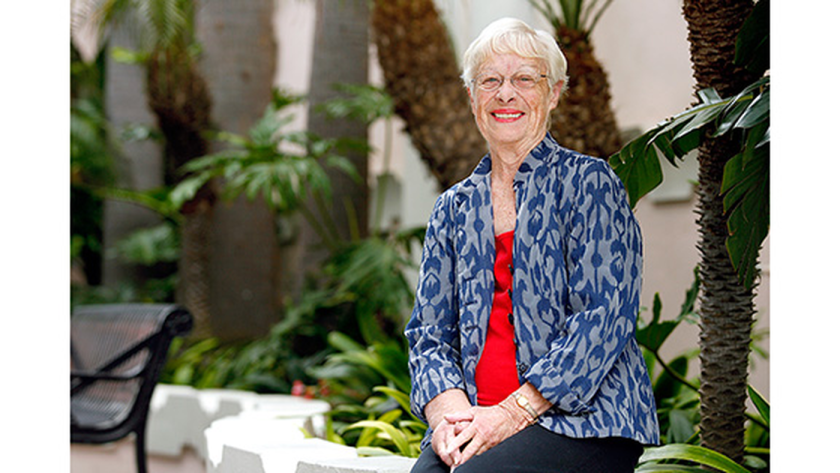 The Newport-Mesa Unified School District has renamed the courtyard outside its boardroom in honor of trustee Judy Franco, who is retiring after 38 years on the school board.
The Judith A. Franco Patio Courtyard — formerly the Education Center Patio Courtyard — was formally retitled at last week's board meeting after a request by board President Vicki Snell.
Snell submitted a form for the name change in October, along with a letter of support from PTA member Suzanne Gauntlett.
"Judy Franco is a legend in our district," Gauntlett wrote in her letter. "She has mentored numerous parent leaders and students … and along the way provided sage and prudent advice in so many matters."
Franco has been active on all levels of the PTA, helped launch the Youth and Government independent study program and led the establishment of sailing as an official sport in the district.
According to trustee Dana Black, Franco has been instrumental in upholding Newport-Mesa's reputation through many challenges, including an embezzlement case against former finance officer Stephen Wagner and controversies surrounding a Mariners Elementary School Gold Ribbon Award application and the transition from Swun Math to new materials.
"She has a really good finger on the pulse of what's going on in the community," Black said. "Since I started on the board, I was so impressed with her knowledge, her expertise and her governance. She doesn't just talk off the top of her head … and she doesn't always agree — she's a tough cookie."
Franco, 81, began in Newport-Mesa as a teacher and later became PTA president at Newport Elementary School before being appointed to the district board in 1980 and elected soon after. She represents Area 5, which includes Newport Elementary, Newport Harbor High and Ensign Intermediate schools.
She has earned several PTA honorary service awards, including two Golden Oak awards for significant contributions to the district and community.
She said she promised her husband she wouldn't run for another board term this year so they wouldn't have to schedule trips around board meetings. She will complete her time as a trustee next month.
The board last week held a private dedication ceremony for the courtyard, which is outside the district office at 2985 Bear St. in Costa Mesa. A public reception honoring Franco and fellow retiring trustee Walt Davenport will be held before Monday's board meeting.
Twitter @CharityNLindsey
---