Newport councilman uses city email to encourage residents to vote colleagues out of office over city manager flap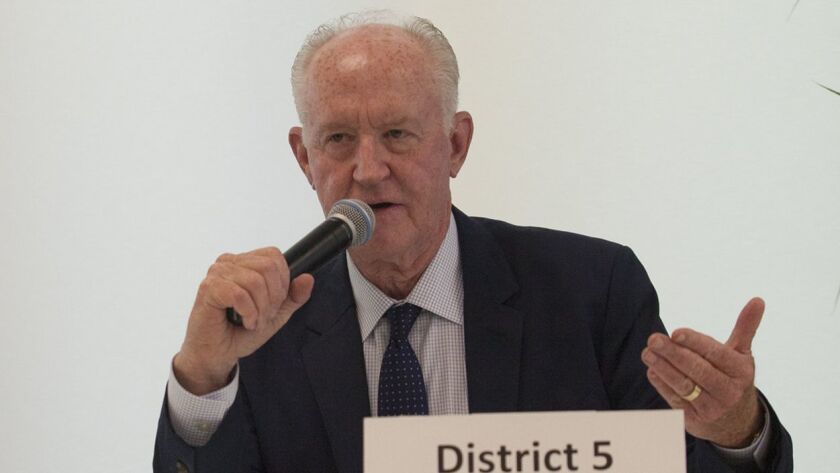 Newport Beach City Councilman Jeff Herdman might have run afoul of state campaign regulations when he used his city email account to explicitly advocate for the election defeat of council colleagues who he and others believe forced City Manager Dave Kiff out of his job.
In several emails between Herdman and constituents last month, the first-term Balboa Island councilman responded to people upset about Kiff's impending departure by saying that a majority of the seven-member council — Kevin Muldoon, Scott Peotter, Mayor Pro Tem Will O'Neill and Mayor Marshall "Duffy" Duffield — conspired to achieve a long-term goal of ridding the city of Kiff, who has served as the top administrative official for nine years. As a consequence, he said, voters should choose the challengers lined up against Muldoon, Peotter and Duffield when the three are up for reelection in November. O'Neill's seat is up for election in 2020.
The Daily Pilot obtained the emails Friday through a public records request.
Since Kiff announced his departure in March, Newport Beach council meetings have been fraught with accusations of collusion among a cabal meeting secretly. Last month, Councilwoman Diane Dixon blasted O'Neill and Duffield in particular, accusing them of "ambushing" Kiff.
The four accused council members have denied the allegations of a conspiracy.
But Herdman's emails, written around the time of Dixon's comments, hold firm to the assertion.
"The rumors are completely accurate!" he wrote in one message using the account jherdman@newportbeachca.gov. "Voting Muldoon, Duffy and Peotter out of office in [November] is the only solution to rid our city of these dishonest and self-serving council members."
California Government Code 8314 bans elected local officials from using public resources for campaign activities.
Herdman declined to comment Friday.
In response to someone who wrote that her "regard for the council has totally eroded," Herdman said in another email that "this is a perfect example of why Peotter, Muldoon and Duffield should be voted out of office in November."
He called the council members' actions regarding Kiff "a very deceitful and illegal act!"
To a woman who asked the council to find a way to keep Kiff on staff, Herdman told her that his removal was a long-term goal for Peotter, Duffield and Muldoon.
"I hope you will express your extreme dissatisfaction by voting them out of office this November. The firing of probably the most outstanding city manager in the country (illegally) must have consequences. Please vote for Joy Brenner and Tim Stoaks!"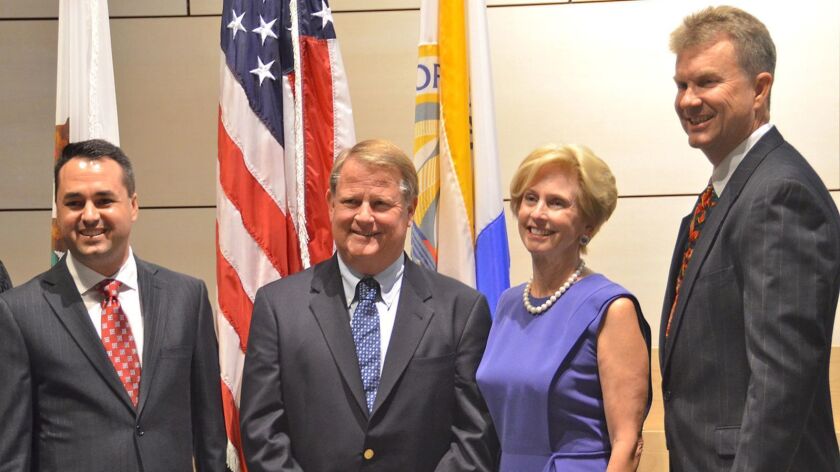 To a woman who, in addition to being upset about Kiff, was frustrated because she said Duffield had not responded to her requests for a neighborhood traffic study, Herdman wrote:
"He cares nothing about his constituents. I have had to step in several times to help out his constituents. Come to a council meeting and request the study during 'public comments.' Don't reelect him in November. If you want a responsible councilman for your district, vote for Tim Stoaks."
In another email, he called Peotter a liar.
"Just read Peotter's response to you on Dave Kiff's alleged retirement. Let me assure you that Peotter knows all of the details surrounding the departure. He is outright lying to you. Dave is being forced out by the council majority. He has no intention of retiring. This is a perfect example of why Peotter should have been recalled. That failed, so vote him out of office in November!"
Herdman has been at odds with Peotter before. In 2015, before Herdman was elected to the council the following year, he alleged several municipal code and Political Reform Act violations against Peotter related to his 2014 campaign fundraising.
Peotter said Friday that council members are going to disagree with one another. But he said Herdman is wrong about Peotter having any prior knowledge of Kiff's departure.
"Obviously he shouldn't be using government resources to campaign," Peotter said. "But I look forward to a spirited debate in the election on issues."
Muldoon declined to comment.
Duffield said he was shocked by Herdman's comments, saying Herdman has been nonconfrontational and respectful in person.
Duffield said he is disappointed with the current discord toward and within the council.
"I don't see the need," he said. "We all love Newport Beach. … I'm just hoping it all calms down and we move forward. Right now it's not fun. Not fun at all."
Twitter: @Daily_PilotHD
---
All the latest on Orange County from Orange County.
Get our free TimesOC newsletter.
You may occasionally receive promotional content from the Daily Pilot.