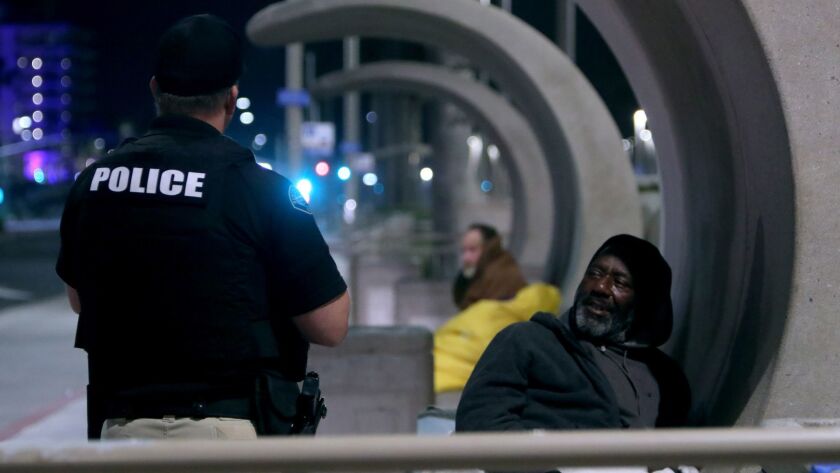 As Huntington Beach faces increasing pressure to create a homeless shelter, the City Council took stock of the issue this week with input from public safety officials, city staff members and a representative of a nonprofit that manages a shelter for the city of Santa Ana.
A presentation Monday led by Assistant City Manager Lori Ann Farrell during a study session on homelessness highlighted the city's early efforts in 2013, when the Police Department tried providing supplemental assistance to about 150 homeless people.
Now, under pressure from U.S. District Judge David Carter, who has been pushing Orange County cities to provide emergency or transitional shelter beds, Huntington Beach is ramping up its efforts to help the local homeless population by creating a 75- to 90-bed shelter. During a special meeting Thursday, the City Council will consider buying an 11,200-square-foot structure at 15311 Pipeline Lane.
Farrell told the council Monday that any proposed homeless shelter site would have challenges.
"No site is desirable; no site is perfect," she said.
City Attorney Michael Gates and Police Chief Robert Handy indicated during the three-hour meeting that Huntington Beach may be better off creating a shelter, despite pushback from several community members who believe it would harm their quality of life.
A 2017 ruling by the U.S. 9th Circuit Court of Appeals found it unconstitutional to prosecute homeless people for sleeping on public property when they don't have an alternative. If the city is unable to enforce its anti-camping laws, Handy said, it will "lose the only tools we currently have."
A Huntington Beach-based shelter also may prevent legal action against the city. Gates said there is chatter indicating that cities and private plaintiffs are looking to sue Huntington Beach to compel it to provide shelter — a strategy used by homeless advocates in other parts of the county.
A group of supporters of the proposed shelter site urged the council to be courageous and take action.
When Councilwoman Jill Hardy asked the Police Department's homeless liaison officers how a shelter would affect their outreach, Officer Gabe Ricci said it could help by providing emergency housing. In some instances, Ricci said, locations aren't open or accessible in the middle of the night when officers are trying to house homeless people.
Elizabeth Andrade, chief operations director for Mercy House, a nonprofit that provides housing and services for the homeless, said, "We have not seen a shelter that has not been able to meet the needs."
Mayor Erik Peterson asked what would happen if the city provided 50 beds but used only 20. He said he didn't want organizations to bring in homeless people from other cities to fill the rest of the beds. He also wanted to know whether a shelter would lower property values.
Andrade said that if the city wants to admit only Huntington Beach residents to the shelter, that should be outlined in the management operations plan.
Andrade manages the Link, a Santa Ana-based shelter that serves homeless men, women and families and provides support services to help connect them with permanent housing. She told the council that her team takes several approaches to ensure the Link doesn't have negative effects on the community. She said staff members survey the area for trash and make themselves accessible to neighboring businesses.
If homeless people loiter in the area, Andrade said, staff tries to take them to the shelter on a shuttle or otherwise move them. She said there hasn't been an increase in loitering since the shelter opened in November.
---