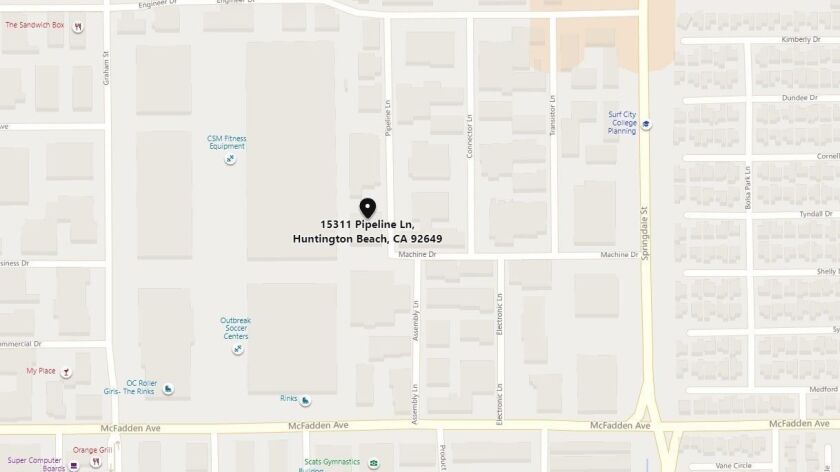 Huntington Beach City Manager Fred Wilson said Thursday that the city needs more time to finalize a plan to buy a warehouse building near Springdale Street and McFadden Avenue and turn it into a 75- to 90-bed homeless shelter.
The City Council was scheduled to vote at its next meeting Monday on whether to purchase the 11,200-square-foot structure at 15311 Pipeline Lane, a light industrial area about two blocks from Marina High School. Instead, the council plans to vote on the matter in May, according to Wilson. The property, which previously housed small businesses, is listed at $2.6 million.
"We just needed more time to work on details on how to proceed with the purchase," Wilson said, adding that officials are identifying funding sources and exploring partnerships with nonprofits.
A study session on homelessness is still scheduled for 3:30 p.m. Monday, before the council meeting. Wilson said city staff will review "deal points" with council members in a closed session later that day.
With council approval, the shelter would serve prescreened men, women and couples for up to 90 days, though stays could be extended if tenants are awaiting approval for more-permanent housing. Registered sex offenders and people with outstanding felony arrest warrants would be prohibited.
Shelter residents would be driven to and from the fenced site to help reduce loitering, and entry and exit times would be limited, according to a city staff report. Around-the-clock security is planned, and clients would receive healthcare, counseling and job training.
This is the city's second attempt to find a suitable location for a shelter after facing backlash from Marina High parents and school officials who didn't want the city to lease a nearby half-acre property at 5770 Research Drive.
Huntington Beach is under pressure to create a homeless shelter by U.S. District Judge David Carter, who is presiding over a lawsuit filed in January 2018 against Orange County and the cities of Costa Mesa, Anaheim and Orange by homeless advocates who sought to halt the removal of an encampment along the Santa Ana River trail.
Huntington Beach hasn't been sued, but Wilson has said the city had been scrambling to find a suitable shelter site since March, when Carter requested that representatives of all Orange County cities attend a hearing earlier this month to report any updates on emergency or transitional shelter sites.
Wilson said Thursday that a Huntington Beach partnership with Westminster, the county and American Family Housing, a nonprofit that provides housing and other services to the homeless, to expand two shelters in unincorporated Midway City is "still on the table" but that progress has "slowed down quite a bit."
That project — which would add 55 beds to the shelters, which currently have 20 — hit a standstill because of zoning and financial issues.
"It wouldn't replace this project," Wilson said. "It'd be a supplement."
---