'Technical error' blamed for 1,079 privileged attorney-inmate phone calls being recorded in O.C. since 2015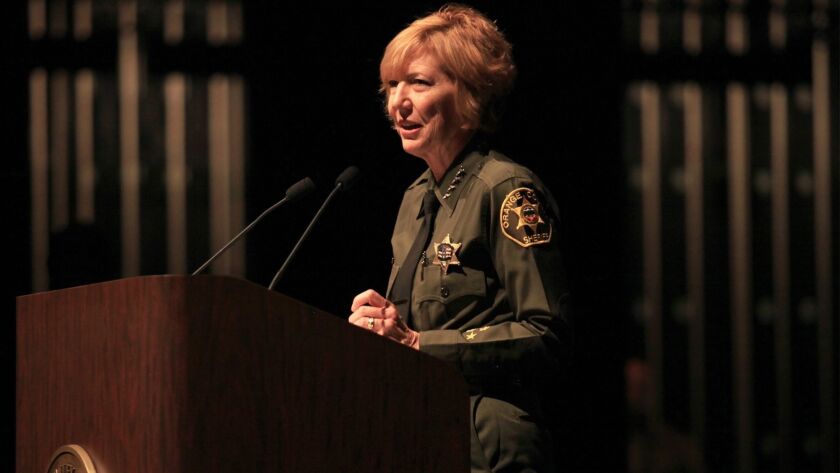 An Orange County Sheriff's Department employee revealed this week during a court hearing that the department improperly recorded more than 1,000 privileged phone calls between county jail inmates and their attorneys over a three-year period.
An employee with Global Tel Link Corp., a contractor that oversees the jail phone system, wrote in a July 27 letter to Sheriff Sandra Hutchens — obtained by the Daily Pilot on Thursday — that an update in the company's system in January 2015 caused "a technical error" that led to 1,079 such phone calls being recorded, in violation of state law.
"After conducting research, we have determined that the Sheriff's Department staff, and in certain circumstances [Global Tel Link] for investigative or technical purposes, accessed 58 of those 1,079 recorded calls a total of 87 times," Darren Wallace, executive vice president of operations for Global Tel Link, wrote in the letter.
The company corrected the error in July and is no longer recording attorney-client phone calls, Global Tel Link and Sheriff's Department officials said.
The information came to light Monday when Greg Boston, director of inmate services for the county, testified about it in a court hearing in the attempted-murder case of Joshua Waring, son of former "Real Housewives of Orange County" cast member Lauri Peterson.
Waring's defense attorney, Joel Garson, has been digging into allegations that law enforcement monitored and shared Waring's phone calls in Orange County Jail while he was representing himself in his criminal case. Garson is trying to have the case against Waring dismissed on grounds of outrageous governmental conduct.
It isn't clear whether any of Waring's phone calls were improperly recorded and accessed when he had an attorney.
Waring, 29, is facing three counts of attempted murder and other felony and misdemeanor charges in connection with a shooting at a former sober-living home in Costa Mesa in June 2016. He could face multiple life sentences if convicted.
Garson said the Global Tel Link breach could cause convictions or charges to be dismissed in dozens of serious criminal cases, including murder and gang-related offenses.
"All of those cases are in jeopardy," Garson said. "Since we know it's only serious cases that law enforcement is bothering to listen to phone calls about, there's a good chance the majority of them are serious cases."
Senior Deputy District Atty. Cynthia Nichols, the prosecutor in Waring's case, became aware of the issue during Boston's testimony Monday in Orange County Superior Court.
Nichols asked him during the hearing whether the Sheriff's Department has made any effort to contact the district attorney or defense attorneys whose phone numbers and client communications were compromised.
"Not to my knowledge," Boston responded.
Hutchens said in a statement Thursday that she is "deeply disappointed that this technical glitch by [Global Tel Link] occurred" and is "concerned about the serious consequences it may bring."
"Although each call was prefaced with a warning that calls were 'subject to monitoring and recording,' we know that these calls never should have been recorded by [Global Tel Link]," Hutchens wrote, adding that Sheriff's Department staff directed the company to fix the issue when it was discovered in June.
"We rely on many third-party vendors to provide vital services to our department," Hutchens wrote. "It is my expectation that the vendors comply with the requirements of the contracts they agree to and that they meet the requirements of those contracts."
Hutchens wrote that she plans to ask the county Office of Independent Review to investigate the issue.
Orange County district attorney's office spokeswoman Michelle Van Der Linden said Thursday that "it is our understanding that the Orange County Sheriff's Department is looking into the matter further to better understand the scope of the issue and will be providing more detail to the court."
"We will review that information and any impacts it may have," she said, adding that the district attorney's office is "committed to taking any and all appropriate discovery-related actions on all impacted cases, depending on the information received from the Orange County Sheriff's Department."
It isn't clear which of the 58 accessed phone calls were listened to by sheriff's officials or burned to disks at the request of police agencies to aid in their investigations. That information likely will be gleaned at future court hearings, Garson said.
"It's been going on for three years," he said. "Someone along the line in law enforcement should have realized and thought 'Why did we get this on tape?' and notified the Sheriff's Department that something was wrong with their phone system. It's hard to believe that nobody knew."
Twitter: @HannahFryTCN
---
UPDATES:
4:25 p.m.: This article was updated with comments from Sheriff Sandra Hutchens.
This article was originally published at 3:05 p.m.
---
All the latest on Orange County from Orange County.
Get our free TimesOC newsletter.
You may occasionally receive promotional content from the Daily Pilot.