Jesse Jackson describes 'struggle for the soul of America' during UC Irvine discussion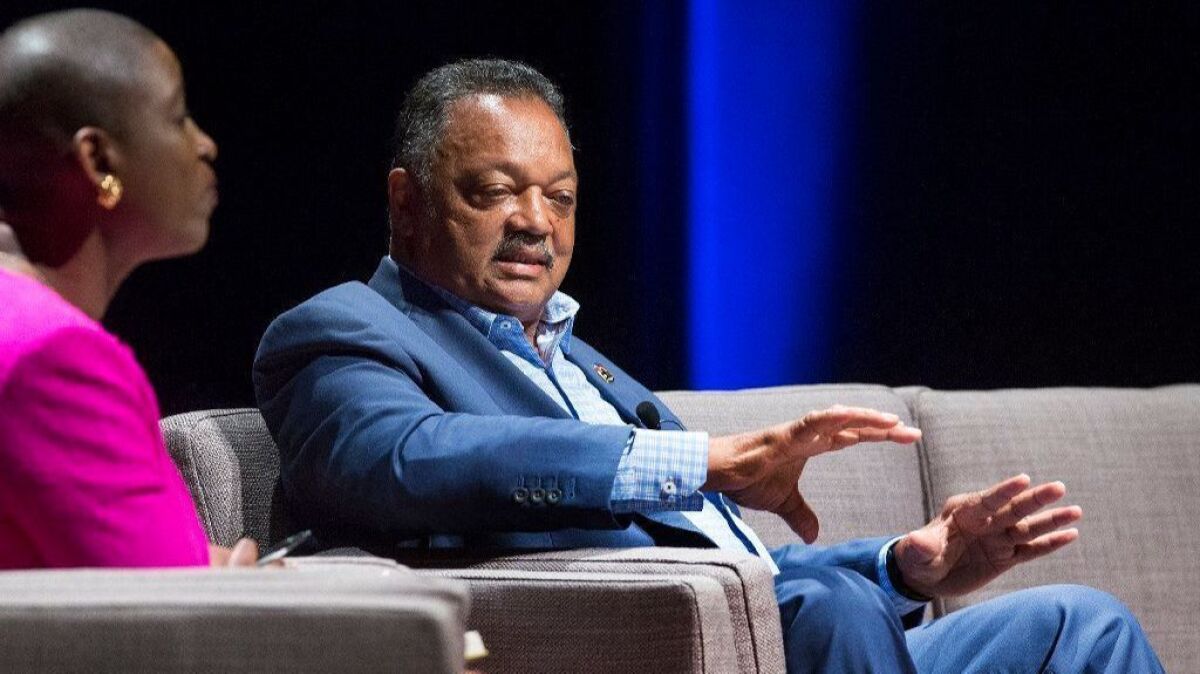 The Rev. Jesse Jackson gave a wide-ranging talk at UC Irvine on Friday before an audience that celebrated the civil-rights leader's efforts of more than five decades.
Jackson, 75, spoke on the Irvine Barclay Theatre stage alongside Hillel Cohn, rabbi emeritus at Congregation Emanu El in San Bernardino. UCI law professor Michele Goodwin led the event, dubbed "Charlottesville: A Defining Moment in America."
Though the title suggested Jackson would speak about current events — such as the Aug. 12 white supremacist rally in Charlottesville, Va., that turned into violence — Goodwin often asked him to recall his own past and his experiences alongside civil-rights luminaries such as Martin Luther King Jr. and Rosa Parks.
Goodwin noted that after the assassination of King in 1968, Jackson became a more prominent figure.
"You were at the forefront of our nation's healing," she said.
Goodwin asked Jackson to explain his previous statements that America is "the best it has ever been."
Jackson replied that the country is better now than in the 20th century and slavery-ridden centuries before it. Lynching blacks and Jews is no longer tolerated, he said. The military is desegregated, women and minorities have voting rights and Jim Crow laws have been abolished, he added.
"We brought those barriers down," Jackson said.
There are "bad outcomes" in today's society, "but we have checks and balances," he added.
"There's a struggle today for the soul of America. … We've come too far to concede," he said. "We are better than what we were. We are better than what we're born in."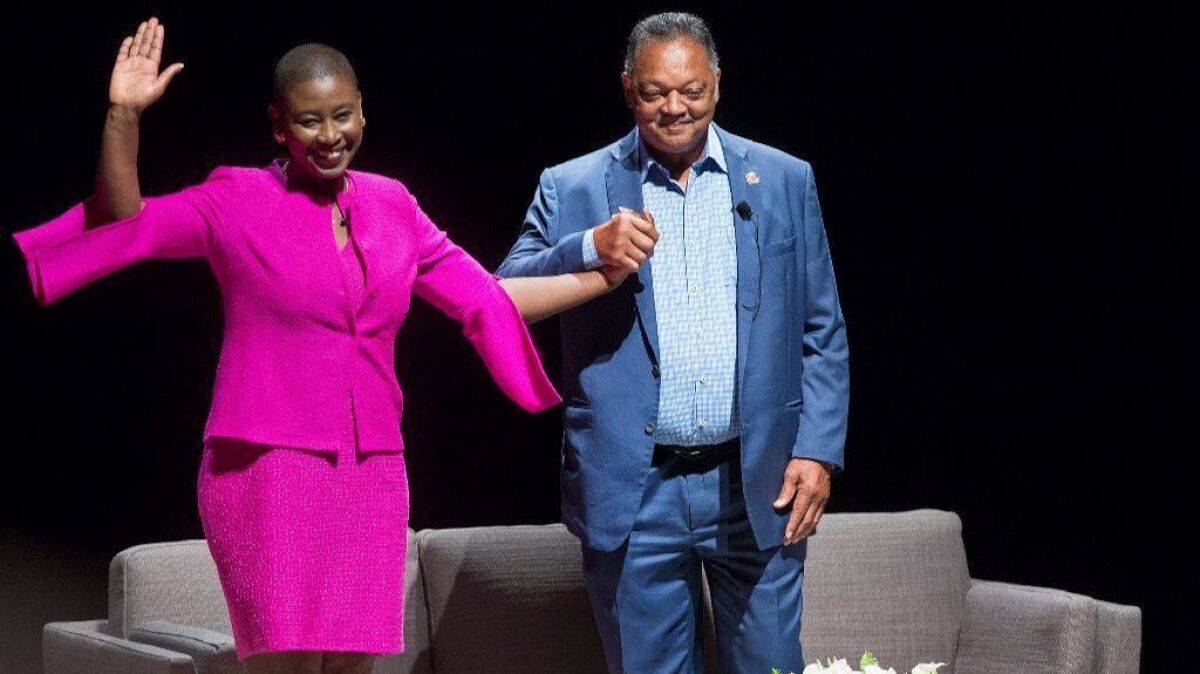 Jackson consistently spread a message that all human life matters and that good can be found everywhere.
"God alone distributes genius," he said. "He distributes genius all over town. No one has the monopoly on genius. … We must believe that every human being can be redeemed."
Jackson also took moments to lament the November election loss of Democratic presidential candidate Hillary Clinton — "No one's ever won by 3 million votes and lost" — the woes of widespread credit card and student loan debt, global warming and President Trump's proposal to build a wall between the United States and Mexico.
When asked if it's better to ignore far-right rhetoric that promotes white supremacy — under the theory that giving bigotry any attention further magnifies it — he disagreed.
"Sometimes silence is betrayal," Jackson said. "Sometimes silence is consent. If they show up with 10 [at a rally], we show up with 10,000. That's a statement."
He called the death of Heather Heyer, who was killed when a driver plowed a car into a crowd of counterprotesters at the Charlottesville rally, "innocent blood" that even "made the president shake."
"We can win the war, but we must show up to fight," Jackson said.
Twitter: @BradleyZint
All the latest on Orange County from Orange County.
Get our free TimesOC newsletter.
You may occasionally receive promotional content from the Daily Pilot.