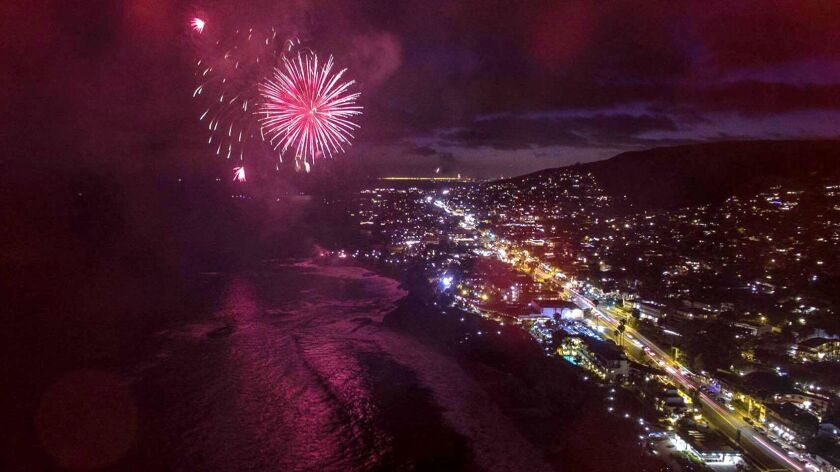 Orange County will celebrate Independence Day from morning till night Thursday — and even a day or two early.
Public fireworks shows are plenty, but if you're thinking of firing up your own, be aware that they may be banned or restricted in your area.

Here's information on that and about things to do locally:
Costa Mesa
Independence Day Community Celebration
The free city-run event will run from 5 to 11 p.m. Wednesday, a day before the Fourth, at the OC Fair & Event Center, 88 Fair Drive.
It includes bike decorating, games and other activities, prizes, live music, eating contests — burritos and ribs are on the menu — and a low-noise, pet-friendly pyrotechnics show at 9 p.m. U.S. Rep. Harley Rouda (D-Laguna Beach) is expected to attend.
Picnics are welcome; bring lawn chairs and blankets. But glass containers, hard-sided coolers and outside alcohol are prohibited.
The Heroes Hall veterans museum and Centennial Farm will be open, with free admission.
Pacific Symphony's July 4 Spectacular
The fairgrounds gets another celebration Thursday with a Pacific Symphony show at the Pacific Amphitheatre. The music starts at 8 p.m. with performances by the symphony and Hotel California, an Eagles tribute band. The evening will include a traditional salute to the U.S. armed forces and a fireworks finale.
Tickets start at $25 for adults and $12.50 for children younger than 14. Gates open at 6 p.m.
Private fireworks
Consumers can buy and use fireworks in Costa Mesa, but with restrictions. Only fireworks with the "safe and sane" logo can be used, and only from 4 to 10 p.m. Tuesday through Thursday. They can be purchased at stands throughout town between 10 a.m. and 10 p.m. Sunday through Wednesday and 9 a.m. to 9 p.m. Thursday. All other fireworks are illegal. To report illegal fireworks, call (714) 754-5252.
Fountain Valley
Senior Center lunch
The Center at Founders Village Senior and Community Center will host an early Independence Day luncheon at 11:30 a.m. Tuesday for people 55 and older. Tickets are $7 and are available at the center's front desk at 17967 Bushard St.
Private fireworks
Personal fireworks possession and use are illegal in Fountain Valley.
Huntington Beach
Block party
Surf City's Fourth of July festivities begin Wednesday with a block party called "The Bash" at Fifth Street and Pacific Coast Highway. The party, which runs from 6 to 9 p.m., will feature live music by the Ramsey Brothers Band, food, skateboarding demonstrations and appearances by local nonprofits and Miss Huntington Beach.
KTLA-TV/5 anchor Lynette Romero is the special guest and Matt Liffreing will emcee.
Pier Plaza Festival
The Pier Plaza Festival runs Thursday through Saturday with live entertainment from 10 a.m. to 9 p.m. daily near the Huntington Beach Pier.
July 4 events
Breakfast: The Kiwanis Club will help kick off the day with a pancake breakfast from 7 to 10 a.m. at Lake Park at 11th and Main streets.
Walk/run: The Surf City Run at Worthy Park at 17th and Main streets will feature several events, including a fitness expo from 6 to 11 a.m., a 5K run/walk for Huntington Beach residents at 7 a.m., an open run/walk beginning at 8 a.m., a 5K stroller run at 8:15 a.m. and kids' mile and half-mile runs at 9. Registration ranges from $20 to $40. For more information, visit surfcityrun.com.
Parade: The city's annual parade — often described as the largest Independence Day parade west of the Mississippi River — starts at 10 a.m. and goes along Main Street from Pacific Coast Highway to Yorktown Avenue. The parade features local bands, dignitaries, floats, film and television personalities and community groups. Visitors can begin staking out a spot along the parade route after 7 a.m. Wednesday. Viewing from the street is free, though guests can buy tickets for bleacher seats at hb4thofjuly.org.
Fireworks: A free public fireworks show will begin at 9 p.m. at the Huntington Beach Pier.
Private fireworks
"Safe and sane" fireworks will be available for purchase at stands throughout Huntington Beach from noon to 10 p.m. Monday through Wednesday and 10 a.m. to 9 p.m. Thursday. They can be used only from noon to 10 p.m. on the Fourth of July.
Laguna Beach
Fireworks
Laguna's public fireworks show will go off at about 9 p.m. Thursday at Monument Point in Heisler Park, 375 Cliff Drive. Monument Point will be closed all day. Other parts of the park will close at 5 p.m.
Skyloft restaurantat 422 S. Coast Hwy. is selling $50 tickets to reserve seating on its roof deck to watch the fireworks show. General admission is $25 for standing room.
Also, the Emerald Bay Homeowners Assn. holds a private fireworks display over the bay.
City shuttles will run on a modified schedule for Fourth festivities. The Canyon Route will run from 8:30 a.m. to 10 p.m. and the Coastal Route from 9:30 a.m. to 10 p.m. No neighborhood routes will be available.
Private fireworks
Personal fireworks are not allowed in Laguna Beach.
Newport Beach
July 4 events
Newport Dunes: The waterfront resort at 1131 Back Bay Drive will offer a full day of activities, food and music starting at 8 a.m. The lineup includes carnival games, food trucks, a full bar, live DJs, and tribute bands playing hits by Journey, Santana and Creedence Clearwater Revival. A fireworks show will start at 9 p.m. Admission is free, but onsite parking is $50 to $100.
Bike parade and festival: The annual family-friendly Newport Peninsula Bike Parade and Community Festival kicks off at 9 a.m. with a bicycle and dog parade on Balboa Boulevard from 36th Street to Channel Place Park. A free festival awaits from 9:30 to 11:30 a.m. with carnival games, giant slides, bounce houses, arts and crafts and food. Decorated bikes, scooters, wagons and strollers are welcome in the parade. Dogs must be on leashes.
Mariners Park: Another neighborhood parade will light up the area around Mariners Park starting at 10:30 a.m. at the corner of Commodore and Mariners Drive. Fun and games benefiting the Mariners Foundation will run from 11 a.m. to 1:30 p.m. at the park, 1300 Irvine Ave. Wristbands are $15 each ($10 for toddlers) and can be purchased at the event or in advance at mesf.schoolauction.net/july4th2019.
Boat parade: On the water, the Old Glory Boat Parade will feature vessels decked out in their patriotic best starting at 1 p.m. off Collins Island. The parade is sponsored by the American Legion Yacht Club and American Legion Post 291.
Flyover: In the air, the Condor Squadron Officer's and Airmen's Assn. will fly AT-6's over the coast between Huntington Beach and San Clemente. The flyover is expected to pass over Newport Beach between 5:35 and 5:40 p.m.
Private fireworks
Personal fireworks possession and use are illegal in Newport Beach.
---