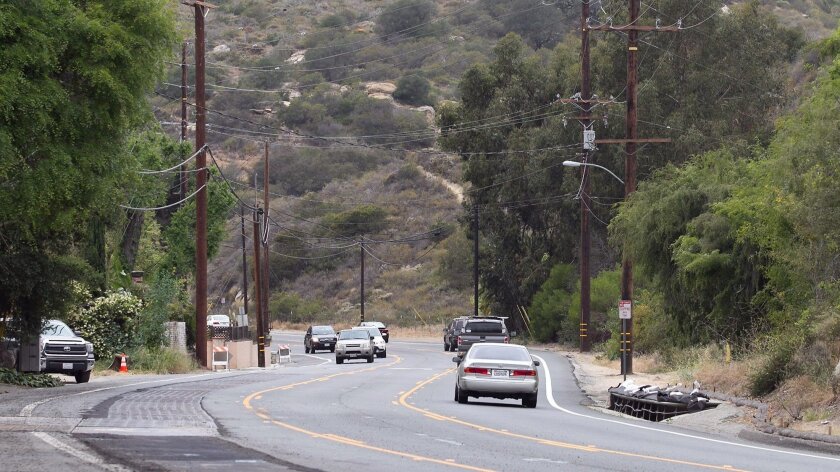 For Laguna Beach residents, the future of Laguna Canyon Road is getting more confusing.
In late May, the City Council began taking steps to put a sales tax measure on the November ballot to help pay as much as $135 million to place utilities underground along the state-operated route and other key roads.
But weeks after the council's move, Laguna residents received notice of another undergrounding effort for Laguna Canyon Road, this time from the California Department of Transportation.
People wondered how the Caltrans project differed from the city's and why the city's effort involved asking for a tax increase and Caltrans' didn't.
This week, city and state officials sought to clear up the confusion.
The projects are separate, with separate funding sources and different, though similar, goals.
The city proposes burying overhead power lines on Laguna Canyon Road between Laguna Canyon Frontage Road, near the Art-A-Fair property, and El Toro Road. If the tax measure succeeds, construction would begin in four to five years, according to Wade Brown, the city's undergrounding program manager.
Caltrans' project starts just before El Toro Road, where the city's ends, and goes north to the 73 toll road. It includes undergrounding 19 utility poles and widening some road shoulders around El Toro and adding bike lanes.
Unlike the city project, it would be paid for by the state and Orange County, bearing no costs to Laguna residents or visitors.
State officials say their project is needed to make the road safer and install drainage improvements designed to prevent short-term flooding that often occurs after heavy rains.
Officials estimate the state project costing $40 million and starting in early 2021 and ending by mid-2023.
On Tuesday, city officials announced their concerns with the plan, which they will submit in writing for the project's environmental impact report. The Laguna Canyon Foundation also has expressed apprehension.
City Manager John Pietig told the City Council on Tuesday that the project has been more than 10 years in the making. He said the city believes there has been insufficient analysis of the effort's potential impact on Laguna Coast Wilderness Park and the area's riparian habitats. City Hall also is worried about the construction's effect on traffic, since Laguna Canyon Road is the city's primary inland thoroughfare, Pietig said.
In a June 18 post on the Laguna Canyon Foundation website, Executive Director Hallie Jones called the project's environmental, visual and fiscal effects "severe and irresponsible."
Jones said the plan would include removing mature oak trees and would make exiting the Willow Canyon Road parking lot onto Laguna Canyon Road more treacherous than it already is.
The city undergrounding plan also has detractors who are critical of the cost as well as increasing the local sales tax rate from 7.75% to 8.75%. However, advocates say it is needed to improve public safety by eliminating the possibility of power lines falling and causing fires.
Caltrans is accepting comments on its project until 5 p.m. July 10. They can be emailed to D12.SR133@dot.ca.gov or mailed to Edward Dolan, associate environmental planner, California Department of Transportation, District 12, Division of Environmental Analysis, 1750 E. Fourth St., Santa Ana, CA 92705.
State officials say that unless they receive "major objections," they will proceed with the project's design.
Bradley Zint is a contributor to Times Community News.
---
UPDATES:
11:25 a.m. July 2: This article was updated with Wade Brown's comment about the possible construction timeline for the city project.
This article was originally published at 11:20 a.m. June 29.
---