Laguna Beach prepares for large projects and moves to ban new short-term rentals in residential zones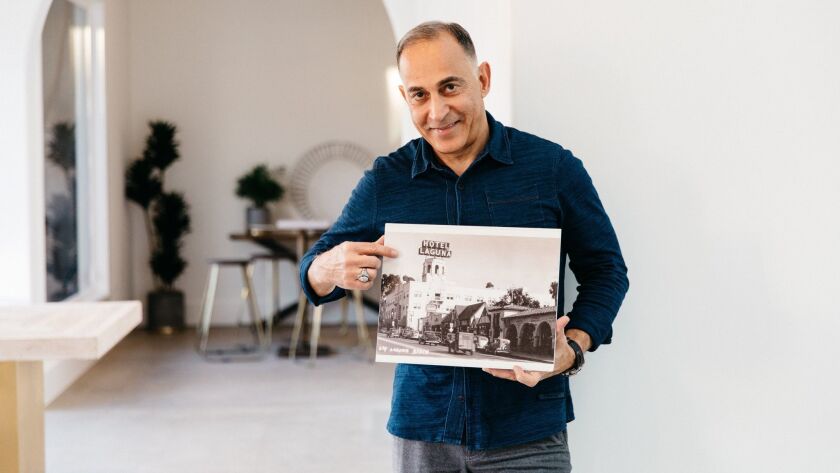 With a half-dozen large-scale developments on the horizon for Laguna Beach, the City Council approved several measures this week intended to keep the review process running smoothly.
The measures approved Tuesday lay the groundwork for local real estate investor Mo Honarkar, who is developing several hotels and community spaces around the city, including his recently acquired Hotel Laguna. Several of Honarkar's developments are expected to go up for city review in the coming year.
"The whole purpose of this process is to get the city properly staffed with experts who have done this before, who understand the process, who know how to extract public benefits for the community," Mayor Bob Whalen said. "That's exactly what it's about. It's looking at the long-term costs and looking at the public benefits you can get out of it."
The council unanimously approved setting up a subcommittee with Whalen, Councilwoman Sue Kempf and three people hired as consultants to help with negotiations, legal issues and economic evaluations of the proposals. The subcommittee will work with city staff for a year to analyze the projects, identify possible public benefits and negotiate.
The group also may work out a development agreement with Honarkar to determine the order of the projects and agree on the final layouts.
No matter how the projects turn out, the council's vote sets up a system so Honarkar pays all costs the city incurs while processing his projects.
The council has taken several steps in recent months designed to improve the community development and review processes after hearing complaints from community members and in anticipation of Honarkar's projects. City Manager John Pietig said the slew of proposals would pile on top of normal staff work in the Community Development Department if the city didn't prepare adequately.
"All those different things still need to be done in addition to these potential development applications," Pietig said. "Putting together a team helps give us additional expertise and bandwidth to respond to applications in a prudent, prompt and careful manner."
Several residents said having two council members in the negotiating group could sway other council members' decisions once recommendations go to the full council. Some said other community members should be on the panel.
"I'm assuming that everybody has certain strong feelings about this project and so it's going to be very difficult to pick ... people who don't have preset ideas," local artist Karen Schwager said, referring to council members. "The other thing I'm really concerned about is transparency. The idea that we have citizens participating in this community would really, really help that aspect."
Council members said the negotiations would stay private, but the council voted to add provisions that the subcommittee would establish opportunities for public input and regularly report to the council.
"You cannot do negotiating and get a good result if everything is going to be viewed by the public," said Mayor Pro Tem Steve Dicterow. "Things are said, words are used, candidness is not obtained if it's going to be subject to the light of day during the negotiation. … It's what comes out of it that matters, it's what comes to us to vote on that matters, and that's where there will be full disclosure and full public input."
Short-term lodging
On a 3-2 vote, the council moved ahead Tuesday with an ordinance to change its short-term lodging regulations to prohibit the rental units in residential neighborhoods while expanding the potential for them in commercial areas.
Under the amended ordinance, nearly 40 people legally operating short-term rentals in residential areas could continue to operate, but no new rentals could crop up in residential zones.
Amendments also would increase penalties for residents who violate the ordinance and would place new responsibilities on short-term rental platforms such as Airbnb to help enforce the rules. Since 2016, the city has processed 82 complaint-driven code enforcement issues with short-term rentals and started more than 500 investigations into potential problems, said Community Development Director Greg Pfost.
Dicterow and Councilman Peter Blake cast the dissenting votes, calling for allowing more residents to offer the temporary lodging but with tighter restrictions.
"I'd like to see some more restrictions removed from people that they can actually exercise their property rights," said Blake, who added that he often uses short-term rentals when he travels. "I'd also like to make sure that it's restricted in a way that the neighborhoods are quiet."
Resident Ronnie Rogers said he benefits from managing renters at his cottage in a residential zone.
"As long as you have [the transient occupancy tax] and owners have firm rules, which they do, it works, it works great," Rogers said. "These people get to stay in places they would not otherwise, that they come to Laguna for."
The ordinance amendments will return to the council for a second reading and then go to the California Coastal Commission for final approval.
---
All the latest on Orange County from Orange County.
Get our free TimesOC newsletter.
You may occasionally receive promotional content from the Daily Pilot.