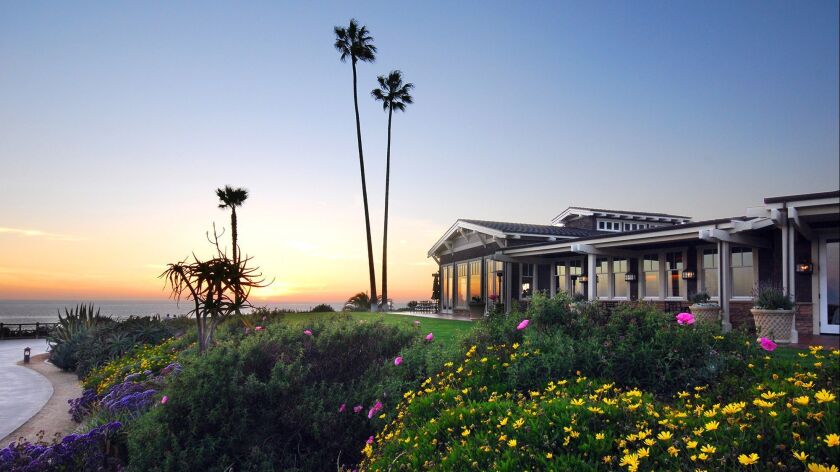 When the Montage Laguna Beach unveiled renovations this month, one color pervaded the resort's updated facilities: green. Not in the creamy white guestrooms or nautical-inspired lobby but in the environmentally conscious details.
During the recent upgrades, the hotel sought to remove all plastic from bedrooms. Toothbrushes are bamboo, bathroom supplies are wrapped in sugar cane cardboard and slippers are couched in linen bags rather than plastic.
The shampoo bottles are made from biodegradable plastic that decomposes in less than 14 years, said Anne Marie Houston, Montage's general manager.
Thanks to a food composting program, recyclable packaging and biodegradable food containers, 84% of waste at the Montage is diverted away from landfills, she added.
"It's a day-to-day activity and something that we constantly embrace," Houston said. "We constantly question ourselves on how our environment can be better."
The hotel focused on sourcing many of its amenities locally, including baby food manufactured by Los Angeles-based Yumi and candles in every room handcrafted by Laguna Candles.
"We are obviously in an artists' cavern, so we have many, many artists in our local neighborhood," Houston said. "What we really wanted to do is not get caught up in the traditional hotel corporate mentality. We wanted to go out and look at what the individual companies and small businesses are doing."
The Montage also partners with Clean the World, an organization that recycles hotel soap and redistributes it to developing countries, and Tenfold Harvest, a firm that designed an urban farm for the hotel restaurant.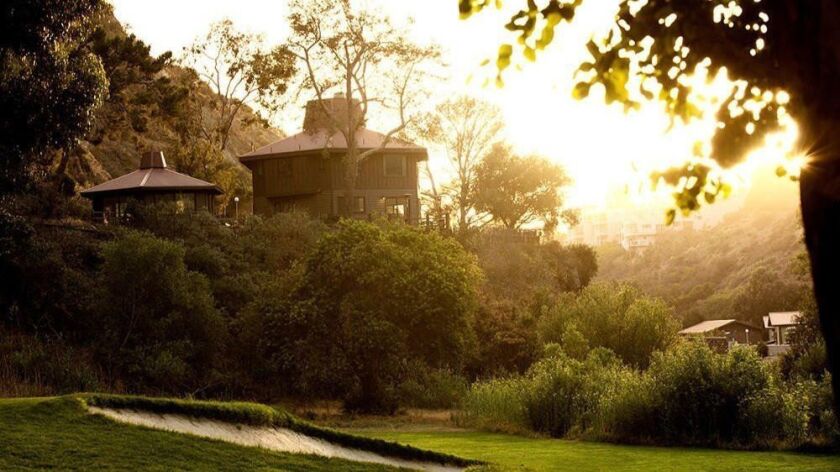 Down South Coast Highway and around the corner, the Ranch at Laguna Beach has joined its neighbor in boasting several sustainability efforts.
When rain pounded the region this winter, eroding much of south Orange County's shore and concerning environmentalists, the resort next to Aliso Creek simply flipped the switch on its glass crushing machine. The Ranch refilled its golf course bunkers with sand ground from used glass bottles.
The Ranch is the only hotel in California — and one of the first in the United States — to use the glass crusher for its own property, said Fred Phillips, founder and president of Quipworks, which made the glass bottle crusher.
"It takes a million years for that to turn back into sand," Phillips said. "We can do it in about a second and a half."
Besides the glass sand bunkers, the golf course's turf is fed with reclaimed water. In its first year, the environmentally friendly irrigation system saved more than 20 million gallons of water, said Kurt Bjorkman, the Ranch's general manager.
For both the Ranch and the Montage, reducing waste goes hand-in-hand with promoting a high-end, modern business.
"It's not difficult to do some of these things," Bjorkman said. "We're finding that most travelers … almost expect that to be the case now."
In November, the Ranch traded in its plastic key cards for biodegradable bamboo chips. Christina McGoldrick, the Ranch's public relations representative, said a plastic card typically lasts for about three guests before the strip wears down and it must be thrown away.
The switch to bamboo is keeping 25,000 plastic keys out of landfills, McGoldrick said. Most guests return them to the hotel's front desk, and those that end up in the trash degrade into the soil, she said.
"Everything that comes through our property is connected to the ocean and so it's a very — I don't want to sound weird — but it's a spiritual place," Bjorkman said. "This is really something special to take care of."
When the Ranch officially opened in 2016, Bjorkman said, management was intent on becoming a National Geographic Unique Lodge of the World, a designation reserved for hotels that demonstrate a connection to community and protection of surrounding nature. After a 2,500-question application and vetting process, the Ranch achieved the recognition in 2017.
"They really do push the envelope to try to eliminate as much waste as they can, and they're really driving to eliminate all single-use plastic at the property," McGoldrick said of Ranch officials.
Sustainable luxury does come with a price tag. The Montage offers a standard one-bed room for $995 a night and a villa for up to $7,500. A springtime one-night stay at the Ranch ranges from $250 to $1,500, depending on whether guests choose the Canyon Room or the deluxe Treehouse Suite with a bird's-eye view of the canyon property.
"For us, it comes down to just doing the right thing at the end of the day," Bjorkman said.
---