At Laguna art college's 'Fab Lab,' the future of 3-D design is now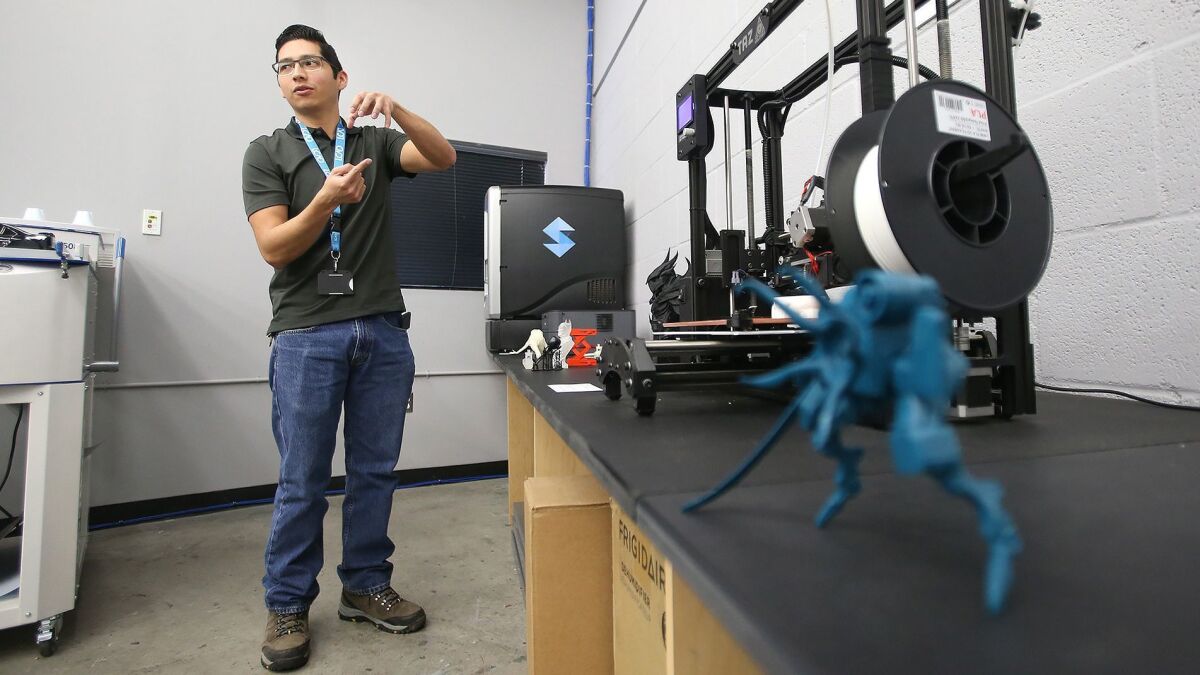 Students at Laguna College of Art + Design can now learn to make sculptures — and clone them.
One sculpture of a dancer, her arm flung away from her arched back, was first a clay form. A student uploaded an image of the figure using a 3-D scanner, then re-created it with a 3-D printer. In a few hours, one sculpture became two.
"We are in the future," said Hugo Hernandez, manager and operations technician for the Laguna Beach college's new Fabrication Laboratory, or "Fab Lab."
The Fab Lab opened midway through the fall semester and is now running full steam, with two 3-D printers, a 3-D scanner, a vacuum former, a laser cutter and a few fully stocked work benches to inspire students to create.
Hernandez helps students take their 3-D designs on computer and bring them to life using the machines in the Fab Lab. One game-design student needed a character for a Dungeons & Dragons-like board game he was inventing for class. He uploaded a design and 3-D-printed a green game piece about 6 inches tall, complete with a sword.
Another student wanted to create material for a national packaging competition. Using a vacuum forming machine, Hernandez and the student carved a mold of a bottle carrier out of a thin sheet of plastic.
"I want them to be able to make whatever they want," Hernandez said.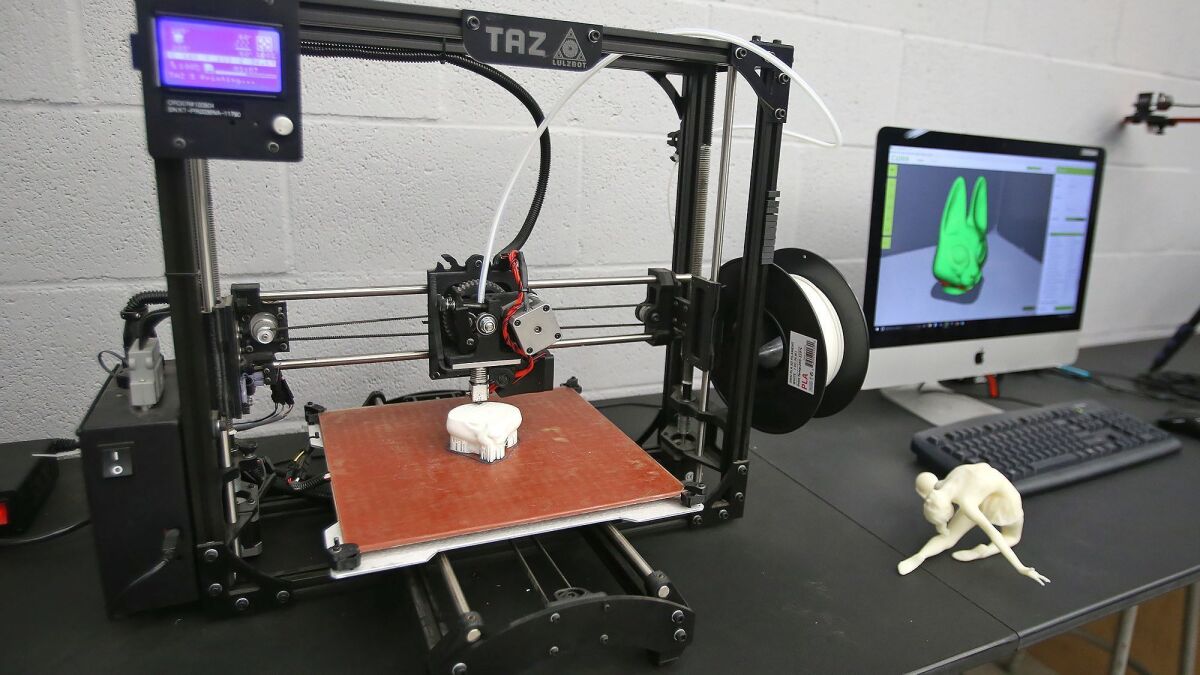 Alexis Resenbeck, a junior studying entertainment design, most recently used the Fab Lab to print a series of animal puppets. She said she was relieved to use the printer so she wouldn't have to whittle puppets.
"I've done them by hand and it's not a lot of fun to cut a lot of tiny pieces," Resenbeck said. "But if I could get a machine to do it, that would be great!"
She designed a serval — a type of African wild cat — on 3-D design software in four or five hours, she said. She then printed a copy on one of the lab's 3-D printers in an additional five hours.
"It's fascinating, are you kidding?" said the 20-year-old from San Diego. "The fact that I can just have it after and decide the weight and stuff, the color and everything — it's fascinating. … It's a whole new medium."
For Christmas, she used the laser cutter to create an ornament honoring her family's dog that had died. Up next, she plans to use the Fab Lab to create a miniature restaurant set for a class project. When she graduates, she hopes to take the skills she's learned at LCAD and the Fab Lab and create miniature movie sets and figures.
"If you have a movie and have a monster in a movie, I would make the small version of the monster," she said. "I do want to build [with] these machines in the future, because it saves hours upon hours of time."
Freshmen who major in graphic design and digital media are required to take courses that involve projects in the Fab Lab. LCAD's dean of innovation, Catharin Eure, said working with physical materials helps students step out of a "perfect digital world" and think in a new way. A digital mistake can be easily fixed by changing a pixel, Eure said. Having a flaw in the design of a physical object is "a very different experience."
"Making is thinking and is very valuable to the creative process," Eure said. "It gives you different perspective in a very digital age."
Hernandez said he wants to encourage students to bring personal projects and play with their ideas. In addition to the 3-D printers, he hopes to bring a sewing machine to the lab to entice people who are interested in cosplay.
"If I don't give them … as many examples as I can, they kind of just stay in the lane that they think they can use it in," Hernandez said. "They don't know that they can experiment."
Hernandez learned his way around the machines as a student at Mount San Antonio College in Walnut, where he earned an associate degree in engineering design, and at Cal State Los Angeles, where he graduated with a bachelor's degree in industrial technology. He said he is happy to be working at LCAD, where he can bring together his technical skills with creativity.
For Halloween last year, Hernandez used machines from the Fab Lab to make chocolate candies modeled on his own head. He first scanned his head with a handheld 3-D scanner wand. Then he printed out two halves of his head on a 3-D printer and, using the vacuum forming machine, made molds where he poured melted chocolate. He decorated the faces with fake blood icing. Then he ate one and admittedly "felt a little weird."
"It was fun," he said, laughing. "Halloween was coming up and I just wanted to make something. I didn't know exactly what."
Last summer, LCAD opened an Extended Reality Design Studio to support students in the entertainment design bachelor's program, which began in 2017. The studio includes a green screen, video editing tools and a dedicated area for "complete immersion in a virtual world," according to a news release.
Eure, founder of the XRD program, said the new facilities are just "another extension of a history" for the college's track record on innovation. She noted that LCAD was the first campus in the nation to have all wireless laptops.
"We're taking students' futures and educational dollars and, in four years, the world changes vastly," she said. "We're really committed to [being] relevant, because it's our history."
All the latest on Orange County from Orange County.
Get our free TimesOC newsletter.
You may occasionally receive promotional content from the Daily Pilot.