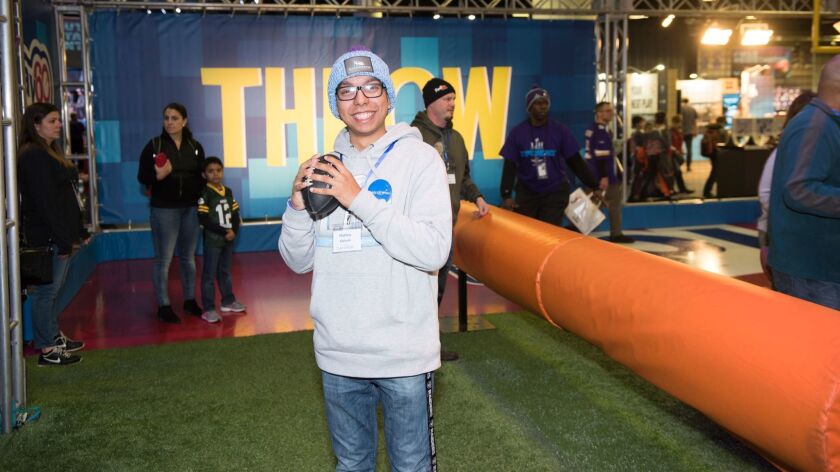 When Super Bowl LII kicked off last weekend, it wasn't just the start of a football game — it was a wish come true for a young Costa Mesa man.
A few years ago, it might have seemed farfetched to think Matthew Kaiyum would be among the full-throated crowd Sunday at U.S. Bank Stadium in Minneapolis.
Kaiyum was diagnosed with leukemia in 2014. At one point, his treatment was so intense that it became almost daily.
It would have been easy to get discouraged, to let the disease take control of his life. Kaiyum, though, had a major partner in his corner — his sister, Fareen, with whom he lives in Costa Mesa's Westside.
"When you live with a sister like mine, she doesn't let it faze you whatsoever, so I just kind of lived my own life," he said.
On Wednesday, Kaiyum celebrated his 20th birthday in the afterglow of the trip of a lifetime, courtesy of Make-A-Wish Orange County and the Inland Empire.
Make-A-Wish and the Los Angeles Chargers, whose headquarters are in Costa Mesa, partnered to give Kaiyum tickets to this year's big game and cover travel costs for him, his sister, his brother-in-law and his father. The journey fulfilled a wish Kaiyum made a few years earlier.
He received two tickets directly from Casey Hayward, a Pro Bowl cornerback for the Chargers.
As the team's nominee for the Walter Payton Man of the Year Award — an annual honor that recognizes an NFL player for making a positive impact in his community — Hayward received a pair of Super Bowl tickets to donate as he wished.
Hayward, whose mother lost her battle with breast cancer in 2016, gave them to Kaiyum.
"I hope he really enjoys this moment, because a lot of people don't get to go to the Super Bowl," Hayward said in an interview with Chargers.com. "Those tickets are pretty expensive!"
Before Kaiyum left for Minnesota, he went on a tour of the Hoag Performance Center — the Chargers' headquarters and practice facility — met members of the team and got some signed swag.
That caused a bit of envy among some of his family members who are Chargers fans, Kaiyum said, especially since he roots for the rival Oakland Raiders.
Kaiyum and his family left for Minnesota last Thursday. The days before the game were a whirlwind of activity and included a welcome reception, the Super Bowl Experience — an assortment of interactive activities featuring NFL players — and a trip to the Mall of America in Bloomington, outside Minneapolis.
Then Kaiyum received some happy news. Originally, he was going to attend the Super Bowl with his brother-in-law while his sister and father watched elsewhere. Instead, a Make-A-Wish representative told him they would be going to the game too.
All four settled into their seats Sunday to watch the Philadelphia Eagles defeat the New England Patriots, 41-33.
"That was an intense game; it was back-and-forth the entire time," Kaiyum said. "It was one of those games where you're on the edge of your seat until the last second."
Kaiyum was one of 14 people Make-A-Wish and its partners sent to the game this year.
"Time and time again, we see these wishes help kids replace fear with confidence, sadness with joy and anxiety with strength," Stephanie McCormick, president and chief executive of Make-A-Wish Orange County and the Inland Empire, said in a statement last week. "Attending Super Bowl LII will be a truly life-changing experience for Matthew and his family that they will draw inspiration from long after the confetti falls at the end of the game."
Kaiyum said he's currently cancer-free, though he still goes through regular check-ups. He's in his second year of studying computer science at Orange Coast College in Costa Mesa.
Reflecting on the Super Bowl trip, Kaiyum said he was taken aback by "just how much Make-A-Wish did."
"I was going on this trip expecting, 'Here's your ticket; we'll take you to the game, have fun,'" he said. "But it was an experience beyond experiences."
Twitter @LukeMMoney
---