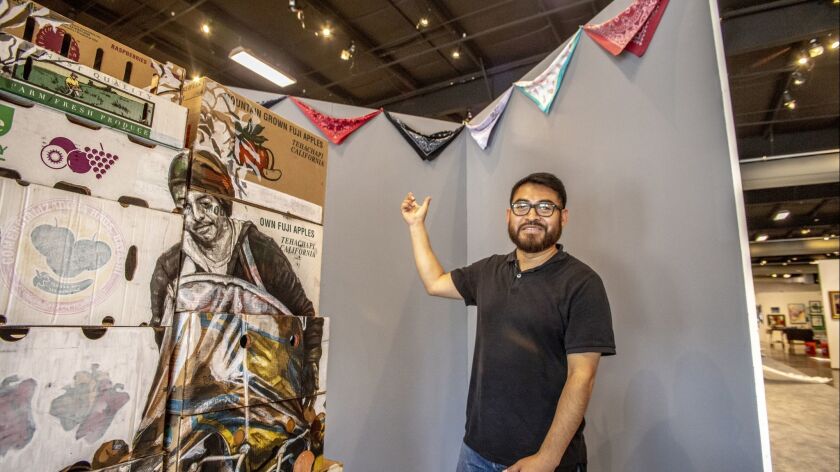 Toiling in the fields is in Narsiso Martinez's bones.
From harvesting corn on his childhood farm in Oaxaca, Mexico, to picking asparagus to pay himself through college, Martinez has spent years working the earth.
This summer, he is again dedicated to farm work, but this time not in the fields. As the featured artist for the 2019 Orange County Fair, Martinez is bringing the fruits of his labor to Costa Mesa — life-size images of farm workers, drawn on produce boxes.
Bandannas, commonly used by farm workers to protect their faces from dust and pesticides, are strung at the top of a display.
"His [artwork] just fit perfectly," said Stephen Anderson, visual arts supervisor for the fair, whose theme this year is "Acres of Fun." "He's really just honoring people he knows doing their daily work … to present to people that are distanced from knowing where your food source is from or even the politics that have come up with it."
"For me, the people are very important," Martinez said, "especially in these times that we're living, where immigrants are seen as bad people. My goal right now is just to paint farm workers, hopefully life-size, so they can be highlighted as someone who is important when it comes to contributing to the economy and the communities."
Martinez, 41, grew up in a small farming community with no bed and a homemade toilet fashioned from concrete and a toilet seat. His family ate whatever it was able to harvest during the year.
"If there was no rain, then there was no crops," he said. "It was just really hard."
His parents paid the bus fare to send him to school in a nearby town, since his hometown served only through sixth grade. But Martinez was never very good at school and flunked out halfway through 10th grade.
While academics didn't appeal to him, he loved to draw. Sometimes at home he picked up a pencil and drew portraits of his family members or neighbors in black and white, since colored pencils were too expensive.
"To me, it was like, 'Oh, I'm good at something,'" he said. "It felt good."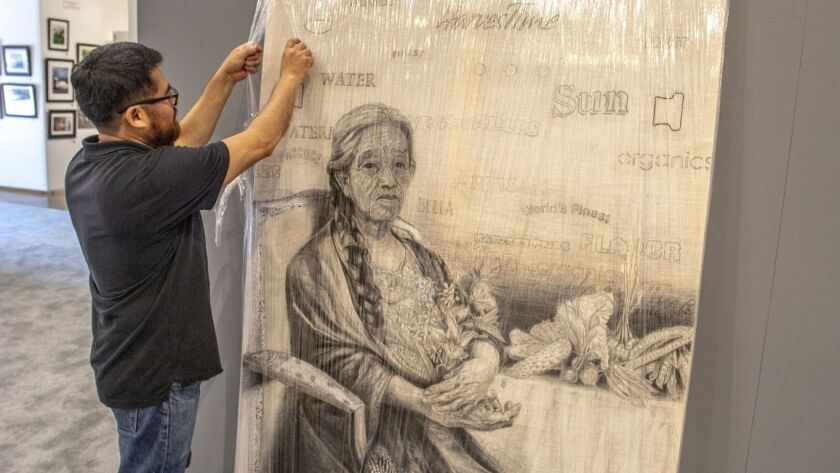 The highlight of every year was an annual fair honoring the community's patron, La Santa Cruz. Much like the one in Orange County, his hometown fair was filled with dancing, food, rides and a rodeo.
"Every year, we have to [go]," Martinez said. "Like, there's nothing else but to go to the fair. Even if you don't have money, you'd just be there."
Many locals who had moved to the United States took a trip home for the occasion. Seeing their new lifestyles and how they could afford Levi's clothing or Nike shoes inspired the young Martinez to want to move to the U.S.
"'I can't wait to be 18 to go to El Norte,'" Martinez remembers thinking as a child.
His wish was granted at age 20. He moved to California and took on a medley of jobs changing tires, busing tables and sorting produce at a warehouse.
When he wasn't working or studying, Martinez kept at his art, drawing portraits of celebrities from photographs he found. He also developed a fondness for Vincent van Gogh's landscapes and portraits.
"It might sound like a cliché, but I saw something familiar," Martinez said. "These huts and old people — it just reminded me of my hometown. I thought maybe I can paint stuff like this."
He earned his high school diploma at age 29 and went to Los Angeles City College before enrolling in a drawing and painting program at Cal State Long Beach.
To pay for college, he went back to the fields, picking asparagus on a commercial farm in Washington state alongside his brother, Crispin Cruz Martinez. For about $300 per week, Martinez spent his summers bent over the ground, carefully measuring asparagus stalks for the perfect length. If they were too short or too long, they would be thrown out and Martinez would risk missing a day's wage.
"It was either that or nothing," he said.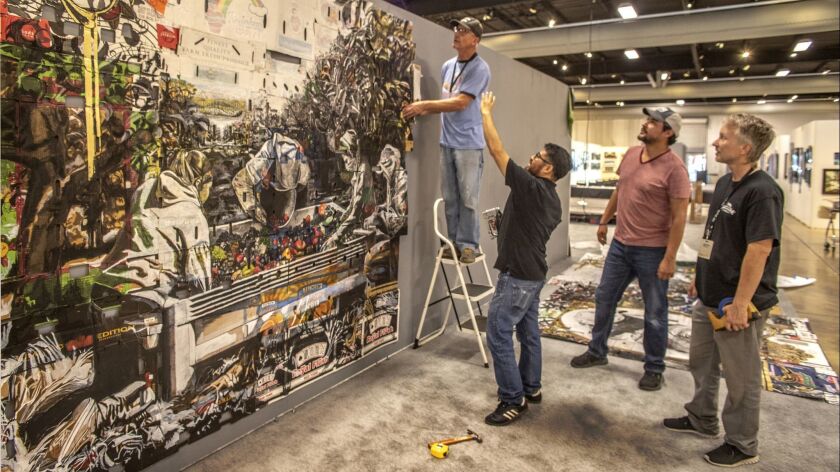 While working in the fields during college and for three years after graduation, Martinez tuned into the stories of his fellow farm workers, like a mother who supported her two children alone after her husband was deported.
Soon, their stories emerged in his artwork. He painted farm workers standing next to businessmen in suits to highlight the juxtaposition of low-wage workers with the multimillion-dollar agriculture industry. After he "fell in love with [a] banana box" from Costco, he turned to produce boxes as his canvases.
Martinez and his brother hope to install a couple of Martinez's pieces at the city hall and library in Mattawa, Wash., to show the grueling reality of farm work.
"Usually in other pictures, you see the people smiling. [Narsiso's pictures] would show the real pain and the real suffering," Cruz Martinez said through the Spanish interpretation of his daughter, Karina Cruz. "It's showing others how the town really is and [that] we do value ourselves; we don't just think of ourselves as farm workers."
Martinez, who now has a master's degree from Cal State Long Beach and a career as a full-time artist, shakes his head, smiling, to remember harvesting beans and drawing cartoon-like portraits as a child.
"I never really thought I could have this future," he said.
Still, farm work is never far from his mind — or his pencil.
IF YOU GO
What: Orange County Fair
Where: OC Fair & Event Center, 88 Fair Drive, Costa Mesa
When: Wednesdays through Sundays through Aug. 11; noon to midnight Wednesdays through Fridays, 11 a.m. to midnight Saturdays and Sundays
Cost: General admission is $12 Wednesdays through Fridays and $14 on weekends. Several specials and discounts are available. For details, visit ocfair.com/oc-fair/discounts.
Information: ocfair.com/oc-fair
---