Man and woman found dead in Newport Beach condo are identified; police conduct homicide investigation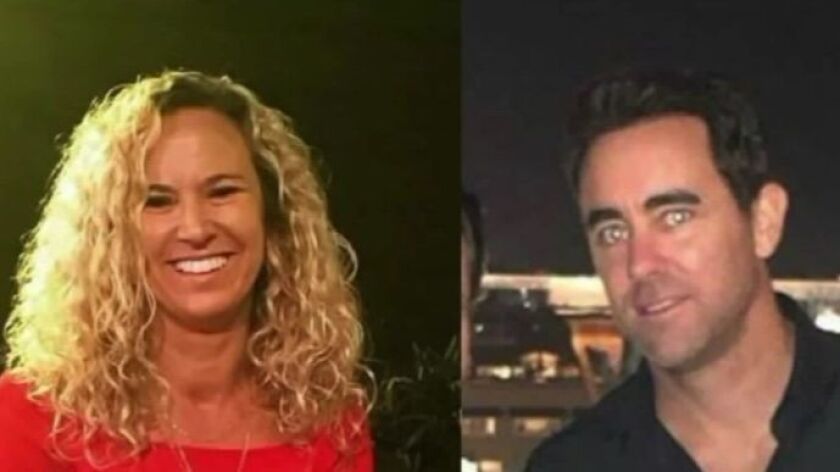 A man and a woman found dead in a condominium near Newport Harbor High School in Newport Beach were identified Monday by the Orange County coroner's office.
The Newport Beach Police Department said it is conducting "an active homicide investigation" after the bodies of Darren Partch, 38, who lived in the residence, and Wendi Miller, 48, of Costa Mesa were found just after 9:30 p.m. Sunday at a complex in the 2100 block of East 15th Street.
Police have not disclosed how the two died or other details of what happened, but Miller's son Luke Carpenter said Monday afternoon on Facebook that his mother had been shot.
Police spokeswoman Heather Rangel said a resident of the condominium arrived home after the Easter holiday weekend to find the bodies of his roommate and a woman who did not live there.
Police said there were no signs of forced entry and that "the activity appears to be confined to this location and investigators have no reason to believe there is an ongoing threat to public safety."
Miller, 48, was chief executive of Wings for Justice, a Newport Beach nonprofit that advocates for children in the family court system. She also was an advocate for people who have experienced domestic violence.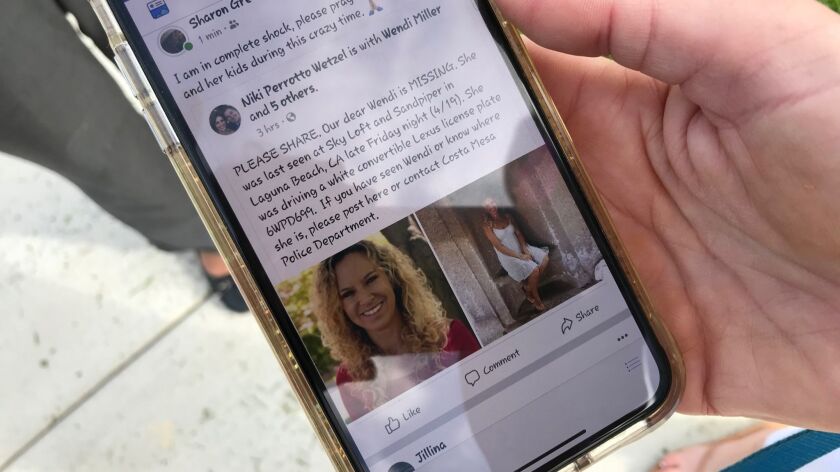 The mother of two was last seen around 1:45 a.m. Saturday after going to a Laguna Beach bar, according to friends who launched an awareness campaign on social media after she went missing.
Friends said she was going to give Partch a ride home; the two lived a few blocks from each other.
Miller didn't show up to Easter festivities over the weekend, alarming family members, a relative said Monday outside the condo.
Miller alleged in a video on the Wings for Justice website that she was sexually abused during her marriage — a claim a person with knowledge of the situation said was "unfounded" in an email to the Daily Pilot. She lost custody of her children more than eight years ago as a result of family court proceedings in Ottawa County, Mich., she said. An initial check of public records did not yield information on the status of the matter.
"She was a Christian and a really sweet lady who would do anything for you," said Miller's neighbor Terri Rawson. "It's shocking and heartbreaking that she won't be with us. I'm really going to miss her because she's a great neighbor."
Friends said Partch grew up in Agoura Hills, played hockey for several years in several leagues around the country, and had been working as an account executive.
Debbie Moore-Miller, who lives in the East 15th Street complex, described the two men who lived in the unit as "young professionals."
"I see [them] every now and then but don't know them personally at all," she said.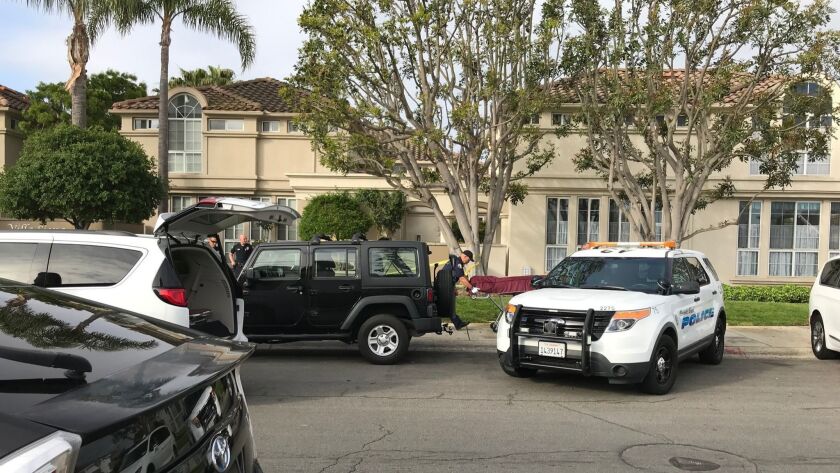 Moore-Miller said the complex is secure.
"This is the nicest, safest neighborhood," she said. "That's why I moved here."
Anyone with information about the case can call Det. Rick Henry at (949) 644-3797.
Support our coverage by becoming a digital subscriber.
KTLA contributed to this report.
---
UPDATES:
This article was originally published at 8:10 a.m. April 22 and was later updated with additional information and comments.
---
All the latest on Orange County from Orange County.
Get our free TimesOC newsletter.
You may occasionally receive promotional content from the Daily Pilot.