UCI study: Women who smoked as teens are 8 times more likely to smoke during pregnancy, increasing risks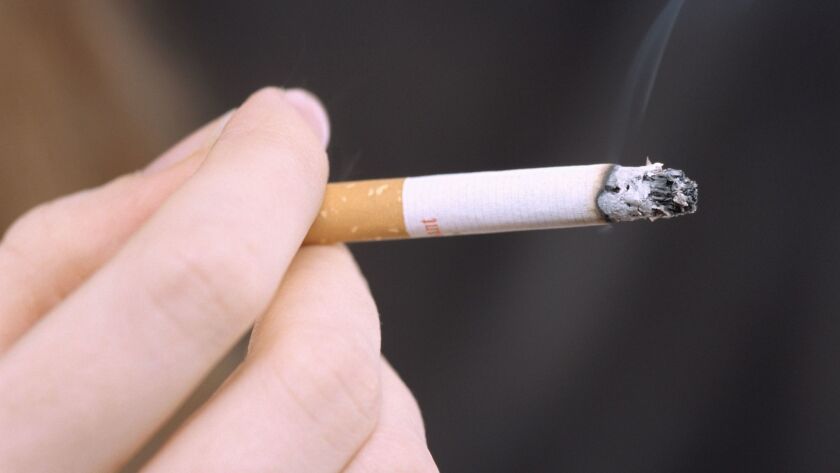 Women who smoked in high school are eight times more likely to continue smoking through pregnancy, resulting in risks such as having babies with low birth weight, according to a recent UC Irvine study.
The study, led by assistant sociology professor Jennifer Kane, includes contributions from the University of North Carolina at Chapel Hill. It pinpoints an area where researchers feel they can intervene to help reduce prenatal smoking and improve children's health.
For the record:
3:30 p.m. Aug. 24, 2018The original version of this article said researchers analyzed data from 20,000 girls and young women ages 14 to 19. In fact, the age group was 12 to 21. Also in the original version, Jennifer Kane was quoted as saying, "It could have diminishable impacts on birth outcomes." The quote should have read "demonstrable."
"The punchline is we need to double down on efforts to prevent teens who take up smoking to begin with," Kane said in an interview. "It could have demonstrable impacts on birth outcomes."
Researchers analyzed data collected since 1994 from 20,000 girls and young women ages 12 to 21 who were randomly selected from middle and high schools nationwide. Data included information about their living environments until they had a baby.
Researchers discovered a chain of risks linking a mother's socioeconomic status in her family of origin to her child's birth weight, including poor educational performance in high school, adolescent smoking, non-marital child bearing, depression and binge drinking, according to a university news release.
"The odds ratio linking teen smoking to prenatal smoking was the largest observed," Kane said in the release.
"To reduce adverse birth outcomes, efforts to prevent adolescent uptake of smoking should be redoubled. In so doing, we may be able to disrupt the transmission of disadvantages from parents to children that are passed along through poor birth outcomes."
Babies born weighing less than 5 pounds, 8 ounces are more susceptible to physical and cognitive difficulties later in life, according to the university.
The women in the study are still being monitored for more long-term research.
More than half of women who are smoking before pregnancy continue throughout the pregnancy, Kane said, making it hard to change their behavior during that period.
The study helps researchers shift their focus to other "glaring areas" requiring attention, such as why teenagers take up smoking to begin with and understanding how smoking is "heavily stratified" by poverty and race, Kane said in the interview.
Possible ways to prevent teens from smoking include modifying how intervention programs are presented at schools, Kane said.
"We know adolescent smoking isn't a good thing," she said. "We can make stronger statements at what's happening with population data."
The study was published in the June issue of Social Science & Medicine.
$9-million grant will aid study of how cannabis affects adolescents
UCI recently received a four-year, $9 million grant to study the long-term effects of cannabis on adolescents, according to the university.
The grant from the National Institute on Drug Abuse will help fund a series of pre-clinical studies led by several UCI faculty members, including Daniele Piomelli, a professor of anatomy and neurobiology and director of the new UCI Center for the Study of Cannabis.
"Studies suggest that adolescents who are exposed to cannabis are at risk for development of various neuropsychiatric disorders later in life, but there is much research still needed," Piomelli said in a statement.
Twitter: @vegapriscella
---
All the latest on Orange County from Orange County.
Get our free TimesOC newsletter.
You may occasionally receive promotional content from the Daily Pilot.