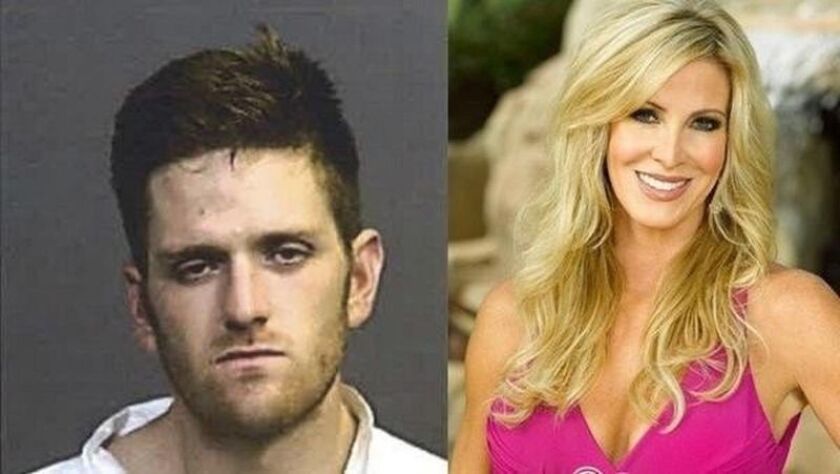 Attorneys for Joshua Waring, son of former "Real Housewives of Orange County" cast member Lauri Peterson, are appealing a judge's ruling against dismissing attempted-murder charges against him.
Waring, 30, has been fighting since January 2018 to have the case dismissed because of jailhouse phone calls his defense team said were improperly recorded and later shared with prosecutors.
Waring is facing three counts of attempted murder and other felony and misdemeanor charges in connection with a shooting at a former sober-living home in Costa Mesa in June 2016. He could face multiple life sentences if convicted.
On March 8, Orange County Superior Court Judge Jonathan Fish denied a motion to dismiss the criminal case on grounds of outrageous government conduct. Waring's attorney Joel Garson cited recording and dissemination of Waring's phone calls while he was representing himself that the defense says should not have been monitored.
After being appointed a public defender, Waring chose to represent himself in November 2016 for about two weeks, after which an alternate defender was assigned to his case.
Fish said in his ruling that "it is not lost on this court that the very essence of the … defense [complaint] relates to the precious and fundamental right to have privileged conversations with one's lawyer."
However, he concluded that "dismissal of criminal charges is too drastic of a remedy."
Waring's appeal was filed May 8 in California's 4th District Court of Appeal. Garson and attorney Correen Ferrentino are working together on the petition.
The petition claims that "the specificity of the phone calls regarding defense strategy cannot help but cause prejudice. The prosecutor knows all avenues the defense was exploring. It can use these illegal recordings as impeachment, it can frame its case to attack the defense theories and it can anticipate issues to be presented by the defense."
The appeals court could approve or deny the petition outright, ask for a response from the Orange County district attorney's office or request a briefing and oral arguments, Garson said.
Waring is scheduled back in Superior Court in the attempted-murder case on July 22, according to court records.
---