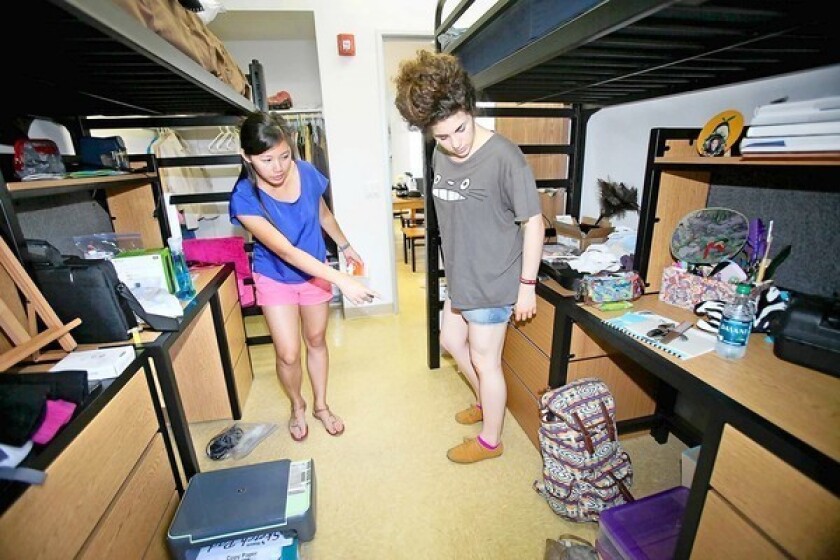 Forty freshmen got a nice surprise when they moved into the newly remodeled student housing Saturday at Laguna College of Art & Design's South Campus.
The student dorm studios, at 795 Laguna Canyon Road, all featured a modern, edgy and urban feel.
"It's actually pretty impressive," said Donna Vu, 18, from San Jose. "It's much more than I thought."
She discovered LCAD through a college website.
"It seemed like a interesting place ... like a gem in the cloud of big campuses — magical and surreal," said Vu, who plans to study animation and game art.
LCAD converted previous teaching and art studios into the extra student housing, which now accommodates 40 students and also has two apartments for resident managers. Each housing unit features two to three bedrooms, community spaces like kitchen, living rooms and bathrooms, and all have WiFi, LED lighting and are ADA-equipped.
There's also a student lounge with a patio, TV and game console available.
It was a quick process to remodel and expand the residence hall — a total of three months, said the property's owner, Mark Orgill.
LCAD's previous residence hall only housed 22 students.
"Mark Orgill is just a dream to work with," said LCAD President Jonathan Burke, who added that more housing options are being evaluated.
Cost for housing is $8,500 for the year, he said. That includes everything such as utilities and student activities.
This year, about 120 to 140 freshmen are starting at LCAD. A waiting list quickly filled up for the housing, Burke said.
A shuttle will be available to them so they can go from the apartments to the main campus, north campus and south campus.
Getting the new housing going was about a three-year process, Burke said. It was funded partly through a partnership between Orgill and LCAD, with LCAD money coming from the college's operations.
The college declined to give an estimated figure for the remodel, according to spokeswoman Jennifer Daniels.
A typical timeline for construction on such a project is about nine months, said Orgill, whose company, Deemark, also operates [seven-degrees] and Sunset Cove Villas, as well as other local commercial properties.
"The city was great to work with," Orgill said. "The planning department, Fire Department ... all were great."
Students were pleased with their new digs.
"It's really nice compared to what I thought and the pictures I saw before," said Kimilyn Yoshizwah, 18, of Maui, who is going to study game art.
She discovered the college through an Internet search as well and visited for the first time a few days before moving in.
"It's similar to Hawaii," she said, mentioning the beach being nearby.
Tram-mary Dinh, 18, drove with her parents from Lafayette, La. It took a few days but wasn't too bad, she said.
"It's beautiful," she said after seeing the housing. "Definitely not typical at all."
Dinh plans to study animation and possibly minor in fine arts. As for living on her own for the first time, she slightly paused.
"I'll be homesick for a little while, but I'll get over it. I'll make friends."
Twitter: @coastlinepilot
---