Segerstrom Center gets ready to open its new plaza with a goal of engaging the community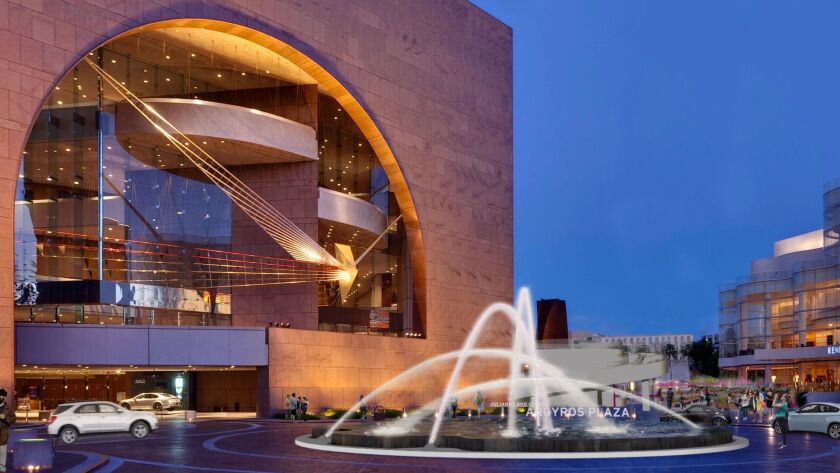 Segerstrom Center for the Arts will soon unveil its new 56,100-square-foot plaza meant to serve as a gathering place for the diverse cultures of Orange County.
The Julianne and George Argyros Plaza will officially open on Oct. 28 with a grand opening ceremony.
The formerly unadorned space at Segerstrom will feature a large stage and a smaller stage with plenty of seating as well as a welcoming court and a 60-foot-wide fountain. A new cafe, Center 360, will be next to the stages, serving food throughout the day.
The large stage will host music, dance and film while the smaller side stage will have more intimate performances. Segerstrom is aiming for 30 to 40 annual programs at the plaza.
The plaza was designed by Los Angeles-based Michael Maltzan Architecture. The company has worked on design and planning projects with various arts and cultural organizations, including the Hammer Museum, Los Angeles' Museum of Contemporary Art and the Fresno Metropolitan Museum.
The ceremony will also celebrate the opening of the Center for Dance and Innovation, which will provide a wide range of activities to engage new audiences. The studios and classrooms of the new center include a dance and music school for children with disabilities and the American Ballet Theatre William J. Gillespie School.
The center will host community events, dance training classes and other workshops.
The plaza and center signal a new movement at Segerstrom to engage underserved portions of the county and encourage community building.
Along with the Center Without Boundaries program, which connects Segerstrom to the community with partnerships with non-cultural institutions, the center's goal is to serve as the nexus between art and the entire community.
"All of these programs are about engaging and serving the diverse communities of Orange County," Segerstrom Center President Terry Dwyer said over the phone. "We are really trying to meet the needs of an evolving Orange County while trying to enhance its cultural landscape."
Programs at the Argyros Plaza will be free, a new development for the Segerstrom Center.
"We wanted to remove economic barriers to make sure that we are contributing in every possible way to the future of the county," Dwyer said.
The programs have been in development for about four years and the opening ceremony will serve as the official launch of the three-pronged initiative.
If You Go
What: Argyros Plaza Grand Opening Ceremony
When: 11 a.m. to 10 p.m. Oct. 28
Where: Segerstrom Center for the Arts, 600 Town Center Drive, Costa Mesa
Ceremony schedule:
11 a.m.: Grand Opening dedication
11:30 a.m.: The Patriot Brass Ensemble; The Art Project - Orange County Museum of Art
11:45 a.m.: South Coast Repertory Theatre Conservatory
Noon: Philharmonic Society of Orange County presents South Coast Brass; observe American Ballet Theatre William J. Gillespie School
12:20 p.m.: Darden Sisters Band
12:45 p.m.: Pacific Chorale
1:15 p.m.: Ane Thanh Lion Dance; observe American Ballet Theatre William J. Gillespie School (ballet class)
1:30 p.m.: Los 440's Band
2 p.m.: Vybration a cappella sextet; Puppets & Players Little Theatre
2:15 p.m.: Pacific Symphony Youth Wind Ensemble
2:55 p.m.: MenAlive chorus
3 p.m.: Observe School of Dance and Music for Children with Disabilities
3:25 p.m.: TAIKOPROJECT drummers
3:45 p.m.: Learn "Thriller" choreography with Culture Shock Los Angeles; Puppets & Players Little Theatre
4:30pm: Learn "Poppin'" with Culture Shock Los Angeles
5 p.m.: Puppets & Players Little Theatre
5:15 p.m.: Learn "Breakin'" with Culture Shock LA
7 p.m.: BANDALOOP vertical dance troupe
7:30 p.m.: Orgōne band
9 p.m.: Monophonics band
Twitter: @benbrazilpilot
---
All the latest on Orange County from Orange County.
Get our free TimesOC newsletter.
You may occasionally receive promotional content from the Daily Pilot.