Tech aimed at seniors expands possibilities for an aging population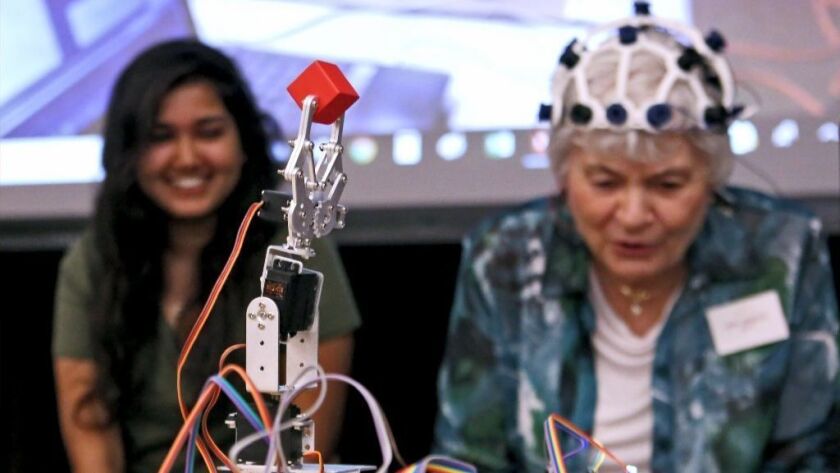 An electrode-rigged helmet on her head, 81-year-old Jean Hedrick stared intently at three LED lights as they alternated on and off.
A robotic arm slowly started to move.
The Mind-Controlled Robotic Arm is one of four prototypes a group of residents at the Morningside of Fullerton retirement community were able to learn about and test through a live demonstration on April 12 from the Cal State Fullerton Bio-Electric Signal Based Systems Laboratory.
"I thought it was exciting — just really neat," Hedrick said. "That technology was way advanced from anything I've ever heard or seen."
The program, a partnership between the retirement community and the Cal State Fullerton laboratory, was aimed at educating senior citizens about technology that could be available to them in the not-too-distant future, as well as allow laboratory students to feature their work.
Thirteen lab students, in small groups, demonstrated their respective projects to the residents.
"Demos such as the one we did today helps us showcase the wonderful work our students have been doing at the university," said Kiran George, professor and coordinator of Cal State Fullerton's Computer Engineering Program, who oversees the laboratory. "Activities such as today's not only provide students an opportunity to share their work, but also boosts their confidence.
"Furthermore, feedback from the audience — potential users — can provide rare insights into how their current device could be alternatively designed."
The other three prototypes demonstrated to seniors included a self-driving wheelchair, a memory aid for those with Alzheimer's disease and Mind-Controlled Home Automation — a home automation system used with ALS patients who can't speak.
George said laboratory students work on projects that can potentially help individuals with disabilities, those with neuromuscular degenerative diseases, such as ALS and Alzheimer's, and senior citizens.
He said the main purpose underlying the projects is to develop devices that are accessible — both low-cost and easy to use.
"Some devices that you get on the market [are] so expensive," George said.
Morningside of Fullerton Marketing Director Taylor Bentley said the residents enjoy educational lectures. The retirement community has an ongoing partnership with the college, allowing for such events.
"We have active residents eager for educational opportunities," Bentley said. "The key for us is bringing these different generations together to help teach our seniors about what the future may hold."
The Cal State Fullerton demonstration isn't the only program aimed at seniors.
Cox Communications held an event at the "Cox Connected Independence" smart home in Lake Forest, which shows how internet-enabled devices give seniors the ability to live independently at home, said Ryland Madison, director of product marketing at Cox Communications.
"Nearly 90% of adults age 65-plus would prefer growing old in their current home instead of moving to an assisted living facility," Madison said. "Given that there is smart home technology readily available on the market today, the ability to age in place is becoming a more realistic option for many aging Americans."
Some of the technology demonstrated at the smart home included Cox Contour, which allows for voice-commanded, remote-free viewing; Anova Precision Cooker, allowing for cooking via an app; The HAPIfork, an electronic fork that monitors eating habits; Joy For All Orange Tabby Cat, a realistic model cat that purrs and responds to petting and LiveFine Automatic Pill Dispenser, in which a caregiver can load up to 28 days of medications in sealed compartments that are dispensed on a programmed schedule.
"A 'silver tsunami' of aging baby boomers is already having a huge impact on consumer purchasing, technology and senior housing," Madison said. "Many seniors will be unable to afford a retirement community even if they'd like to live in one – especially given the high cost of housing in California – and aging in place is a reality for them.
"Fortunately, staying in their own home is becoming more viable for seniors as a result of smart technology devices and monitoring apps that offer independence through connectivity."
Jessica Peralta is a contributor to Times Community News.
---
All the latest on Orange County from Orange County.
Get our free TimesOC newsletter.
You may occasionally receive promotional content from the Daily Pilot.