Mosque built from scratch celebrates 25 years
Nestled between a highway, a gas station and Starbucks is a copper dome rising above the suburban landscape.
The dome, an estimated 20 feet in diameter, sits atop a beige building, next to a rectangular tower nearly 70 feet tall, adorned with an intricate blue, green and red design.
This architecture belongs to the Islamic Institute of Orange County, the area's oldest mosque built from the ground up and the religious home to about 5,000 congregants, an estimated 1,000 of whom show up every Friday for weekly prayer services.
The traditional Islamic style of the 34,000-square-foot mosque, which has stood in its current form for the past 12 years, is in stark contrast to the rest of the Anaheim neighborhood — and the rest of Orange County — offering believers and non-believers alike a visual reminder of the county's enduring Muslim community, now more than 40 years old.
"We wanted to make [the mosque] more attractive for the community, both Muslims and non-Muslims," said Samer Soubra, president of IIOC. "People are curious — they come in and ask for tours. So the architectural design helps people to come in, go into the story behind it and see what it looks like on the inside."
The mosque's design is meant to mimic the style of al-Andalus, the medieval Muslim kingdom in Spain that was known as a center of learning and interfaith engagement between Muslims, Jews and Christians, said Mohammed Faqih, IIOC's religious director.
"Andalus is where the East and the West came together," he said. "Some of the key people who founded the mosque were educators and professors, and they had a high level of appreciation for the history of Andalus as a center of education for all Muslims, Jews and Christians—so that was the idea."
Much of California architecture also is based on a Spanish style, so an Andalusian aesthetic fits right in, Faqih noted.
The dome and tower — called a minaret in Arabic — are traditional features that nearly every mosque has, Soubra said.
Domes were originally used to amplify the sound in the prayer hall, while the minaret was used to make the call to prayer five times a day.
IIOC doesn't perform the call to prayer outside with the minaret, and with modern technological advances, doesn't need the dome to project the imam's voice.
But it's the details that set IIOC apart.
Tiles forming intricate geometric patterns on the façade of the minaret were imported from Morocco, and carved wooden window panels, called mashrabiya —which were once used in the Middle East to allow airflow while protecting privacy — line the tower.
"One of the things in Islamic history and Islamic law is that we don't have pictorial representations of pious people and we don't represent God in any type of image," said Mustafa Umar, IIOC's education and outreach director.
"So two art forms that came out of the Islamic world are calligraphy and geometric shapes, which represent order and design in the world."
Omar Elsayed, youth director for IIOC, said the mosque's traditional look has helped attract young Muslims to the community because "it made it feel like a home."
"It's a safe place for young Muslims," he said.
IIOC also is home to Minaret Academy, an accredited K-8 school, California Islamic University, an upper division college that offers a bachelor's in Islamic law and theology, and a host of other social services and programs.
The mosque's design also has attracted non-Muslims.
Bill Shane, who founded the House of Worship Tour, which organizes guided tours of local religious centers, said he put IIOC on the program because of its beauty.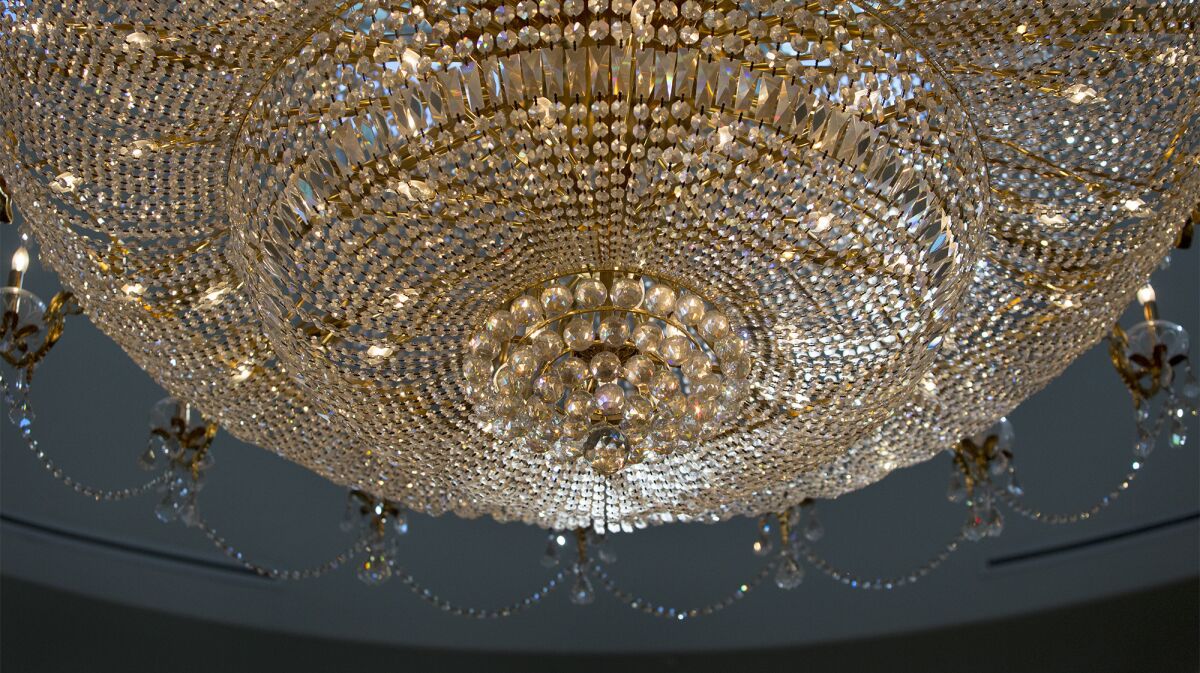 "It represents very unique architecture, especially for Orange County," he said. "If you're on State College, this building catches your eye. If you live in Irvine, if you live in Westminster, there aren't buildings like this."
When he took a group to IIOC in January, Shane said others had the same response.
"The first reaction was absolutely one of, 'This is wonderful, I had no idea this existed, this is beautiful,'" he said. "It certainly demystified some aspects of Islam."
But IIOC hasn't always boasted such an ornate exterior.
The community was originally formed in 1991, after breaking off from the Islamic Society of Orange County — the oldest Muslim community in the county.
The founders moved into an old church off Katella Ave.in Anaheim, but soon after, the property was sold to Caltrans to make way for the expansion of Interstate-5.
In 1996, the community relocated to its current property on State College Boulevard, which at the time housed a parking lot and an old union building.
"It was like a big warehouse," said Elsayed, who grew up attending the mosque. "It was very humble and there was very little in there. It was just carpet and a restroom."
Five years later, in 2001, as the community was rapidly expanding, it decided to demolish the old union building and start from scratch — and to build a mosque on their own terms.
Nicole Bovey Alhakawati, a spokeswoman for IIOC, said that it was a way for the burgeoning Muslim community to put their "mark" on the county.
"There's a sense of pride in our community, that this is our place and it looks special," she said. "It's different."
"I give tours a lot, and a lot of people come and say, 'I've driven by here and I really wanted to come in, but I wasn't sure about coming,' " she went on. "And then when they do come, they're pleasantly surprised that we're welcoming."
"They want to see what could be inside there, the mystery of the whole thing."
CAITLIN YOSHIKO KANDIL is a contributor to Times Community News.
All the latest on Orange County from Orange County.
Get our free TimesOC newsletter.
You may occasionally receive promotional content from the Daily Pilot.