Commentary: In the midst of the pandemic, this holiday season feels different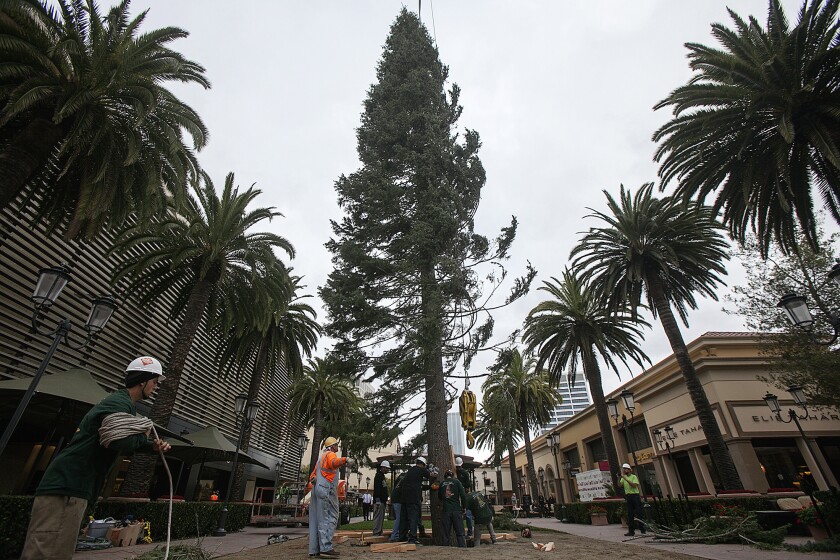 Around this time every year I usually write a Christmas-themed column. In the past I've dissected holiday shopping trends, shared heartfelt stories about friends and family, and divulged items from my personal wish list.
But this holiday season is different, as it arrives at the end of what may be described as an annus horribilis.
(That's Latin for "horrible year," a phrase famously used by Queen Elizabeth II to describe 1992, a royal scandal-thon of a year but unquestionably less awful than 2020. Sorry for that nerdy reference but I've been binge-watching "The Crown.")
As I write, a fire is raging — again — in Orange County. Coronavirus infections and deaths are setting new records almost daily. And after the most contentious election I can remember we remain bitterly divided, angry and consumed with worry about the future.
So how do I write about what promises to be, in euphemistic terms, a most unusual Christmas?
Some of the topics I've turned to in the past seem rather trivial now. I could have, for instance, returned to discussing hot Christmas decorating concepts. This year, depending on who you ask, the hippest color schemes are either navy and platinum, or bright rainbow hues. And apparently the farmhouse and cozy Christmas cottage looks are popular because they are like the comfort food of holiday home décor.
I could muse about the realization that Cyber Monday has transformed into Cyber Every Day. Or I might discuss the types of gifts that are expected to sell well this year, which my research indicates tend toward the soothing variety, as in fluffy slippers, neck massagers, and bedside devices meant to enhance sleep.
Yet in this strange, disquieting time will we even care about the baubles, bangles and bows of the holiday season?
Did we burn out on baking earlier in the pandemic and are now too gorged and jaded to contemplate making another snickerdoodle?
Dictionaries and style books won't just make writer's happy. They're also easy to wrap.
Can we stand to watch any more Christmas films considering that the Hallmark Channel has been airing its schmaltzy Yuletide romances since July? (Yes, I've seen a few. Don't judge.)
Will we tell young kids that Santa, keeping safety in mind, won't be shimmying down the chimney to leave gifts around the tree and will instead deposit packages UPS-style, outside the front door?
Will we approach our gift-giving with less enthusiasm than in years past, figuring why bother when the whole bloody world is a disaster?
Or will it be the opposite? Will we find ourselves clinging more tightly than ever to whatever traditions we can muster in a socially distanced, mask-wearing, we're-all-germ-factories context?
It's evident that at least some people are trying desperately to maintain a sense of normalcy — like the folks working to organize an unofficial version of this year's canceled Newport Beach Christmas Boat Parade.
Despite such efforts, the one consistent and overriding theme I've been able to identify for this holiday season can be summed up in one word: Small.
I'm referring, of course, to the tiny turkeys, more diminutive Christmas trees, strict limits on social gatherings, and scaled-down expectations regarding who we see and what we do. When it comes to many of our holiday customs, we will be doing small in a big way.
Yet in some very important respects, this Christmas season should be even larger than usual.
I'm thinking of the extra thanks that should be showered upon the heroic frontline workers who have toiled mightily for the common good during the pandemic, often at great risk to themselves — the doctors, nurses, first-responders, scientists, teachers, food providers and many others who are richly deserving of our deep gratitude and support.
While we're at it, we could also heap thanks upon the delivery people who rush packages to our doorsteps, the postal workers who keep our mailboxes filled and the clerks, cleaning crews, child-care providers and other essential workers who have kept our society from collapsing while the rest of us hunker down at home.
On a personal note, I'd like to give a shout-out to the terrific employees at all the markets I frequent in Newport Beach and Costa Mesa, who time and again have cheerfully gathered my online-ordered groceries and loaded them into the back of my car with the greatest of care.
While we're thinking big, we shouldn't overlook a monumental dose of compassion due to all of those who have suffered this year, and an acknowledgment of what they have lost: Jobs. Businesses. Classrooms. Good health. Physical touch. And for some, the loved ones who didn't make it to this holiday season.
What it comes down to is that when the world around us feels shrunken and cold, and we're repeatedly told that a dangerous winter lies ahead — well, that's when we must strive harder than ever to make our hearts grow.
The spirit and resilience we summon when times are tough can lead us out of the darkness and into a future in which, hopefully not too long from now, we may look back in gratitude at the end of an annus mirabilis. That's Latin for "wonderful year."
---
All the latest on Orange County from Orange County.
Get our free TimesOC newsletter.
You may occasionally receive promotional content from the Daily Pilot.