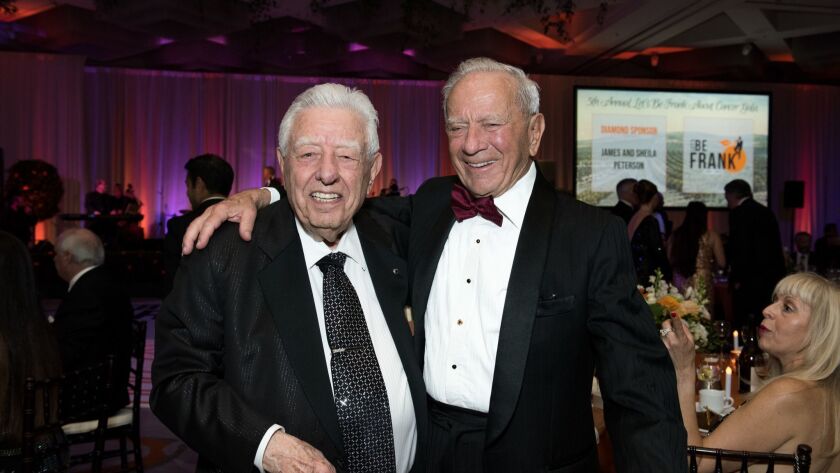 It was a record event for the annual "Let's Be Frank About Cancer" Gala benefiting City of Hope. An impressive $1.3 million was raised at the spring dinner at the Hotel Irvine, bringing the event's five-year fundraising total to more than $7.3 million. Hotel Irvine turned out to be the perfect venue since City of Hope plans to open a world-class cancer center in Irvine.
The power behind this cancer-fighting fundraising event is Frank DiBella. His personal story of cancer survival is credited to his physician, Dr. Sumanta K. Pal, who is well known in Orange County circles. Being cured of cancer at City of Hope some years ago, DiBella has made it his life's mission to support cancer research there under the direction of Pal, an oncologist.
DiBella's influence and passion has rallied the emotional and financial support of heavy hitters who have contributed millions of dollars to the mission. Specifically, Marybelle and S. Paul Musco, along with Milan Panic, former prime minister of Yugoslavia, have led the charge. Joining the major donor roster are Sheila and James Peterson, Ken and Cheri Ketner, Michael and Joann Sweig, The Stanley W. Ekstrom Foundation, and corporate donors FivePoint and Mobilitie, among others
Major emphasis thematically for the 2019 dinner gathering centered on the City of Hope expansion into Orange County. It is estimated that some 20% of diagnosed cancer patients in O.C. leave the region seeking care elsewhere. City of Hope plans on creating a main campus near Irvine's Great Park with countywide outreach. In addition, it was announced that the organization also is considering a site in Newport Beach.
"It is great to have so many Orange County residents who support this initiative," said Annette Walker, president of City of Hope Orange County. "They recognize the need for bringing tomorrow's discoveries to our friends and neighbors who need them today."
More than 600 guests in black tie joined together in applauding the announcement of the City of Hope expansion. In the crowd were Jim and Kelly Mazzo, Art Kazarian, Brett Park, Hensel Phelps, Tom and Mayumi Adams, Doug Freeman and City of Hope President and CEO Robert Stone. Honors of the evening went to Emile Haddad, chairman and CEO of FivePoint, with the Frank DiBella Humanitarian Award and Dr. Hazem Chehabi, with the Champion for Hope Award. The evening was emceed by Jann Carl, with entertainment by Matt Mauser and the Pete Jacobs Big Band.
To learn more about The City of Hope, visit www.cityofhope.org
*
Trojan League takes over Newport Beach Country Club
In spite of all the negative news surrounding American universities, including USC, the O.C. Trojan League recently held its 58th annual forum to raise money for scholarships in Newport Beach. The ocean-view ballroom of the Newport Beach Country Club provided the backdrop for more than 200 USC alumni and friends who had come to "Fight On for Scholarships." Funds raised by the Trojan League of Orange County will be earmarked to fund scholarships for O.C. students who plan to attend USC.
Trojan League President Ann Leisure greeted major sponsors, including Merrins and Jim Jones, Liz and Al Shonk, Debbie Thomsen and husband Marr Leisure, among other generous donors.
The USC Trojan Marching Band and Song Girls kicked off the evening, putting the crowd in the proper spirit. James G. Ellis, dean of the Marshall School of Business, addressed the gathering.
"Despite USC's current challenges, 40,000 students are getting an incredible education," he said. "Contrary to frequent depictions millennial students have a great work ethic and continue to achieve with their hard work both here in the United States and globally."
Sampling the Newport Beach Country Club's lavish hors d'oeuvres and socializing with friends and business associates were Newport Beach Mayor Diane Dixon, Harbor Day Principal Deb Morton Lee, Shannon and Byron Tarnutzer, Janis Agopian, Teri and Robert Wilhelm, Angie Evans, Bruce Miller and former USC Song Girl Diana Debruhl. Also front and center were Jim and Betsy Hawkins, Suzie and Brian Burke, Sue McKeever, Kris Jones, Wendy Cendro, Merrins Jones, Mary Earl Spencer, Francine Gibbons, Paula Cargasacchi and Liz Maxson.
B.W. Cook is editor of the Bay Window, the official publication of the Balboa Bay Club in Newport Beach.
---