Commentary: There are some wonderful homes for the developmentally disabled, but the 'waiting' lists are long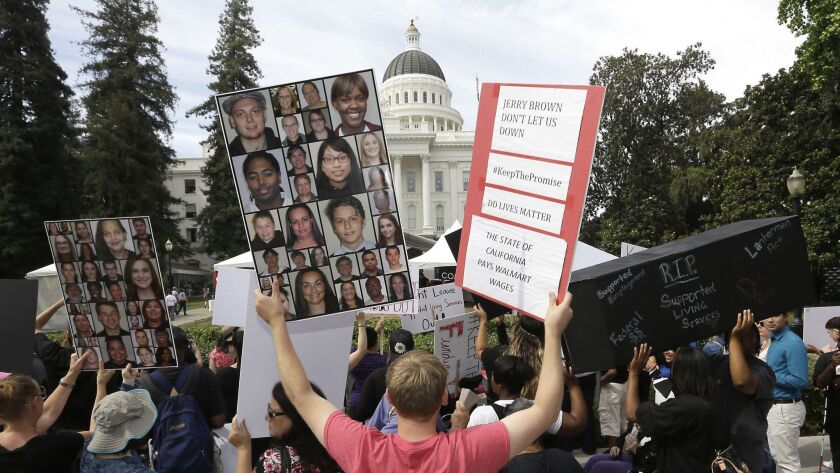 This is the second story in my search for a home for my developmentally disabled daughter, Anabel. I previously wrote about this in a Daily Pilot commentary, "Developmentally disabled need adequate non-institutional housing in O.C."
I've been thinking for years about the most important characteristics in a group home for my daughter as a young adult. I want my daughter to be safe and adequately supervised. The home should be full of love and staffed with people who feel a calling for the job. There should be opportunities to learn and develop life skills. My daughter's new home should open up new opportunities for activities, social interaction and friendship.
I began my search on Google and found several group homes that interested me. I learned that the difficult thing is to find a good group home that has room for a new resident.
Our first stop was in San Diego County — a home to about 90 developmentally disabled adults, called "folks" by the staff, living in a cluster of 10 houses. The organization sprang up due to the efforts of a local nun and the parents of a young man with Down's Syndrome.
The 13-acre property includes extensive lawns and a community vegetable garden and orchard that the residents tend. The coed houses are solid and spacious, housing up to 10 adults, mostly in shared bedrooms with shared bathrooms. The houses serve meals, family-style, to the residents while the larger community gets together for parties and holiday celebrations.
The organization makes a lifetime commitment to its folks, which is unusual among group homes. We meet some of the residents and are introduced to their friends, boyfriends and girlfriends. Many had previously lived in other group homes and had finally been admitted through the perseverance of their families. My daughter thought it must be wonderful to live with friends.
Vacancies are rare and fill quickly. There is not exactly a waiting list. When a vacancy occurs, the person judged to be the best "fit" within the community is chosen from the list of interested potential residents. Since there is the added criteria of compatibility with the rest of the community, it's literally like waiting for a kidney transplant. I put my daughter on the interest list.
Then we hit the road. If there is an actual group home for developmentally disabled people that is similar to living at a YMCA summer camp on a permanent basis this one in rural Santa Cruz County is probably the closest. Eight homes on several acres provide housing for 20 developmentally disabled adults, called "friends," and up to 30 long-term resident staff members, called "coworkers." The community grows almost all of its vegetables and fruits.
We tour a group house with high ceilings and good natural light. The house smells like cinnamon, dried herbs and baked apples. A coworker is teaching friends and other coworkers to make intricate cut paper Christmas ornaments. There is a separate art studio and a separate weaving workshop with multiple looms.
I love this place. I fantasize about moving here too. The staff member says that vacancies seldom open up.
I ask the staff member if the home could expand by adding another house on the property. This is when I learn that, in the view of the federal and state governments, both homes are already too big. New guidelines have been passed with the purpose of ensuring that developmentally disabled people are able to participate fully in their local communities. Big is bad.
I ask administrators about what these new regulations mean to their organizations. Employees tell me their counties are not going to shut down established organizations that provide housing and programs for so many disabled people. I realize that the problem is not that either of these organizations will be shut down, but that they can't be replicated in the future.
My daughter's community is made up of her peers and the people who have chosen to work with the developmentally disabled. The government's intervention to ensure that my daughter is not living or working with too many people like herself seems, if not outright discriminatory, at least disdainful of the value of developmentally disabled individuals.
Registered nurse SYLVIA WORDEN is the retired associate dean of Student Health Services at Orange Coast College.
---
All the latest on Orange County from Orange County.
Get our free TimesOC newsletter.
You may occasionally receive promotional content from the Daily Pilot.