Column: Irvine candidate enables elderly mom's Laguna panhandling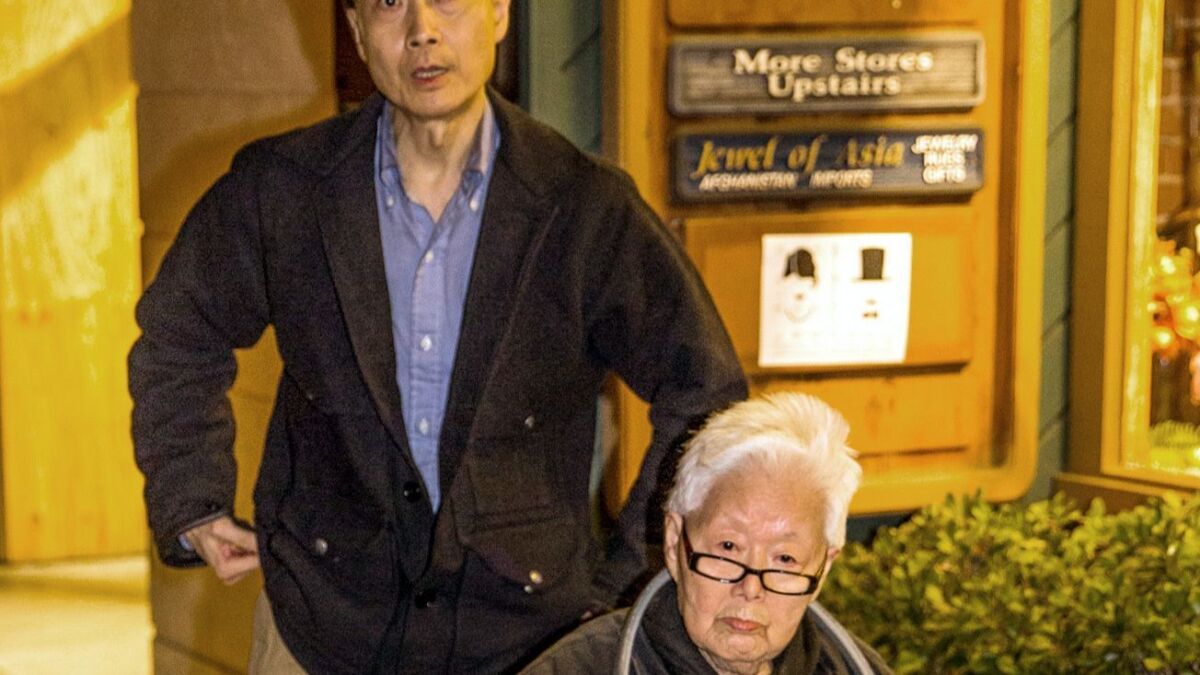 By day, David Chey is trying to earn a seat on the Irvine City Council. By night, he can be seen picking up his wheelchair-bound, elderly mother who panhandles in Laguna Beach and Irvine.
For more than 10 years, Chey has dropped off his mother, Soon Chey, in downtown Laguna and at University Town Center in Irvine. There are numerous video encounters by concerned or angry residents online.
Soon Chey, 86, has been a regular panhandler along Laguna's upscale Forest Avenue. Even last week she sat quietly in her wheelchair holding a sign for help.
David Chey did not return several requests for comment.
In his Irvine candidate's statement, Chey said he was running because he wanted to help enable the "American Dream."
At a Sept. 30 public forum, he reiterated his goals for the city's residents.
Moderator: "What can you offer our city that is different from other cities?"
Chey: "To help residents achieve the American Dream. To be better than your parents. And to have high education. To be able to contribute positively to society."
In 2016, Chey ran an unsuccessful bid for Irvine mayor. Out of five candidates, he came in last, garnering 3,206 votes. At the time, Irvine had a population of 258,386 people.
The video encounters with Chey show a pattern of defiant behavior. He often counter-records incidents with his phone or a video camera.
In one personal incident, Chey called the police on me, claiming he was making a citizen's arrest. It was 11 p.m. July 11, 2016 in Laguna. I started to ask Chey why he dropped off his mom, leaving her for several hours.
He immediately became loud and belligerent, telling the police dispatcher that I was an "NSA troll." For a longer account, you can read about it here.
To make matters worse, the elder Chey is starting to have difficulty making it to public restrooms. In a highly publicized incident, again in Laguna, she was filmed defecating on a public bench. The witness, Lorene Laguna, is now running for Laguna's City Council partly because of that event.
There is little law enforcement can do with the Cheys. Even the indecent exposure would never get enforced because of her age. And panhandling is not illegal.
Any claim of "elder abuse" requires the alleged victim to complain, and Soon Chey has repeatedly told law enforcement that she is doing it willingly.
Essentially, the Cheys are a happy panhandling team.
They are not homeless or destitute. They live in an apartment in Irvine.
Interestingly during the forum, Chey said he would oppose a plan to drop off homeless people in Irvine.
The Cheys did lose their family home in 2007 to bankruptcy after the father died, based on housing and court records.
In addition, Chey, who acts as his own attorney, has been involved with a few lawsuits. During the bankruptcy proceedings, for example, the Cheys entered into a legal fight with Wells Fargo but lost.
They have also tried unsuccessfully to challenge Irvine Regional Hospital and several doctors. In that battle, they also included top officials within the Orange County Sheriff's Department and district attorney's office.
Chey is an outsider in Irvine political circles, and doubtless he likes it that way. He is a member of the Constitution Club based in Hemet. It's a patriot group that often talks about alternative constitutional beliefs. There are links to militia websites.
On his own candidate website, Chey has only three things: pictures of the Declaration of Independence, U.S. Constitution and the Bill of Rights.
There are no platform statements, no bio, no volunteering.
It's unclear exactly why Chey wants on the Irvine City Council. He's been an Irvine resident since 1978. He said he went to Irvine High School and USC.
He has 16 friends on Facebook.
"I affirm the purpose of government is to serve citizens by protecting life, liberty, property and the pursuit of happiness," he said in his statement.
Apparently the pursuit of happiness comes in many forms.
DAVID HANSEN is a writer and Laguna Beach resident. He can be reached at hansen.dave@gmail.com.
All the latest on Orange County from Orange County.
Get our free TimesOC newsletter.
You may occasionally receive promotional content from the Daily Pilot.