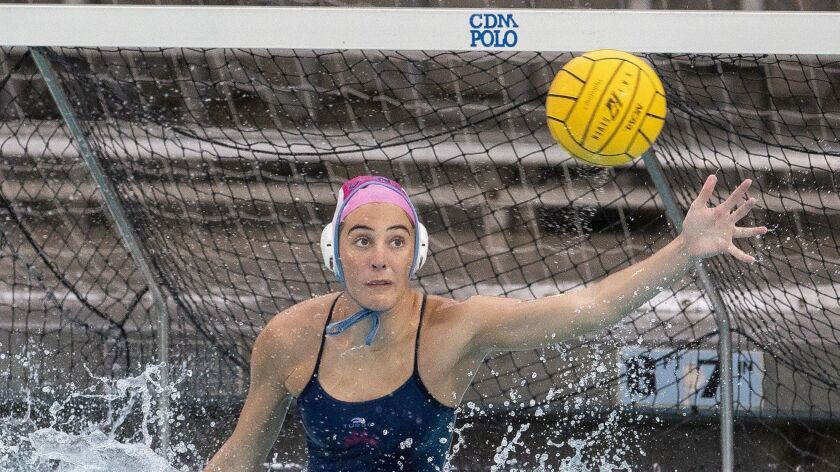 The Corona del Mar High girls' water polo team came close to winning its second CIF Southern Section Division 1 title last season.
CdM made its first CIF final since 2013, but the Sea Kings were runner-up when the shot of Laguna Beach junior Tea Poljak went into the back of the net in sudden-death overtime.
"We were so close, how can you not be hungry to go out and do it again and make up that one goal?" CdM coach Justin Papa said. "We were one goal away from a championship, and that's what we've talked about. That's been our motivation all off-season. We've worked really hard to make up that one goal this year, and we're ready to make a run for it."
CdM (2-1), ranked No. 6 in the initial CIF Southern Section Division 1 and 2 poll released Monday, lost Daily Pilot Girls' Water Polo Dream Team Player of the Year Sophie Wallace (Stanford) to graduation. But the Sea Kings boast a strong defense, which is anchored by senior goalkeeper Maya Avital and senior set guard Megan Peterson, both of whom are also Stanford commits.
The 6-foot-3 Avital is widely regarded as one of the best goalies in the section, if not the best. She had 18 saves in last season's Division 1 final.
"She's bigger and stronger," Papa said. "She's in every way better than she was last year. She's just a worker."
Tea Poljak had yet to score in the CIF Southern Section Division 1 girls' water polo title match, deep into sudden-death overtime.
Laguna Beach (4-0), which has won four of the last six Division 1 titles, begins the season again as the top-ranked team. Coach Ethan Damato's defending Surf League champion Breakers boast talented attackers like UCLA commit and senior Morgan Van Alphen, as well as senior defender Grace Houlahan and juniors Nicole Struss, Molly Renner, left-hander Emma Lineback and Rachael Carver. A key newcomer is freshman Lauren Schneider, the starting goalkeeper who takes over for graduate Quinn Winter.
No. 7-ranked Newport Harbor (3-0) remains young as its four freshmen from last season — Taylor Smith, Morgan Netherton, Lily Gess and Alex Love — are now sophomores. UC Davis-bound senior left-hander Ashley Salem should be primed for a big senior year, while freshman Anna Reed steps in as goalkeeper for coach Ross Sinclair.
Huntington Beach (0-1), ranked No. 17 in Division 1 and 2, is favored to repeat as Wave League champion despite coach Mark Canner leaving to coach at Cypress College and standout sophomore center Shanna Davidson transferring to Los Alamitos. Senior goalkeeper Elaina Davey, senior set guard Emily Tucker and senior utility player Lizzie Lovat are key players for first-year coach Jacob Moore.
Two years ago, Moore was the coach at Fountain Valley (4-6), which is now led by first-year head coach Kyle Adama, who played at UC Irvine.
Edison (1-0) and Marina (5-3) hope to also challenge in the Wave League. Coach Nick Graffis' Chargers return four all-league players in senior utility player Delaney Lewellyn, junior attacker Ella Jensen, junior center Sam Worley and sophomore driver Lily Worley.
"It's a fast team that has a lot of talent and can counter well, but we need to get better in the half court and get more organized on offense and defense and limit our mistakes," Graffis said.
Marina, led by third-year coach Tamara Towgood, won the Saddleback Tournament on Dec. 7 and is ranked No. 6 in Division 6. Senior goalkeeper Emma Marsh is a key returner, along with junior attacker Maddison Clobes and sophomore utility player Lana Kardos. Freshman center Lily Ensley has proved to be a talented goal-scorer in the early season.
Costa Mesa (3-2) won the Orange Coast League title last season, its first league title since 2004, but will have to compete without graduate Sofia Rice, a four-year starter. Estancia (3-2) finished third in that league in the 2018-19 campaign and brings back two key seniors and leading scorers in Sydni White and Gidget Brestel.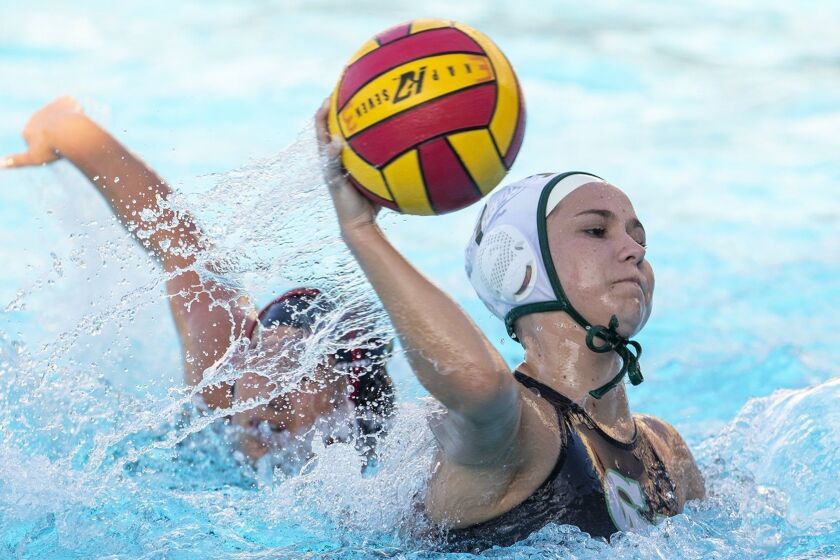 The Costa Mesa High girls' water polo team briefly ran into some adversity in the Battle for the Bell rivalry match at Estancia on Wednesday afternoon.
Coach Melissa Fernandez is in her 16th year in charge at Ocean View. She said that Seahawks aren't favored to make CIF out of the Golden West League, but senior utility player Autumn Knox and junior utility Angelina Franzetti will try to prove that wrong.
::
Support our sports coverage by becoming a digital subscriber.
For more sports stories, visit latimes.com/socal/daily-pilot/sports or follow us on Twitter @DailyPilotSport.
---