High School Boys' Tennis Preview: Battle for Surf League supremacy awaits
Corona del Mar High tennis has dominated the Surf League since it was created in 2018.
The Sea Kings girls' program has not lost a match in two seasons in the league. The boys' program went 6-0 in league play last year to also claim the title.
Fountain Valley is looking to change that this season.
Fountain Valley (4-0) came close last year. The Barons lost to the Sea Kings 10-8 in both league matches. In the first one, one of Fountain Valley's doubles teams had match points it couldn't convert that would have given the Barons the win on games.
Fountain Valley, which won the CIF Southern Section Division 2 title in 2018, also is hungry after the No. 4-seeded Barons were upset 11-7 by Claremont in the second round of the Division 1 playoffs last year. The Barons still have three of the players from the CIF championship team in senior singles player Ryan Trinh, junior singles player Ben Nguyen and junior doubles player Kai Rodriguez.
Freshman Alan Ton is a key addition, and Barons coach Harshul Patel reports that his team will be further boosted as sophomore Ethan Votran, a transfer from Costa Mesa, becomes eligible to play on March 25. He will play doubles.
CdM (2-0), which lost to former league rival University in the first round of the Open Division last year, will be led by sophomores Logan Friedman and Max Krykunenko in singles, as well as senior John Dick. The Sea Kings lost the two-time Daily Pilot Dream Team Player of the Year in Kyle Pham, who was a CIF Individuals singles finalist a year ago, to graduation.
"We need to improve doubles play, and we have a lot of parity in level for our doubles teams," Sea Kings coach Jamie Gresh said. "CdM should compete for the league title. However, I think Fountain Valley is a little deeper than us this year."
The teams' two league matches are April 2 at CdM and April 20 at Fountain Valley.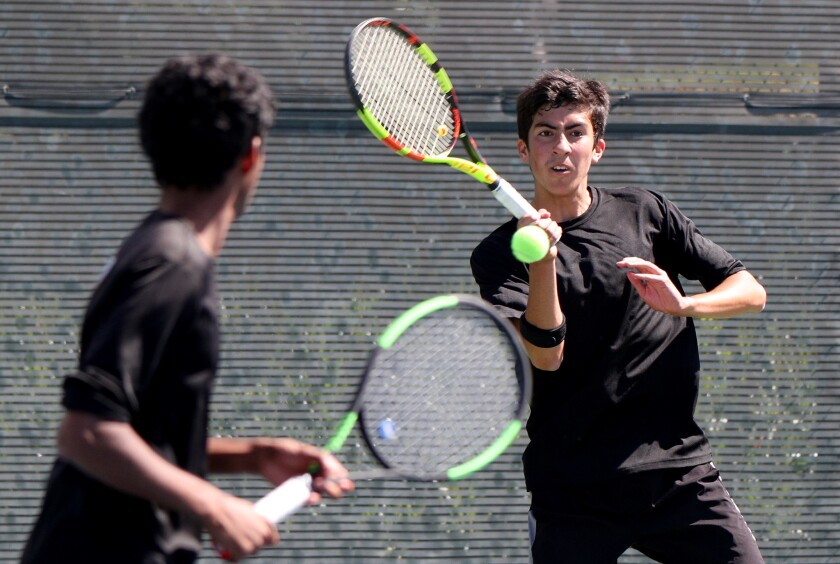 Huntington Beach (2-0) is the other local Surf League team. Coach Josh Anderson said the Oilers return senior Daniel Izmirian, the league doubles champion last year with graduate Sebastian Vethan. Izmirian and Vethan made the round of 16 in CIF Individuals. Senior Rohan Gupta is another solid returning singles player.
Sage Hill (2-0) graduated plenty from last year's Division 1 title team, including singles players Emin Torlic and Steven Ferry. Rohun Krishnan returns for his senior year and will be playing doubles for the defending San Joaquin League champions, which puts the spotlight on standout freshmen Grant Gallagher and Ian Jiang in singles.
Edison (1-2) won the inaugural Wave League title last year, the Chargers' first league title since 1993. Junior Jason You, who went 9-0 in the postseason to help Edison advance to the Division 2 quarterfinals, is a key returning player for the Chargers. But Edison lost its No. 1 doubles team of Ryan Lum and Logan Sherouse to graduation.
Laguna Beach (2-0) will be led by sophomore Ian McLaughlin in singles and senior Andrew Johnson in doubles. Newport Harbor (0-1) is young but junior Prescott Cook is a key returning player.
Costa Mesa (0-1) is the defending Orange Coast League champion but will have to deal with the loss of Votran. First-year coach Jason McAllister guides the Mustangs.
Estancia, which was winless in the Orange Coast League last year, is also led by a new coach. Athletic director Nate Goellrich is taking over the Eagles this season. Goellrich said that sophomore Jamieson McLellan will lead the Eagles in singles, while Estancia returns an experienced doubles team in seniors Arnoldo Orozco and Ray Hernandez.
The three Battle for the Bell matches are March 19 and 31 at Costa Mesa, and April 16 at Estancia.
::
Support our sports coverage by becoming a digital subscriber.
For more sports stories, visit latimes.com/socal/daily-pilot/sports or follow us on Twitter @DailyPilotSport.
---
All the latest on Orange County from Orange County.
Get our free TimesOC newsletter.
You may occasionally receive promotional content from the Daily Pilot.