At the season-opening Tesoro Tournament, several of the top high school boys' volleyball teams that the area has to offer were among those competing.
Huntington Beach, Laguna Beach and Newport Harbor accounted for three of the four semifinalists in the Gold Division, all hailing from the recently constructed Surf League.
The four-team league also includes Corona del Mar, which won the CIF Southern Section Division 1 and CIF State Division I titles in 2018.
After losing out to its Back Bay rival the previous season, Newport Harbor came back to claim both of those crowns last year.
So it did not come off as a bold statement when first-year Sailors coach Eric Vallely characterized the Surf League as "probably one of the toughest in the country, if not the toughest."
Newport Harbor saw significant turnover as it tries to retool rather than rebuild. Sam Walton takes over the setting duties, and Brendan Read displayed a live arm that is ready to contribute at outside hitter.
"Brendan's a really good player," Vallely said. "I believe he is an All-American libero in the club scene, and obviously has sprouted a little bit and got a pretty strong arm.
"It's nice to be able to have essentially two liberos out there passing, and it just so happens that one of them can hit pretty good, too. I'm very excited to have Brendan fill the shoes of Dayne [Chalmers] or whatever our needs are."
The first team to defeat Newport Harbor this season was Huntington Beach, which beat the Sailors 25-21, 25-15 in the Tesoro Tournament championship match on Monday.
Niko Colburn earns the tournament MVP award after leading the Oilers to a 25-21, 25-15 win over the Sailors on Monday in the Tesoro Tournament title match.
Huntington Beach kept its corps of hitters, led by Niko Colburn, intact, and it only got stronger with the addition of Noah Robin, a Long Beach State commit who transferred in from Downey.
Oilers coach Craig Pazanti is watching the development of his two sophomore setters — William Lawler and Ryan Haynes.
"The biggest thing for us was continuity-wise with two young setters," Pazanti said. "Will was the backup on the varsity last year, and Ryan was setting [for the junior varsity team] last year, but with two sophomores with a relatively elder group, how were they going to step up, and mentally, were they going to be prepared to do that.
"We've been working on a lot of stuff in practice over the last couple of weeks, and it's just nice to see them come out and really enjoy playing with each other. I think our chemistry even got better throughout [the tournament]."
CdM shared the Surf League title with Newport Harbor in 2019, handing the Sailors their only loss of the season. Senior setter Bryce Dvorak (Pepperdine) is a key returner for the Sea Kings.
Lance Stewart is back for a third tour of duty as head coach of Laguna Beach. He hopes to help the Breakers put an 0-6 showing in league last season behind them.
Opposite Geste Bianchi and outside hitter Andrew Reavis lead the Breakers' attack, but Stewart said others will have to step up to move up the standings.
"We're going to have to battle every single league match," Stewart said. "We didn't win any last year. We plan on winning some."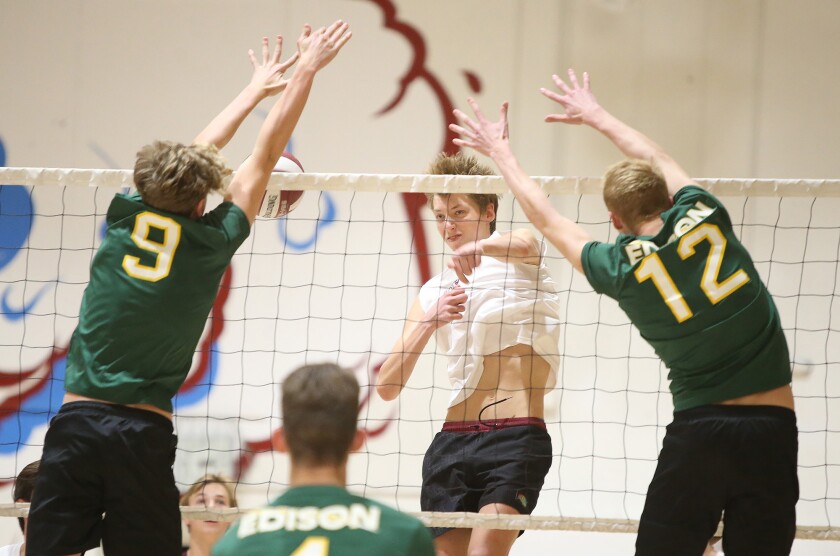 Edison was the co-Wave League champion with Los Alamitos last season. The Chargers bring back just one returning starter in senior opposite Sam Warren.
The Chargers will host the Orange County Championships on Friday and Saturday. Huntington Beach, Newport Harbor, Laguna Beach and CdM are the other local teams in the 12-team tournament.
Fountain Valley, which placed third a year ago, and Marina, which was last, will try to challenge for one of the league's two automatic playoff berths.
Sage Hill opened the season with a sweep of visiting Ocean View on Tuesday. Both teams qualified for the Division 5 playoffs a year ago, and each has been promoted to Division 4.
Connor Martin finishes with 11 kills and Jackson Bryant adds nine kills for the host Lightning in a 25-12, 25-19, 27-25 win over the Seahawks on Tuesday.
Costa Mesa and Estancia seek better showings in the Orange Coast League after neither qualified for the Division 4 playoffs last season.
Brethren Christian is coming off a year in which it earned an undefeated Express League championship. The Warriors have a new coach in Seth Heinz, who replaces Jannette Martes.
Pacifica Christian Orange County also has a new coach in Tim Maruyama, who was well established in the sport of volleyball in the Chicago area. He owns the 630 Volleyball Club. Maruyama also served as an assistant coach for Glen Ellyn [Ill.] Glenbard West, which finished last season as the No. 10 team in the nation, per MaxPreps.com.
Los Amigos hopes to improve upon its fifth-place finish in the Garden Grove League last season.
Liberty Christian will host a 12-team tournament on March 6-7.
::
Support our sports coverage by becoming a digital subscriber.
For more sports stories, visit latimes.com/socal/daily-pilot/sports or follow us on Twitter @DailyPilotSport.
---