When Marina High girls' basketball coach Daniel Roussel took over the program last offseason, he knew that the cupboard had not been left bare.
Although the Vikings had gone 4-22 overall in the 2017-18 season, they did have an experienced and talented point guard returning in Katie Nguyen. Roussel said that of all the pieces that a new coach would hope to start with, a smart veteran point guard would top the list.
Except there were rumors floating around that Nguyen, who had high hopes of playing college basketball, was considering her options for her final high school season.
At the first parent meeting following his hiring, Roussel gave his pitch to Nguyen to stay.
"After the meeting, I went right to Katie, and I said, 'Look, I heard that you may transfer, and I just want to tell you that I think that would be a bad idea,'" Roussel said.
Roussel looked at how the new Sunset Conference had been divided. Marina had been placed in the Wave League with Fountain Valley, Newport Harbor and newcomer Laguna Beach. The new head of the Vikings told Nguyen that he felt an opportunity was on the table to experience the kind of success she had yet to have in three prior seasons at Marina.
"I said, 'I really think that we can win that division. I know it sounds farfetched at this point, but once we get started, I think that you'll see that it's possible,'" Roussel said. "She trusted me. She really did. We started from that day. We formed a really nice relationship."
Nguyen showed loyalty to the school, and in doing so, she became Marina royalty. She guided the Vikings (19-10, 6-0 in league) to the Wave League championship, the first for the program since the 2005-06 season.
A four-year varsity player, Nguyen saw her hard work pay off in her senior year. She earned the Wave League MVP award, and she has also been named the Daily Pilot Girls' Basketball Dream Team Player of the Year.
"It's just all about believing in what is being offered," Nguyen said. "I know before, when I was thinking about transferring, I was still here, and we had just met Coach Danny.
"He was telling me to believe in it, and I did. Good things happened."
Nguyen averaged 14 points to go with 8.1 rebounds, 2.8 assists and 2.7 steals per game. Those numbers were down from her junior season, when she earned her first Dream Team selection.
While Nguyen continued to work on her skills, where Roussel believes Nguyen made her biggest progression as a senior was in her ability to run a team.
"I developed a trust [with my teammates] this year just because I know that they've grown so much, so I have more trust that they will be able to handle whatever comes at them," Nguyen said. "I can focus more on my girl and who I am defending instead of having to worry about, 'I have to be all the way to the other side to help.'"
Marina played well within its roles. Senior forward Emily Sakamoto, a transfer from Westminster, provided secondary scoring and outside shooting. Junior center Greta Graeler emerged as an option in the post, and sophomore guard Kat Robinson gave the Vikings another strong defender on the ball.
With contributors surrounding her on the floor, there was still no question that Nguyen was the primary option.
"Ultimately, it comes back to the fact that they respect Katie as their captain," Roussel said. "They know how hard she has worked. They see her in the gym. She's there when they get there. She's still there when they leave. She's one of those kids.
"I never had to sell Katie to the girls. The girls just absolutely really love her."
Marina had many moments to celebrate this season. Neither the coach, Roussel, nor the team captain, Nguyen, could narrow the season down to one favorite moment, so they settled on two.
I know before, when I was thinking about transferring, I was still here, and we had just met Coach Danny. He was telling me to believe in it, and I did.
Katie Nguyen, Marina senior
The first came at the Vikings' season-opening tournament at Oxford Academy, when Marina won the Silver Division. Nguyen walked away with MVP honors at the tournament, but even then, Roussel said other coaches at the tournament remarked at how the Vikings had advanced beyond the "Katie Show."
Later in the season, the Wave League championship took precedence. Fountain Valley, a team that had marked Nguyen with defenders in the backcourt in previous seasons, was seen as the primary challenger in league play.
"We knew that they were probably our hardest competitor in our league," Nguyen said of the Barons. "We knew that to be league champions, which was one of our goals, [we would have] to come right off the bat and beat them."
Marina beat Fountain Valley 43-37 at home to open league. With a 52-39 win at Fountain Valley, the Vikings had already earned a share of the Wave League crown with two games to go.
The Vikings lost their first-round game in the CIF Southern Section Division 3A playoffs to visiting Whittier Pioneer 38-36, although Nguyen noticed that the school had responded with a full student section in attendance.
Lehigh-bound Jakob Alamudun, a senior shooting guard for Marina, was named the Daily Pilot Boys' Basketball Dream Team Player of the Year. Nguyen was excited that two Vikings would be recognized.
"It's such an honor," said Nguyen, who plans to play for the Irvine Valley College women's basketball program next season. "Both of us being selected to play in the [Orange County] All-Star games already was an honor. Now, knowing that both of us are getting Basketball Player of the Year, it's just that much more that we bring to Marina and bring to its name."
COACH OF THE YEAR
Samantha Doucette
Costa Mesa
The first-year head coach got students excited about being part of the Costa Mesa program again. In the previous season, the program's numbers dropped dramatically to just six players. Doucette restored the program to fielding multiple levels, and the varsity team had a season to remember. The Mustangs went 16-13 overall and 9-1 in the Orange Coast League. Costa Mesa shared the league title with Santa Ana, its first league championship since it won back-to-back crowns in 2007 and 2008. The Mustangs also advanced to the CIF Southern Section Division 5AA quarterfinals, reaching that round for the first time since 2007. The playoff run included a 54-49 upset of No. 2 seeded St. Margaret's in the first round. "We started the season off 1-7, so my favorite thing was just seeing the girls start to believe in what they were capable of," Doucette said. "Once we started winning a few games, you could just see it. The energy in practice changed, the energy getting ready for games, just everything. It just changed. They had it all over their faces, their attitudes as far as, 'Wow, we are a good team.' That was awesome."
FIRST TEAM
Samantha Uehara
G | Corona del Mar | Sr.
Already the go-to option in the Sea Kings' backcourt, Uehara saw increased ball-handling responsibilities with Malia Halafuka missing her entire senior season due to a knee injury. The senior point guard and Surf League first-team selection averaged 13 points, four rebounds, four assists and three steals per game, leading the Sea Kings to a record of 16-12 overall and 3-3 in the league. Corona del Mar upset visiting Los Alamitos 36-33 on Jan. 15, a result that earned the Sea Kings the chance to host the Surf League championship game. Huntington Beach won the league title game 50-21, and Los Alamitos jumped CdM in the standings for second place. The Sea Kings did not receive an at-large berth into the CIF Southern Section Division 3A playoffs.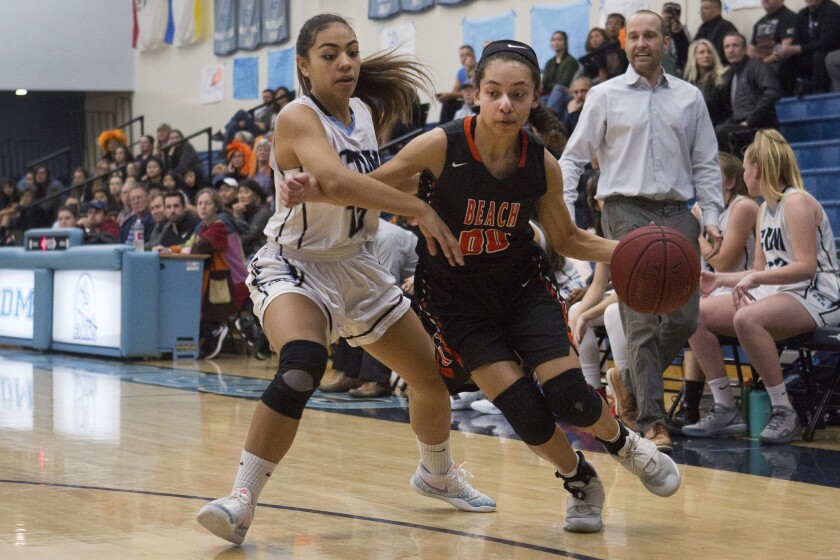 Meghan McIntyre
G | Huntington Beach | So.
McIntyre may be one of the smallest players on the court, but she is a handful for the opposition. The sophomore guard punished defenses with her ability to move without the basketball. McIntyre excels at cutting to the rim for layups, and she plays bigger than her size on defense. She shared the Surf League MVP award with Los Alamitos junior guard Sydney Gandy. McIntyre averaged 13.6 points, 5.2 rebounds, 3.4 steals and 2.2 assists per game. Surf League champion Huntington Beach (23-7, 5-1 in league) advanced to the CIF Southern Section Division 2AA quarterfinals, losing to Eastvale Roosevelt 37-36. McIntyre was also an All-CIF Southern Section Division 2AA selection.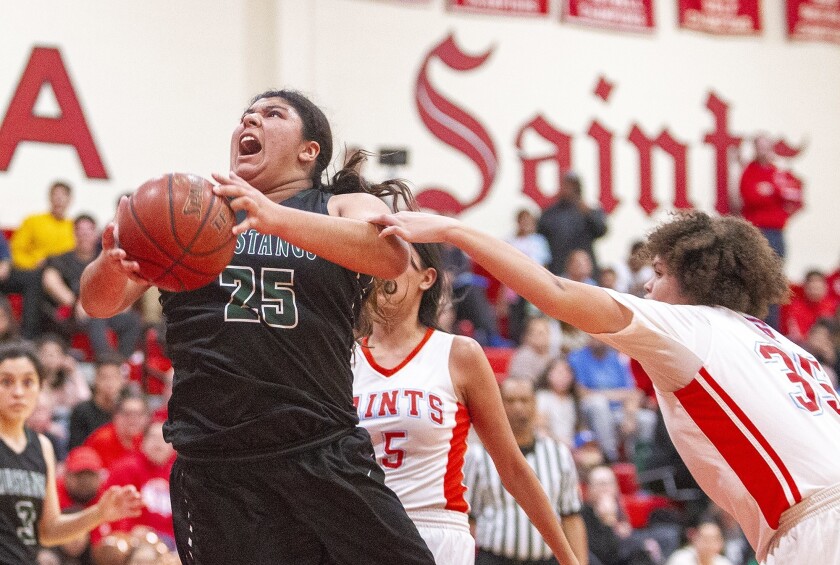 Katie Belmontes
F | Costa Mesa | Sr.
Big games meant big performances were forthcoming from Belmontes this season. The senior small forward played a physical brand of basketball, working in the low post to find easy baskets. Belmontes scored a season-high 25 points in the Mustangs' 54-49 win over No. 2-seeded St. Margaret's in the first round of the CIF Southern Section Division 5AA playoffs. For an encore, she scored 23 points in a 54-38 victory at Oro Grande Riverside Prep in the second round. Belmontes, an All-CIF Southern Section Division 5AA pick, shared Orange Coast League MVP honors with Santa Ana senior forward Esperanza Reyes.
Emily Elliott
F | Sage Hill | So.
Elliott earned her second Dream Team first-team nod in as many seasons as the focal point of the Sage Hill offense. The Lightning moved to a tougher San Joaquin League this season, but that did not stop Elliott from leading Sage Hill (14-8, 4-4 in league) back to the postseason. The sophomore power forward contributed across the board with averages of 17.3 points, 12.8 rebounds, 1.9 assists, 1.9 steals and 1.4 blocks per game. A first-team all-league selection, Elliott also showed that she could perform in the clutch with a buzzer-beater to send Sage Hill over Laguna Hills 47-46 in the Hawk Holiday Classic on Dec. 7.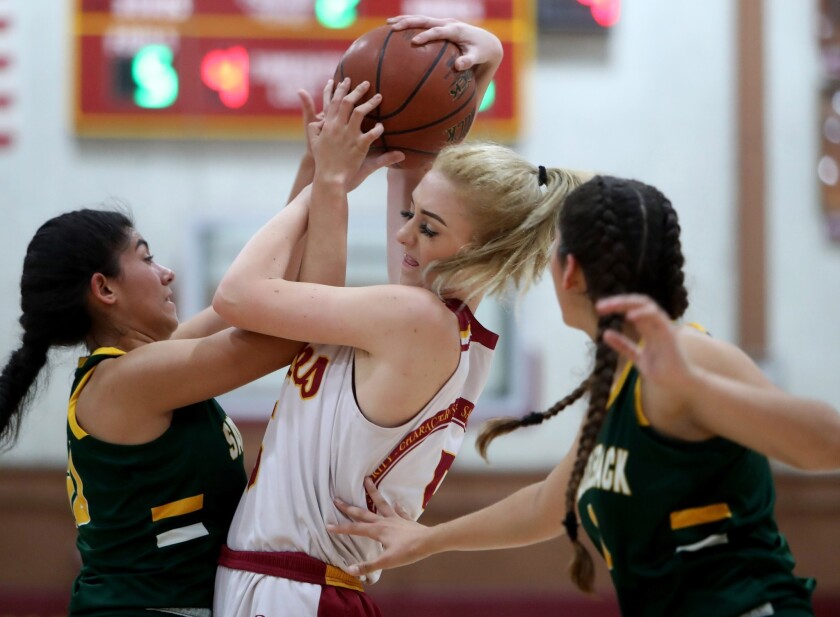 Helen Reynolds
C | Ocean View | Sr.
The four-year varsity player had a lot put on her shoulders when sophomore guard Hosanna Walker transferred to JSerra. Reynolds embraced the role, providing 23.2 points, 11.8 rebounds and three blocks per contest. The senior center was recognized as co-MVP of the Golden West League, sharing the award with Segerstrom's Tatianna Zazuetta. She earned the honor, even in a season in which Ocean View (12-16, 3-7 in league) did not qualify for the CIF Southern Section Division 3AA playoffs. Reynolds scored a career-high 43 points to go with 18 rebounds in a 65-43 win at Western in Golden West League play on Jan. 18.
SECOND TEAM
Position, Name, School, Year
G Isabel Gomez, Sage Hill, Fr.
G Marisa Tanga, Huntington Beach, Jr.
G Anna Eddy, Pacifica Christian Orange County, So.
F Andie Payne, Huntington Beach, So.
F Willa Rath, Newport Harbor, So.
C Tatiana Bruening, Corona del Mar, Sr.
C Zoe Ziegler, Fountain Valley, Fr.
::
Support our sports coverage by becoming a digital subscriber.
For more sports stories, visit latimes.com/socal/daily-pilot/sports or follow us on Twitter @DailyPilotSport.
Twitter: @ProfessorTurner
---