CIF Southern Section issues update on future sports plans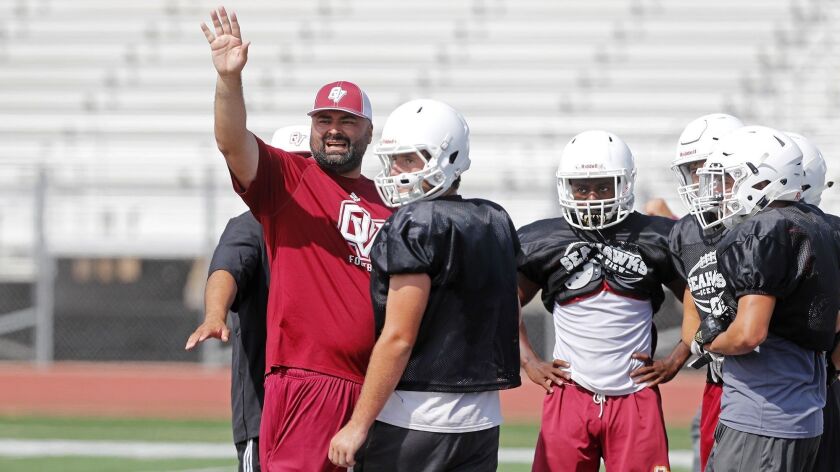 The CIF Southern Section is "totally committed to doing everything we can to be able to go forward with fall sports championships," commissioner Rob Wigod said in a letter to section principals and athletic directors on Wednesday.
Five days after spring sports championships were canceled due to the coronavirus pandemic, Wigod said CIF staff members are already working on potential scenarios for the start of fall sports.
"There will be more flexibility for us in the fall that we did not have in the spring, as we can adjust calendars within a longer time frame and there will be many different options that can be explored," Wigod said.
Fall high school sports include football, boys' water polo, girls' volleyball, cross-country, girls' tennis and girls' golf.
Wigod also said that summer athletic programs are under discretion of the high school principal and not the Southern Section, which would make it feasible to have at least one more athletic contest to honor senior student-athletes.
Local football coaches are hopeful that their teams will get back onto the gridiron this fall. Corona del Mar coach Dan O'Shea would be entering his sixth season as head coach. Last year, he led the Sea Kings to a perfect 16-0 record and the CIF Southern Section Division 3 and CIF State Division 1-A championships.
O'Shea said that managing the health crisis and focusing on families clearly take a precedence over football right now, but he is "cautiously optimistic" that the fall season could move forward on schedule.
"I think the earliest anything could ever happen would be July 1," O'Shea said. "That may be slightly optimistic, I don't know. Hopefully by August 1. If we were given the green light August 1, I think most football teams could be ready to go as scheduled. I mean, it won't look like or feel like what we've had in the past. Most of are expecting to have summer camps in July until we hear otherwise, but we're realistic. Things can change quickly, but we're going to remain optimistic."
Across the bay, Peter Lofthouse expects to lead Newport Harbor for the third straight year. The Sailors are coming off a Division 9 semifinal appearance a year ago.
Lofthouse expressed optimism in Wigod's remarks.
"The hope of every coach, not just myself, is that maybe sometime in the summer we can get back out on the field if we're lucky," Lofthouse said. "We could do some sort of seven-on-seven, or even if we don't practice with another school, at least get some of that spring ball we would have had back in May. That would be the hope. But we just take our orders and follow the guidelines that are set forth to us from our administrators and our district. Obviously, that comes from the state too."
In terms of what the Sailors are doing in the meantime, like many educators are now using Zoom for distance learning, the football program has also turned to that application.
"We actually create position meetings, where the players will go into a Zoom meeting with their position coach," Lofthouse said. "Since we can't get physical reps on the field, we're trying to do a lot of mental reps."
Ocean View football coach Luis Nuñez will enter his ninth year in charge. He had some fun recently on his Twitter page, posting the Seahawks' all-decade team from 2010-2019.
Nuñez said with a laugh that some alumni have complained about their spots on the all-decade team. In more serious matters, he said he has gotten text messages from some current players that express apprehension about whether the season will move forward.
"We're trying to keep our kids optimistic," Nuñez said. "If there's no optimism, a lot of them will probably have no reason to do any of the workouts. We're just going to do our best to stay connected with them. Obviously, our spring football calendar is out the door, so we're actually working on another spring calendar that we're going to hopefully send out to the kids here soon. Then they will know when they've got to sign on for meetings. For a lot of our kids, it's been a rough time."
::
Support our sports coverage by becoming a digital subscriber.
For more sports stories, visit latimes.com/socal/daily-pilot/sports or follow us on Twitter @DailyPilotSport.
---
All the latest on Orange County from Orange County.
Get our free TimesOC newsletter.
You may occasionally receive promotional content from the Daily Pilot.