PGF Nationals providing a ray of hope for softball community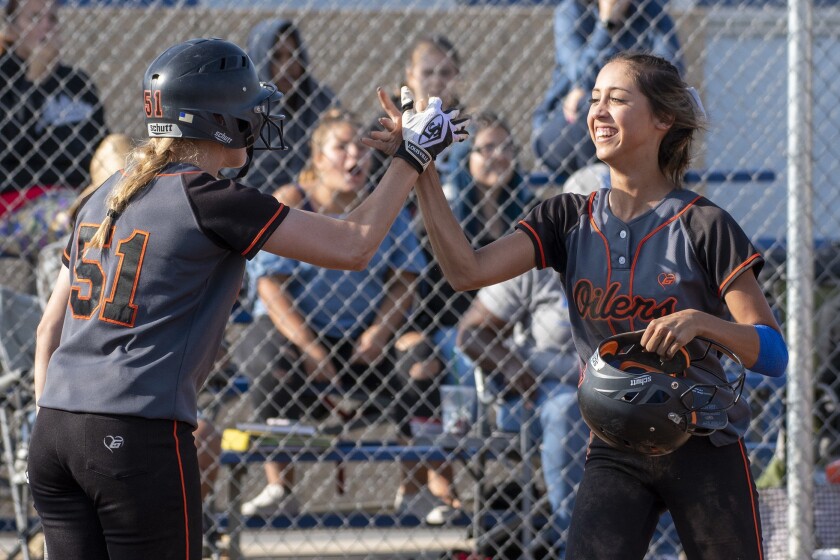 An ankle injury running the bases interrupted Shelbi Ortiz's junior season.
Injuries are part of the game of softball.
What happened with the suspension of play in March due to concerns over the coronavirus was harder to come to terms with. It was an unexpected situation that continued to evolve, ultimately resulting in the cancellation of the spring sports season.
The Huntington Beach High softball team had gone on to reach the CIF Southern Section Division 1 semifinals in 2019, and Ortiz had been looking forward to contributing to the cause as a senior.
"As a senior, it's hard just because you're missing that last chance that you have," Ortiz said. "Coming back from last year, I was really killing myself and trying to prove to myself that I was ready, and I do feel that I was."
Ortiz, an outfielder who is committed to the University of Utah, may yet have an opportunity to take the field with those she has grown up with again.
The Premier Girls Fastpitch national championships remain scheduled for July 24 to Aug. 9. The Huntington Beach Sports Complex and Fountain Valley Sports Park are among the tournament sites.
Dan Hay, the president of Premier Girls Fastpitch, said this week that he is "very optimistic" about the competition happening because it takes place late in the summer.
Ortiz said she sees the tournament as an opportunity for redemption. She plays travel ball for a Firecrackers 18-and-under team based out of Huntington Beach. The team, which is coached by Tony Rico and Rob Weil, has a berth into the 18U Premier Division.
Weil is also the head coach at Los Alamitos. The Griffins were 10-0 and ranked No. 1 in the nation by MaxPreps.com when the high school season was canceled.
Several Los Alamitos players are on his Firecrackers softball team, including Jamie and Emma Sellers (South Carolina), Carly Robbins (South Carolina), Taylor Johnson and Sophia Nugent (Oklahoma).
Given the uncertainty of the coronavirus situation, Weil is not sure if the PGF Nationals will happen or not, but he believes there are lessons that the players can take out of this hardship.
"I hope they just appreciate what they have and what they had, and don't take anything for granted," Weil said. "Who ever thought that something like this would ever happen?
"I would just say to them, if we get that second chance, that second opportunity, to take full advantage of it, making sure we're prepared."
Many are looking at the PGF Nationals as a light at the end of the tunnel that is the coronavirus crisis. Travel ball teams are finding ways to stay sharp in the hope that they will play again.
"I think all the girls and families and coaches are all just trying to be positive," said Kim Ensey, who coached at Edison from 2013 to 2016. "I think PGF is something that we all look forward to every year, and so it keeps the girls motivated to work from home with a goal in sight."
She now runs the SoCal Choppers Ensey out of Cerritos High, where she has coached since 2017.
With social distancing in full effect, Ensey and her coaching staff have been finding ways to keep players engaged. They have sent out defensive drills of the day that have to be performed and submitted back to the coaching staff by video.
"For instance, glove-hand backhand work, glove position, pre-pitch hop, things of that nature," Craig Lane, an assistant coach with the SoCal Choppers Ensey, said of the drills. "We'll send it out, have the girls look at the video, and either one of their siblings, mom, dad, whatever, do the drill with them."
A variety of solo hitting drills have also been provided, and the organization has also done virtual workouts.
Taylor Lane, Craig's daughter, is a utility infielder for the SoCal Choppers Ensey 18U team. A Daily Pilot Softball Dream Team honoree last season, Lane was in her junior season at Marina.
"PGF Nationals, we're really looking forward to that because we were looking forward to being in [the] Premier [Division] this year and hopefully getting a berth," Lane said. "Hopefully there are some qualifiers that we can do to secure a spot.
"If not, then at-large berths will have to come into play with the other teams. We train every day for PGF. Our team, when we do our workouts, that's our main goal."
The childhood activity of "Show and Tell" has been utilized by Donnie Hagberg's Firecrackers teams.
"We do some Zoom chats together and kind of talk about different things that kids can do, like, 'What are you doing at your house?'" Hagberg said. "Maybe it gives another kid another idea, something that she can do in her garage or her backyard."
Undoubtedly, Hagberg wants to be back on the field with his players.
"I feel like a caged animal wanting to get back onto the field," he said. "I'm like a little kid. I've been [coaching] for 21 or 22 years, and it's all I've ever known. Now, all of a sudden, Saturdays are just like Tuesdays."
::
Support our sports coverage by becoming a digital subscriber.
For more sports stories, visit latimes.com/socal/daily-pilot/sports or follow us on Twitter @DailyPilotSport.
---
All the latest on Orange County from Orange County.
Get our free TimesOC newsletter.
You may occasionally receive promotional content from the Daily Pilot.