Class of 2020 high school boys' golf showcase to be held at Costa Mesa Country Club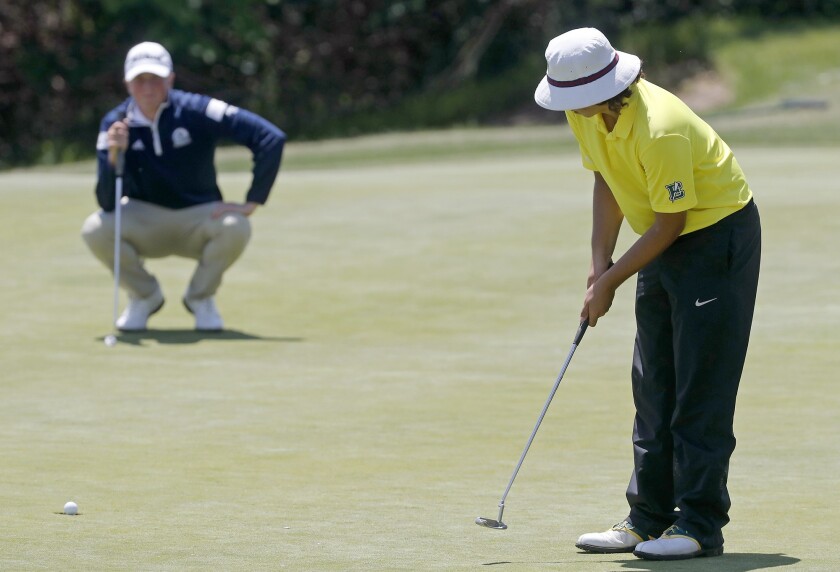 Edison High boys' golf coach Brendan Patch is working with Costa Mesa Country Club to put on an 18-hole senior showcase tournament.
The event — The Orange County Boys' Golf All-Star Senior Showcase (Class of 2020) — will be held on June 15 on the Mesa Linda Course at the local public country club. Tee times will start at 1:30 p.m.
Boys' golf was among the spring sports that saw its season shortened, and ultimately canceled, due to concerns over the novel coronavirus pandemic.
"Over the past few months, I've really wanted to do something for my graduating seniors," Patch said. "It really saddened me that they missed nearly their entire season. We had high expectations for the season and were hoping to repeat as CIF Southern Division champions.
"After speaking with coaches Dean Yoshiyama at Huntington Beach and Ryan Kelaher from Mater Dei, we thought this might be a good idea, bring some fun back for the boys, and allow them to compete and get a taste of normalcy."
Patch has put together this invitational event to bring together some of the top seniors from high schools in Orange County and the surrounding area. The tournament has enough room for 40 golfers, and those seeking to join the field should consistently shoot rounds in the 70s or lower.
Among the locals to have signed up for this "Class of 2020" showcase so far are Edison's Tiger Tahvildari and Dylan Delaney, Huntington Beach's Cathan Peterson-Cheek, and Estancia's Ian Hopp. Laguna Beach golfers Aiden Svenson, Will Keary and Cade St. Clair and Ocean View's Preston Ray.
Jaden Cantafio, a CIF individual runner-up last year for Mater Dei, and Andrew Hoekstra, a Long Beach State commit for the Monarchs, are among the top players in the showcase thus far.
Danny Lane, the general manager of Costa Mesa Country Club, said the facility is happy to be able to support high school golf.
"I think it's a fantastic event," Lane said. "Fortunately, golf is one of the sports that we can get them out here comfortably, socially distanced, and give them one opportunity to compete. They had a lost season, and most of the kids aren't moving on to playing in college, so giving them one last chance to play is fantastic."
Patch said that the showcase has received 24 solid commitments. The cost to play is $35. Those interested in playing can sign up at edisongolf.files.wordpress.com/2020/05/senior-showcase-registration-form-2.pdf. The deadline to sign up is June 6.
Support our sports coverage by becoming a digital subscriber.
For more sports stories, visit latimes.com/socal/daily-pilot/sports or follow us on Twitter @DailyPilotSport.
---