The Huntington Beach High baseball team seems set up for another successful season in 2019.
The Oilers opened the season ranked No. 2 in Orange County and No. 6 in the CIF Southern Section Division 1 preseason poll. They have 10 players who are headed to play in college, including Josh Hahn, a UCLA-bound left-handed pitcher and first baseman who was last year's Daily Pilot Dream Team Player of the Year.
Hahn is one of five Huntington Beach pitchers headed to the next level. He's joined by left-handed seniors Edward Pelc (University of San Diego) and Dylan Ramirez (Cal State San Marcos), sophomore Shane Stafford (San Diego State), as well as senior right-hander Jeremy Wiegman (Cal State San Marcos).
The infield is also strong, with junior first baseman/outfielder Jag Burden headed to Cal, senior second baseman Brett Barrera (Stanford), senior shortstop Cole Minato (Gonzaga) and senior third baseman Ken Takada (Cal State San Marcos). Junior center fielder Jake Vogel is bound for UCLA.
Of course coach Benji Medure, beginning his 19th year at the helm, has been around long enough to know that all of the above guarantees nothing. The Oilers were the No. 1 seed in Division 1 in 2017 when they were upset at home by El Dorado in the quarterfinals. Last year, they were the No. 2 seed, but they relinquished a five-run seventh inning lead in a 6-5 eight-inning second-round loss at Goleta Dos Pueblos.
Huntington Beach, last year's Sunset League champion, will do battle with Los Alamitos, Fountain Valley and Edison in the new Surf League. The Oilers (3-0) begin league play March 15 at home against Fountain Valley.
"League is tough as always and with only nine league games, the pressure is on," Medure said. "There can't be a mental lapse in league. [There's a] very small margin for error."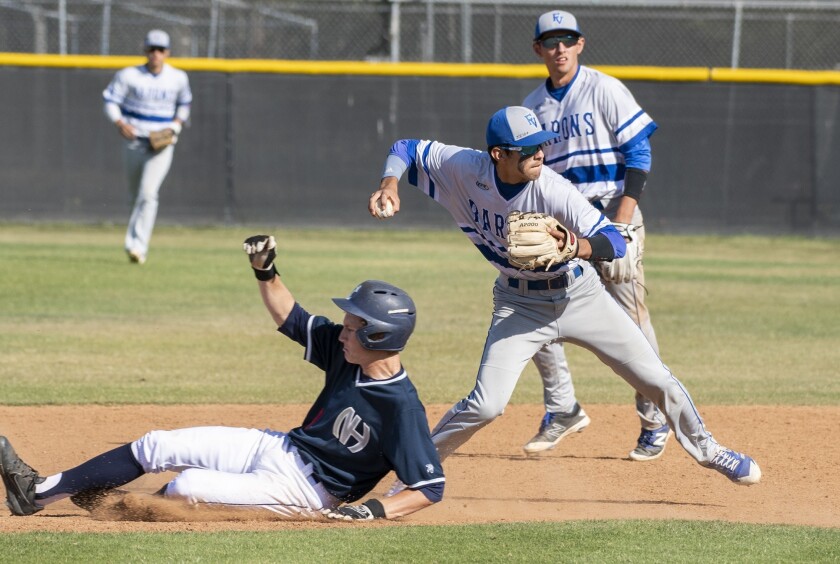 Fountain Valley (2-3), ranked No. 10 in Division 2, is led by a pair of juniors. Sebastian Murillo is a three-year starter at shortstop and an Arizona commit, while Jake Brooks is a two-year starter at third base and a UCLA commit. Barons coach Deric Yanigasawa is not a big fan of the new format of the eight-team Sunset Conference, which features the Surf League and Wave League.
"It's a terrible format because two of the better teams in our league will not make the playoffs," Yanigasawa said. "We are not sending the best teams from our league to represent us. We should be an eight-team league instead of two four-team leagues."
Senior left-handed pitcher Kevin Hultgren and senior first baseman/outfielder Blake Morton are key players for Edison (3-3).
The Wave League should be hotly contested, as Marina opened the season ranked No. 2 in Division 3, with Newport Harbor at No. 5. Senior right-handed pitcher and first baseman Cory Lewis, a four-year varsity starter signed to UC Santa Barbara, is the Vikings' ace.
Marina (3-1) also features senior right-handed pitcher and right fielder Austin Hallman, headed to George Fox University, as well as Chapman University-bound senior catcher Dylan Holt. But coach Toby Hess said the offense needs to be more consistent than last year, when the Vikings finished 10-21 overall and 3-12 in the league.
Newport Harbor (4-0) is off to a fast start, as the Sailors play in the Newport Elks Tournament Foothill Division title game Friday against Trabuco Hills at Irvine's Orange County Great Park at 3 p.m. Senior right-handed pitcher Cameron Mahaffy, a Cal Poly San Luis Obispo commit, and senior right-handed pitcher Kelly Austin each return on the mound. The defense will be anchored by senior shortstop John Olmstead, a USC commit, and junior catcher Clay Liolios. The Sailors have the talent to win the school's first league title since 1948.
Corona del Mar (4-0-1) and Laguna Beach (5-1) are also in the Wave League. The Sea Kings have a first-year coach in Kevin McCaffrey and a talented lineup led by senior first baseman/center fielder Luc Stuka (Cal State San Marcos), senior right-handed pitcher Tom Wilcox (Tennessee) and senior shortstop Reece Berger (San Diego State). Junior Kieran Sidebotham, a second baseman, is one of CdM's top hitters.
Laguna Beach coach Jeff Sears reports his team strengths are pitching and defense. Senior left-handed pitcher and first baseman Cutter Clawson has signed with BYU, while sophomore right-handed pitcher and shortstop Eric Silva has verbally committed to UCLA. Senior center fielder Kolton Freeman, a Dartmouth commit, is another key player.
Estancia (2-2), ranked No. 5 in Division 5, and Costa Mesa (1-2) will look to contend in the Orange Coast League. The Eagles are led by right-handed pitchers Justin Wood and Jake Covey, a senior and junior respectively, as well as senior shortstop Jake Alai and senior center fielder Hayden Pearce.
Costa Mesa opens the season with a first-year coach, Kevin Chavez, who formerly led Chino Hills.
Sage Hill (1-0) starts five seniors, including senior left-handed pitcher Ashwin Chona, a four-year starter who threw three consecutive no-hitters two years ago as a sophomore. The Lightning look to stay competitive as they move from the Academy League to the San Joaquin League.
Los Amigos (1-5) is led by senior catcher Elias Delgadillo, the co-offensive MVP of the Garden Grove League last year, as well as junior right-handed pitcher and shortstop Nathan Flores and junior outfielder Juan Contreras.
"The goal is always to win league and go to CIF," Los Amigos coach Adam LaMendola said. "The Garden Grove League is usually dominated by [La Quinta and Rancho Alamitos]. If we win the games we should, and compete in the others, CIF is attainable."
Twitter: @mjszabo
---