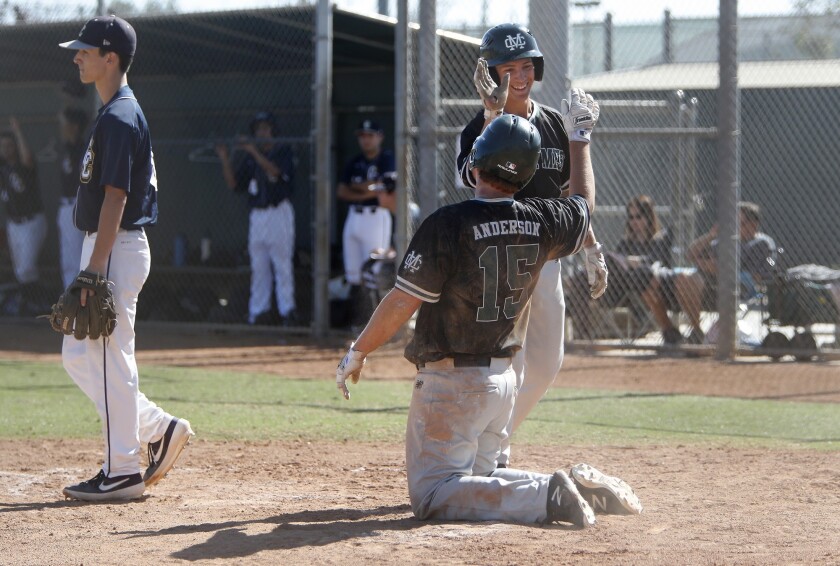 Costa Mesa High has been playing playoff baseball, coach Kevin Chavez noted, for the past week or so, so when the Mustangs actually clinched a CIF Southern Section postseason berth — with Wednesday afternoon's must-win game over Calvary Chapel — the celebration was somewhat muted.
No dogpiles, no huge displays of emotion, just some high-fives and fist-bumps. Business as usual.
Chavez, in his first year at the helm of the Mustangs, wasn't surprised.
"Everything's been playoffs the last few games, so this was just game three or so of the playoffs for us," he said after Costa Mesa pulled out a 4-2 triumph at TeWinkle Park in Costa Mesa. "They're focused, they're excited. That's about as much as you get out of that group. They're happy."
The Mustangs put together enough offense, took advantage of Calvary Chapel's miscues, got strong efforts on the mound from starter David Gonzalez and closer Omar Muñoz, and came up with some sparkling defensive plays — none bigger than senior shortstop Cameron Chapman's big stop in the bottom of the seventh — and were rewarded with the program's first playoff trip since 2010.
They had to beat Calvary Chapel on successive days to do so and climb into a tie for second place in the league with Orange and Santa Ana. Costa Mesa (12-11, 9-6 in league) heads to the Division 6 playoffs as the league's No. 3 entry, thanks to a 2-1 record against Santa Ana, which is hoping for an at-large berth.
Orange, by winning season series over the Mustangs and Saints, is the league's No. 2 playoff team. Estancia won the league championship by finishing 10-5 and it heads to the Division 5 playoffs. Brackets will be released Monday.
"It's a good feeling," Chavez said. "We hadn't been in the playoffs for [almost] 10 years. It's exciting for us to have the kids come back and turn that around, especially with eight seniors on their way out and paying dues all these years. To come back and get that done is a good feeling."
Costa Mesa had lost six in a row heading into this week's games. Then the Mustangs pulled into a tie for third — with five teams separated by one game — with a 6-5 home win over Calvary Chapel Tuesday.
Wednesday's was just as tight. The Mustangs built a 3-0 lead through the first half of the fourth inning but could have had more. They left seven on base, six in scoring position, in the first three innings.
"We were fortunate," Chavez said. "Those innings really got away from us. We should have been able to really push further away from them, and to [Calvary Chapel's] credit, they hung tough."
Calvary Chapel (11-8, 8-7), which dropped to fifth and will miss the playoffs for the first time since 2005, made it close once Chris Berry relieved struggling starter Sam Guardado with one out in the third. Berry retired 10 of 12 batters, with one baserunner reaching on an error, through the sixth as the Eagles pulled within 3-2. They had two on and the winning run at the plate in the seventh.
Costa Mesa went ahead in the first, when Miguel Rodriguez walked, stole second and third and came home on Kyle Anderson's sacrifice fly. Anderson made it 2-0 in the third, singling to start the inning and scoring when Calvary Chapel third baseman Jonathan Brown threw away Duke Kirby's grounder trying to force Anderson at second.
Chapman scored the third run in the fourth, with a single, stolen base and a two-out error on Anderson's grounder.
The Eagles scored in the bottom of the fourth, when Brock Hiatt reached on an infield hit, went to second on a wild pitch and third on a balk, and scored on Charlie Pierce's sacrifice fly, and got within a run when Chris Berry singled, stole second, went to third on an error and scored on Pierce's double-play grounder.
Costa Mesa started the seventh with infield singles by Muñoz, Anderson and Kirby, and Muñoz scored on Riley Mitchell's fielder's-choice groundout. The Mustangs left the bases loaded, and Calvary Chapel got a man to second with one out in the bottom of the inning when Sean Riley singled and went to second on a wild pitch.
Then Chapman came up huge, diving to his right to glove Michael Randazzo's sizzling grounder, then throwing him out — a play made bigger when Max Coyne followed with a single to put runners at the corners. Muñoz struck out Sam Guardado to end the game.
"I saw the ball, wanted to get there, kind of tripped over my feet a little bit, figured it out, and got a throw across," Chapman said. "That was my way of helping the team."
Costa Mesa plans to make a playoff run.
"We can do some damage in Division 6," Chavez said. "They believe in themselves, and they can catch fire and be extremely dangerous."
Said Anderson: "We can go all the way, man. We totally have the talent to win a CIF championship. No doubt in my mind."
::
Support our sports coverage by becoming a digital subscriber.
For more sports stories, visit latimes.com/socal/daily-pilot/sports or follow us on Twitter @DailyPilotSport.
SCOTT FRENCH is a contributor to Times Community News.
---