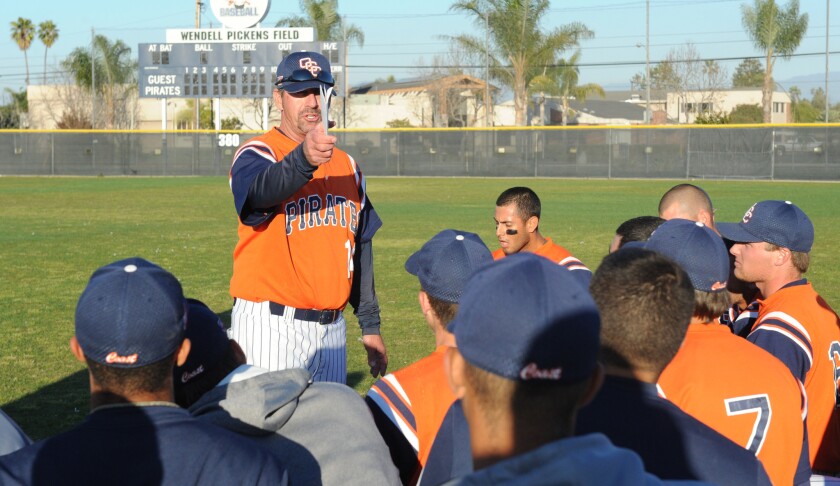 John Altobelli took his son J.J. to the College World Series in 2008. It was part pilgrimage, part junior high school graduation gift and, if things went well, part precursor to a college baseball future that just might have included a return visit in which J.J. would perform in what had become known as the "Greatest Show on Dirt."
After four standout seasons at Woodbridge High, the younger Altobelli ventured to the University of Oregon, where former Cal State Fullerton coach George Horton was constructing a program he hoped would lead to Omaha, as he had six times with the Titans, including the 2004 title.
The first of four seasons as a Ducks' starter ended in an NCAA regional in 2010. After missing the postseason in 2011, Oregon won a regional and hosted Kent State in a Super Regional that was deadlocked in the ninth inning of a deciding third game.
Kent State, however, advanced to Omaha when a blooper in the ninth landed just out of the reach of Altobelli, who had retreated into the outfield from his shortstop position, and the charging left fielder.
The next season, J.J.'s senior campaign, host Oregon failed to advance from an NCAA regional and J.J. was drafted in the 18th round by the St. Louis Cardinals.
But after 48 games of rookie ball in the Appalachian League, J.J. chose to transition into coaching. He was a graduate assistant at Oregon in 2015, then became a volunteer assistant at Cal State Fullerton.
In his second season with the Titans, coaching first base and tutoring the infielders for coach Rick Vanderhook, Altobelli helped Fullerton defeat Big West Conference rival Long Beach State in the Super Regional to reach Omaha for the 18th time.
John Altobelli, who has won three state championships in 25 seasons at the OCC helm, will be in Omaha to see his son try to help the Titans win their fifth NCAA crown.
"I told J.J. after that trip in 2008 that I wasn't going back [to the College World Series] until he was on the field," John Altobelli said Sunday.
J.J. takes the field with the Titans against No. 1 overall seed Oregon State on Saturday. And his father will be watching, and cheering from the stands.
Villalobos shows promise
Long Beach State sophomore reliever Eli Villalobos did his best to help the Dirtbags make their first trip to Omaha since 1998. He appeared in two of the three Super Regional games against Cal State Fullerton, allowing one hit and no runs in 1 1/3 innings. He struck out one and walked one and was not involved in a decision.
For the season, Villalobos was 3-1 with three saves in 24 appearances, all out of the bullpen. He allowed 24 hits in 31 innings, striking out 27 and walking 14. Not bad for someone who last pitched in Little League.
Villalobos was a reserve catcher at Golden West in 2016. He hit .444 in 18 at-bats, over nine appearances, but had one at-bat in the Rustlers' final 24 games, as they advanced to the state championship game.
As a lark, on his 19th birthday last June, Villalobos asked his travel-ball coach to pitch in a tournament game. Villalobos said he performed well and, unbeknownst to him, Dan Ricabal, who would soon become the Long Beach State pitching coach, was there and came away impressed.
Within weeks, Ricabal offered Villalobos a spot with the Dirtbags and his catching career was over.
"It was insane that it happened so quickly," said Villalobos, who is learning quickly on the mound, where some envision for him a bright future. He hopes to refine a fledgling changeup over the summer and return to help the Dirtbags defend their Big West title next season.
UCI baseball may feel draft
There were mixed feelings within the UC Irvine baseball program during the three-day MLB Draft that began Monday.
On the opening day, UCI players and coaches celebrated in Newkirk Pavilion, one floor above the team clubhouse in Anteater Ballpark, as junior Keston Hiura was picked No. 9 overall by the Milwaukee Brewers.
UCI, which had never before had a player selected in the first round, also witnessed prized recruit Royce Lewis be selected first overall by the Minnesota Twins.
Hiura was gratified to celebrate the moment with his teammates, friends, family and coaches, but admitted there were those disappointed that Lewis, a shortstop out of JSerra High, did not fall lower, which may have prompted him to choose college baseball over professional riches.
"I think some of the coaches were hoping he might have slipped a little farther," Hiura said. "But everyone was happy for him. Even though he didn't get a chance to be an 'Eater, he is still an 'Eater, regardless. I am excited for him and his family as well."
UCI coaches will now also hold their breath to see whether projected ace Cameron Bishop, and talented recruit Trenton Denholm, fail to sign with teams that drafted them.
Both Bishop (Baltimore) and Denholm (Boston) were drafted in the 26th round. MLB teams have until July 15 to sign draft picks, which then may return to their college teams.
Twitter: @BarryFaulkner5
---