Jimmy Nolan steps down as Fountain Valley football coach
Sports Editor
Jimmy Nolan said he always knew he probably shouldn't be coaching high school football. Spending up to 40 hours a week as a walk-on coach at Fountain Valley was time he really didn't have.
Nolan's time with the Barons has run out.
After three years in charge of the Barons, Nolan said he resigned Thursday to fully commit himself to his speed training business and his family.
"It was time because I keep turning down a lot of cool business with my speed training," said Nolan, who runs Speed Kills. "My new little niche [has] really been getting big and better, and it's taken me out of California a lot. I'm flying a lot to the Carolinas and Georgia. I'm getting kids ready for the combines, so I work out really cool deals with [sports] agents and that's my new little niche in the speed world.
"With [coaching] football, I have to turn down a lot of things, and, you know, we're not getting rich doing this. But I love the kids. It's a hard decision to make."
With the four children he and his wife, Taran, have, the 45-year-old Nolan said he had to step down from Fountain Valley.
Nolan leaves the Barons a month after leading them to the first round of the CIF Southern Section Division 8 playoffs, the program's second straight postseason appearance. Fountain Valley went 5-6 overall and placed fifth in the Sunset League at 1-4.
I feel like I left [Fountain Valley] better than I found it, and that's what you always want to do as a coach.
— Jimmy Nolan
The season began with Nolan guiding the Barons to a 4-0 record, their best start in nine years. Then Nolan and the program dealt with adversity when assistant coach Scott Panique died at age 38 on Sept. 9, two days after Fountain Valley shut out Long Beach Rancho Dominguez 50-0 on the road.
"Nothing will ever prepare you for the loss of a loved one," Nolan said. "Scott was one of my best friends, and he passed away while we were [texting] on the phone. That's just something that I don't even consider like part of the football season. It's just part of, you know, life.
"Everyone is there in the beginning and empathizes with you, and you have a great funeral, which is like a great reunion, but then you're forced to get back on track [to] coaching right away, and that's tough. You realize, you know what, football is not that important. I just lost my best friend. I keep trying to call him and I realize … I can't call him. That in itself was difficult, but I feel like we persevered."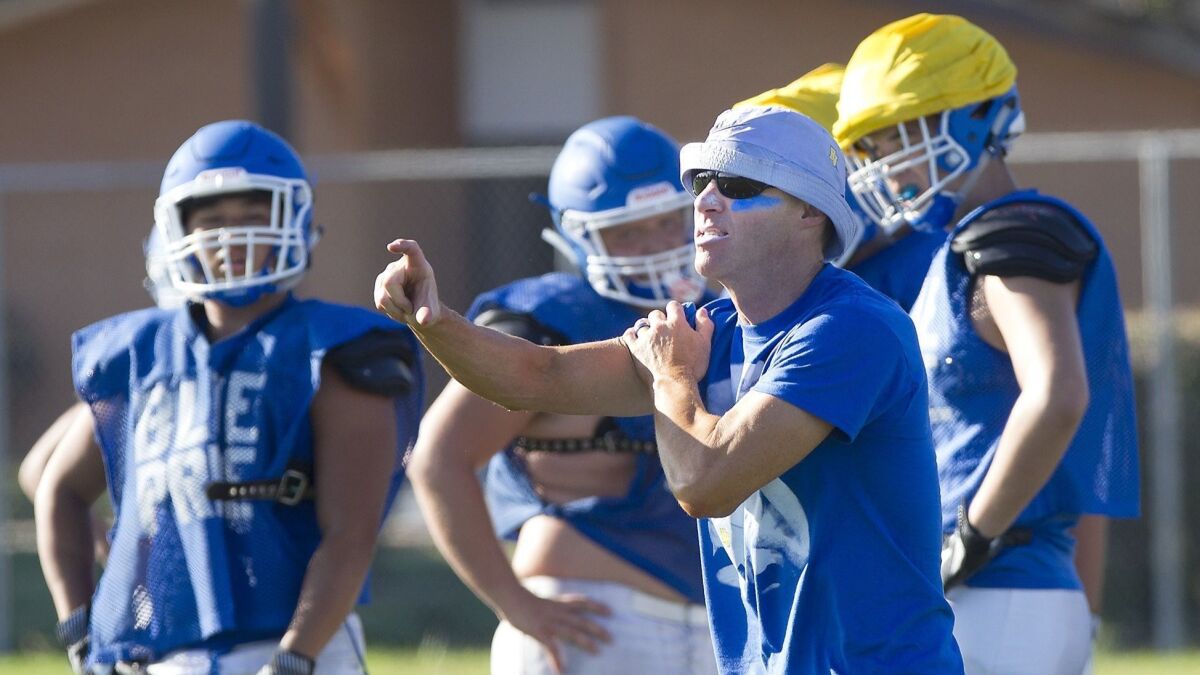 Nolan has faced a variety of issues during his time as a head coach. Wherever he's coached, from Montebello Cantwell-Sacred Heart, to Laguna Beach, to Compton Centennial, to Carson, to Lakewood, to Fountain Valley, Nolan helped turn things around.
When Nolan arrived at Fountain Valley in 2016, things looked grim.
"I got hired like early July. I couldn't even get enough kids to come out to practice until we got the pads on [in August]," said Nolan, who grew up in Fountain Valley and considers himself a Fountain Valley guy, even though he played football at Mater Dei, where he graduated in 1992. "Thirteen kids had transferred out. They didn't have a head coach for several months before I got there. They had one coach [Justin Schaeffer] that came in [March], and he was so disappointed with the talent, he [resigned in May and] made a U-turn and went right back to [Murrieta Mesa], where he came from.
"I just inherited a group of kids that did not believe in themselves and were ridiculed by the campus. We were the joke. Those boys, I am very proud of what they did that [first] year. Even though we went 1-9, that one [victory] was like [winning] a Super Bowl."
The following season, Nolan led the Barons to their first playoff win since 2003. Fountain Valley, which finished 7-5 overall and shared third in the league at 2-3 in 2017, reached the Division 6 quarterfinals.
In a letter to the football families, Fountain Valley principal Morgan Smith thanked Nolan for his hard work, passion and leadership. Under Nolan, the Barons went a combined 13-20 overall and 3-12 in league play.
"Each of my schools [has] been a difficult task because I always look for like the impossible underdog job. It motivates me, it gets my blood pumping," Nolan said. "I feel like I left [Fountain Valley] better than I found it, and that's what you always want to do as a coach. You don't want to leave the cupboard empty for the next guy. I think that's wrong.
"My conscious is good with leaving it how it is right now. I think they're going to do really well. I think they got a really good team coming back."
Twitter: @ByDCP
All the latest on Orange County from Orange County.
Get our free TimesOC newsletter.
You may occasionally receive promotional content from the Daily Pilot.