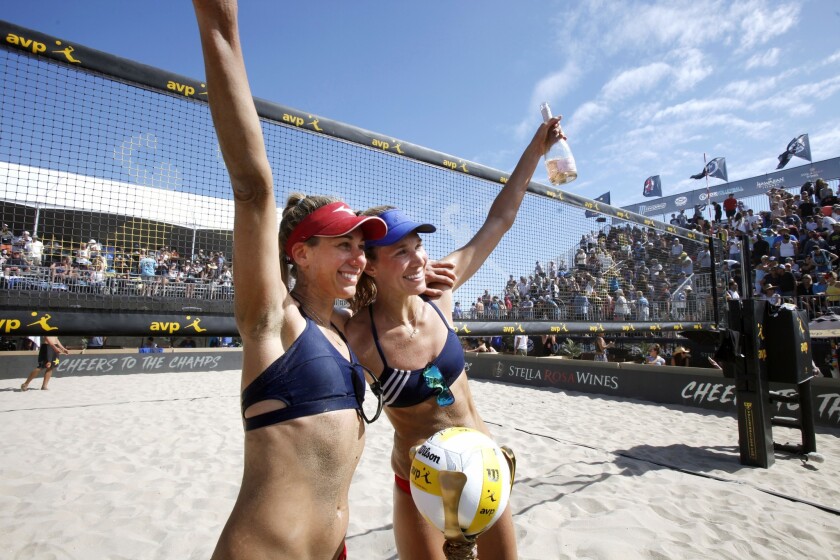 The new beach volleyball season began much as last year's ended for top-seeded April Ross and Alix Klineman, who claimed their fourth successive AVP tournament title Sunday.
But it sure didn't come easy.
Ross, from Costa Mesa, and Klineman, from Manhattan Beach, rallied from a first-set loss and staved off a match point during a 23-serve "freeze" in the decisive third set to claim the AVP Huntington Beach Open women's championship and $20,000 from the $200,000 prize pool.
Their stirring 18-21, 21-12, 17-15 triumph over Hermosa Beach-based Canadians Melissa Humana-Paredes and Sarah Pavan, in front of a packed stadium on the sand just north of the Huntington Beach Pier, served as the weekend's climax ahead of a comparatively one-sided men's final won by Huntington Beach's Jake Gibb and former Long Beach State All-American Taylor Crabb, also the No. 1 seed.
It was the fourth Huntington Beach title and 34th in AVP play for Ross, a two-time Olympic medalist who played at Newport Harbor High School.
"It feels like the first time," she said when it was over. "Especially against a team like that with Alix and all the hard work we've put in. It's just a different feeling, and it's amazing to win in Huntington."
First they had to navigate through a tough semifinal with Costa Mesa's Sara Hughes and Carlsbad's Summer Ross, the No. 2 seeds, pulling out a 25-23, 18-21, 15-9 victory. Then Ross and Klineman rallied in the title showdown after dropping a first set that was tied 15 times, including every score from 5-5 to 15-15. A 7-1 start, built on a strategy of serving away from defensive specialist Humana-Paredes, produced a simple second-set win. The third set?
"Epic," Klineman described it.
Ross and Klineman twice opened small leads in a sideout-after-sideout affair, getting within a point of the championship at 14-11 on a Ross finish from the left. At match point, the score "freezes" — teams can only score off their own serves the rest of the way — and all they got out of five match points, two of them serves that went long, was a narrower lead.
The Canadians, seeded 14th because they've played so few AVP events, pulled even on Pavan's spike off Klineman's block and went ahead 15-14 when Pavan blocked Ross at the net. Humana-Paredes hit the ball out of bounds on match point after Ross and Klineman dug out tough balls, and another Humana-Parades mishit on the next serve made it 15-15.
The next six serves accomplished nothing, then Klineman blocked Humana-Paredes and Humana-Paredes hit the ball long on successive plays, and it was over.
"It's amazing," Klineman said. "We left off last season on such a high note, and we did overcome obstacles [in an offseason revamp]. To win this first one is huge. It's a lot of confidence and we got confirmation that we've been working on the right things, and by no means are we going to relax now. We've got a lot of hard work ahead of us."
Gibb, originally from Utah, and Crabb, a Honolulu native who lives in Redondo Beach, had to battle out of the loser's bracket after falling Friday to Tri Bourne and Trevor Crabb, Taylor's older brother. They avenged that defeat in the semifinal, 21-14, 18-21, 15-11, then won the title over sixth-seeded Chase Budinger and Casey Patterson 27-25, 21-14.
The first set was even 24 times and both teams had set points before it wrapped up with two Crabb kills and a Budinger mishit. Crabb's serving and defense were key as they finished the match with a 9-5 run.
"In all honesty, they keep getting sweeter," said the 43-year-old Gibb, a three-time Olympian who won his third Huntington Beach and 30th AVP title. "I walk out here, kind of looking up in the stadium, and it was packed and people were trying to get in from the outside. ... I just enjoy it more and more the older I get.
"It's one of those things that I really feel fortunate to be a professional athlete and have this amazing energy for one hour of my life."
::
Support our sports coverage by becoming a digital subscriber.
For more sports stories, visit latimes.com/socal/daily-pilot/sports or follow us on Twitter @DailyPilotSport.
SCOTT FRENCH is a contributor to Times Community News.
---