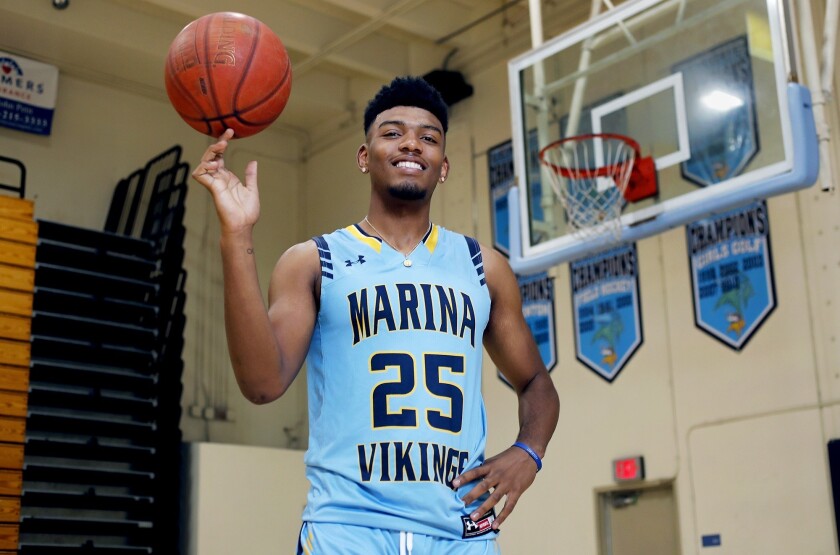 Before he was the head boys' basketball coach at Marina High, Nick Racklin served as assistant men's basketball coach at UC Irvine.
Racklin remembers how the Anteaters used to open up the Bren Events Center early in the morning for a certain NBA superstar who lived in Newport Coast.
In terms of his work ethic, Racklin saw some of Kobe Bryant in Vikings star shooting guard Jakob Alamudun, who spends hours each day trying to perfect his craft.
"We let Kobe Bryant in the gym at like 5 a.m. for about two years, and it's eerily similar to some of the stuff that Kobe would do on his own," Racklin said. "Not that I would ever compare the two, but just the things they're working on and kind of the way they carry themselves is similar. It's like, 'No one's taking this from me. I'm earning all of this.' That type of behavior."
No one could take a big senior season away from Alamudun, who helped the Vikings (16-13) earn the Wave League title, their first league crown since the 2002-03 season. Alamudun, bound for Lehigh University, was the league MVP and averaged 20.4 points, 7.6 rebounds and 4.1 assists per game.
For his leadership and helping put Marina back on the map, Alamudun is the 2018-19 Daily Pilot Boys' Basketball Dream Team Player of the Year.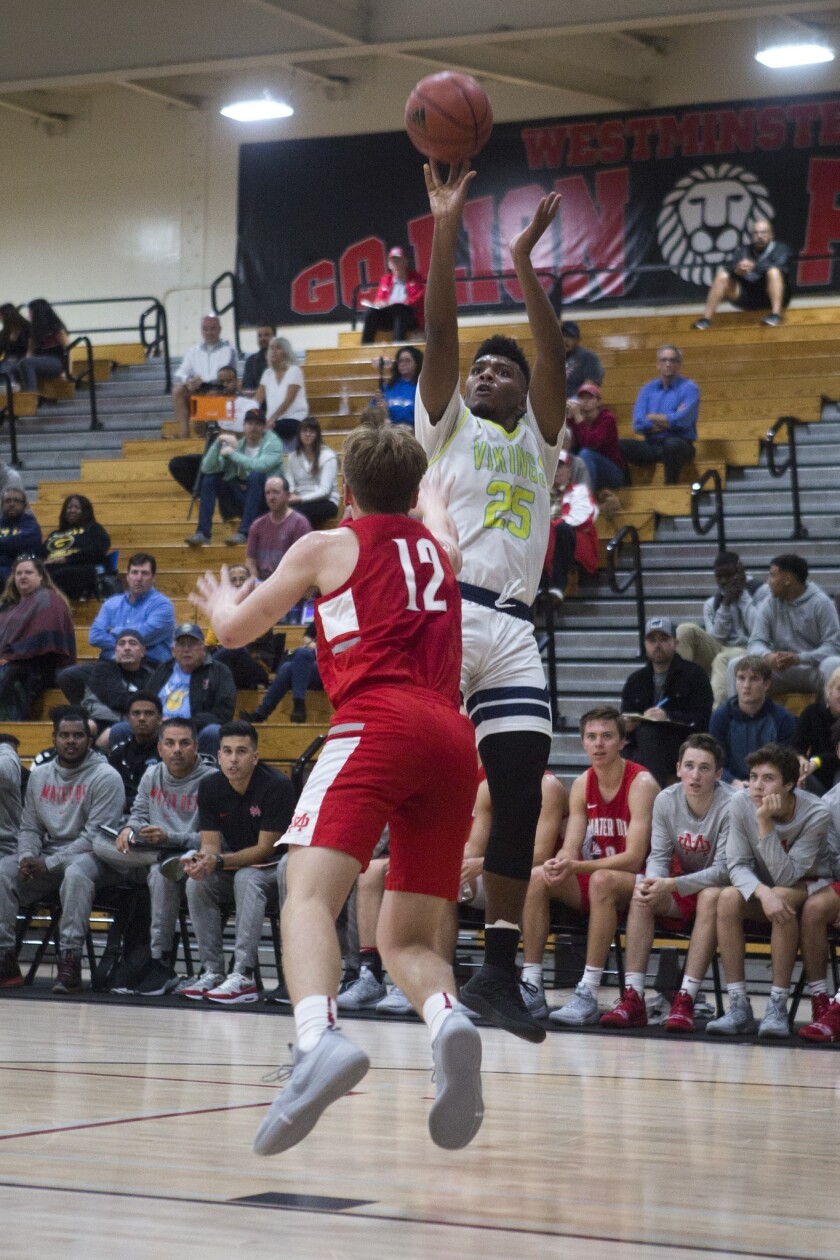 Racklin said that Alamudun grew a lot from the chubby kid with goggles who entered the program his freshman year, the one who could barely get off the ground. After Marina clinched the outright league title with a 45-30 home win over Laguna Beach on Jan. 30, Alamudun knew who to find in the crowd after the victory.
"I went up to my mom [Maggie] and I was crying," Alamudun said. "I knew I had worked hard. This school hasn't won in a while. I wanted to stay at this school for that reason — I wanted to win a league title here."
Marina, led by Alamudun and UC Irvine-bound senior center Dean Keeler, played a difficult schedule that included Mater Dei, Villa Park, La Verne Damien and Palos Verdes. Though the Vikings lost all of these games, they kept them respectable, and Alamudun was a big reason why.
"They have seven or eight college players, and we have two," Racklin said. "I'm running out there with two college guys and a bunch of little dudes that probably wouldn't start for any other varsity team. It's a testament to Jakob and Dean, really, for taking us where we were last year."
Alamudun, a first-team All-CIF Southern Section Division 3AA selection, also helped Marina win at Edison 56-55 in a Sunset Conference crossover game on Jan. 4. It was the Vikings' first victory over the rival Chargers in Racklin's eight-year tenure. Marina had lost 20 straight games overall against Edison.
Symbolic of Alamudun's maturity, he passed the ball in the final seconds instead of forcing a shot. Freshman guard Eric Hodgkins banked in a buzzer-beating three-pointer to lift Marina.
"That was fun," said Alamudun, a repeat first-team Dream Team selection who led Marina to a 5-1 record in league play. "I went up to Eric and gave him a big hug after that. I was excited about that one. In that situation, I didn't have a good shot. If anything, I would have chucked it from barely past half-court. He had a better shot than I did."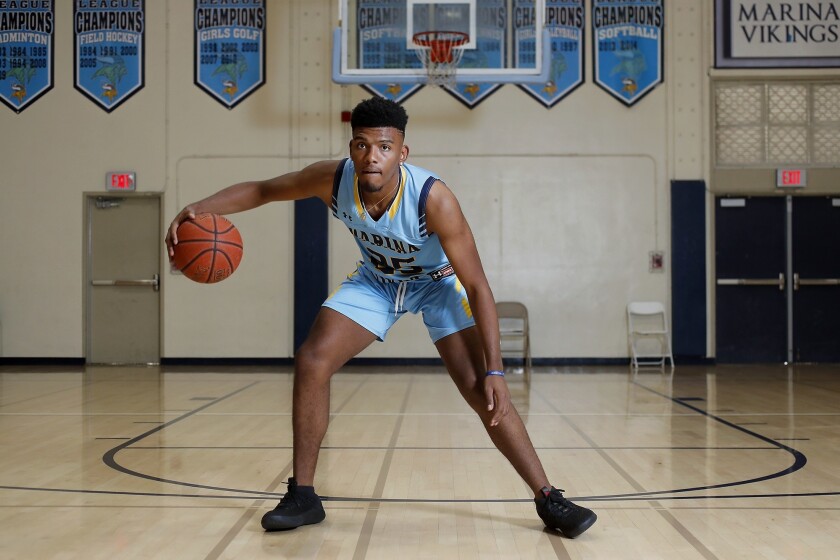 Marina's season ended earlier than Alamudun would have liked, losing a late lead in a 66-62 loss to La Cañada St. Francis in the first round of the CIF Southern Section Division 3AA playoffs. But Alamudun was able to reflect on a stellar four-year career.
He finished third in Marina career scoring annals with 1,905 points, behind only Brendan Holmes (2,015 points) and Cherokee Parks (1,997). Alamudun becomes the first full-ride Division I college player from the program since Parks, who graduated from Marina in 1991, then went to Duke for four years before playing for nine seasons in the NBA.
Alamudun said his goal is to make it to the NBA too. Racklin wouldn't doubt it.
"He's a great story, and underrated in an area where private schools dominate the press," Racklin said. "I told the Lehigh coaches, 'He won't let himself be bad.' He may have a bad game here and there, or he may struggle a little bit early in his college life. He might have to come off the bench, which would be brand new to him. But he just is that type of kid, that he just won't let himself be bad at anything."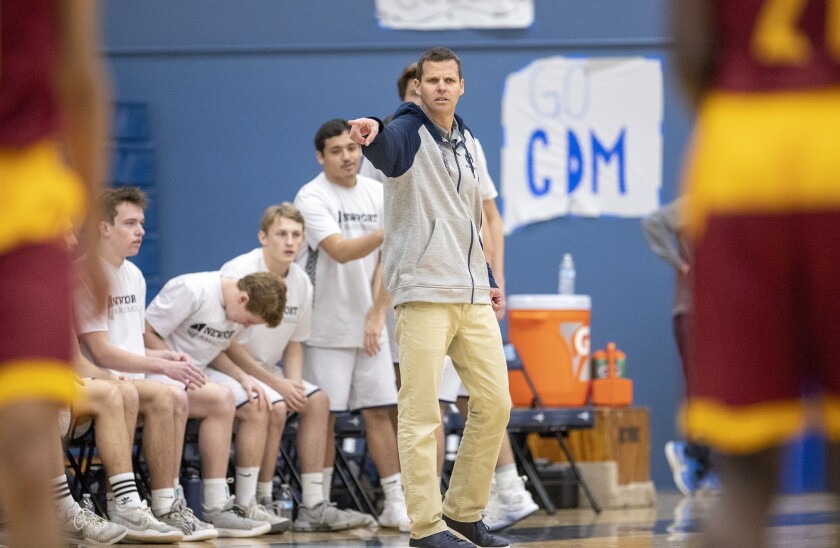 COACH OF THE YEAR
Bob Torribio
Newport Harbor
The Sailors head man, in his seventh season in charge, earns this honor for the second straight time. A year after Torribio led Newport Harbor to its first Sunset League title since 1979-80, the Sailors did not slow down. They went 26-5 to set a school record for wins in a season, and also reeled off a program-best 17-game winning streak. Newport Harbor won the Century and St. Margaret's tournaments and rallied after a 1-3 start to Surf League play, beating Edison and Corona del Mar down the stretch to forge a four-way tie for first place. The Sailors then beat the rival Sea Kings in a tiebreaker game to earn an automatic berth into the CIF Southern Section Division 2AA playoffs, where they lost at Temecula Valley in the second round. Besides the talent, Torribio would be as proud of the character of the young men he guided, saying the Sailors had a 3.9 team grade-point average, the highest of any Newport Harbor boys' athletic team.
FIRST TEAM
Sam Barela
G | Newport Harbor | Sr.
The Chapman University-bound Barela elected not to play quarterback for the football team as a senior, focusing on his first love of basketball. He delivered with 11.5 points and 7.5 assists per game, sharing the Surf League MVP award with Kaden Headington of Edison, John Humphreys of Corona del Mar and Kevin Kent of Los Alamitos. Barela was MVP of the Century and St. Margaret's preseason tournaments, helping Newport Harbor win both. The Sailors' point guard is a repeat first-team Dream Team selection.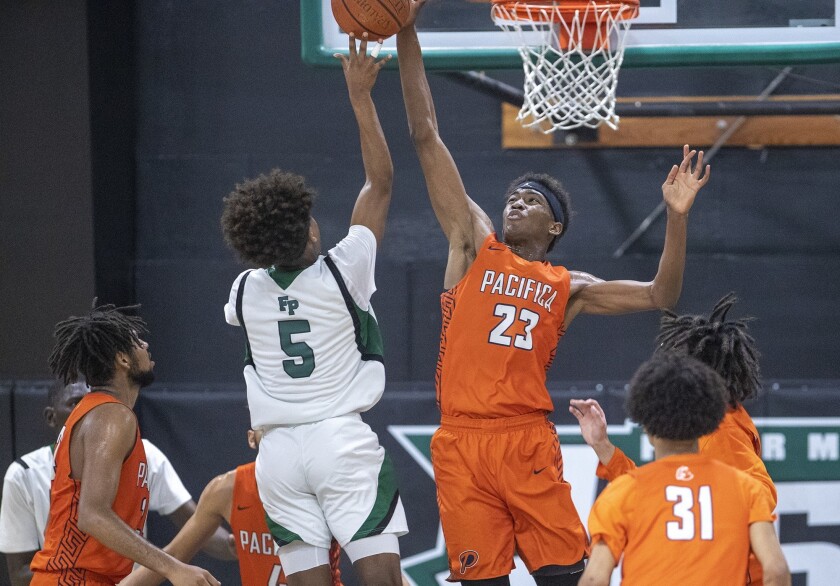 Judah Brown
F | Pacifica Christian Orange County | Jr.
The 6-foot-7 wing player, who has verbally committed to St. Mary's College, was a first-team All-San Joaquin League and CIF Southern Section Division 4AA selection. Brown played big all season, averaging 16.4 points, 10 rebounds, 3.5 assists and 3.7 blocks a game for the Tritons (24-9), helping them reach the CIF Southern Section Division 4AA title game and the quarterfinals of the CIF State Southern California Regional Division III playoffs. Brown was also an all-tournament team selection in the Washington (Ill.) Tournament of Champions and the Les Schwab Invitational "The 8" tournament (Oregon). He scored a season-high 27 points as Pacifica Christian beat Bakersfield Foothill, the eventual CIF Central Section Division 4 and CIF State Division 5 champion, 73-52.
Johnny King
C | Sage Hill | Sr.
Things all came together for the 6-foot-10 King and the Lightning, as he helped lead Sage Hill to easily its best season in program history. The Academy League MVP and a four-year varsity starter, King averaged 18 points, 14 rebounds and four blocked shots as a senior. He led coach Billy Conlon's Lightning (23-12) to their first league title in program history and past the second round of the CIF playoffs for the first time, all the way to the CIF Southern Section Division 5AA title game and the quarterfinals of the CIF State Southern California Regional Division V playoffs. The Lightning lost to Oxnard Santa Clara each time. King, who had a big effort with 28 points and 26 rebounds against rival St. Margaret's to clinch the league title in an overtime win, will play for Pomona-Pitzer next year.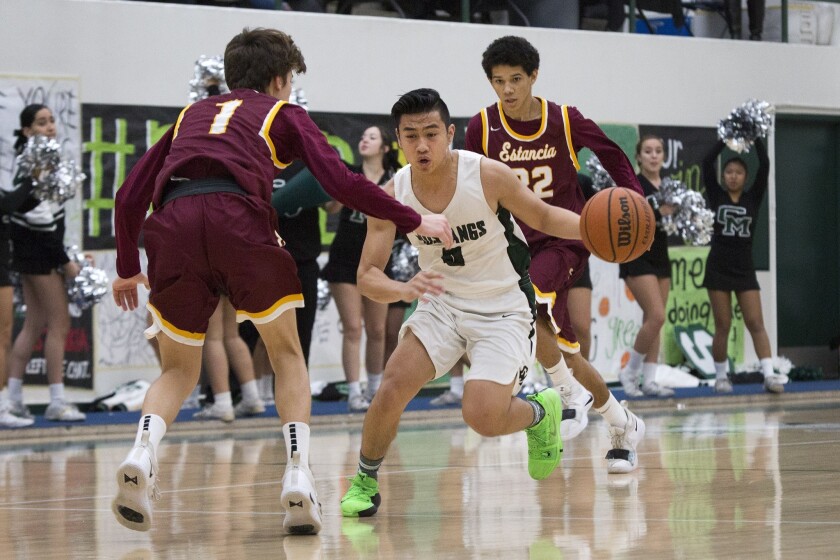 Nico Dasca
G | Costa Mesa | Sr.
Dasca missed nine games with a back injury for the Mustangs, but he certainly showed how impactful he could be when on the court. The Orange Coast League MVP averaged an area-best 25 points, 3.1 rebounds and 2.6 assists per game, helping the Mustangs (15-12, 9-1 in league) win their first league title since 2006 and third in program history. Dasca poured in a season-high 38 points in an 83-60 league win at Calvary Chapel. He is headed to Vanguard University.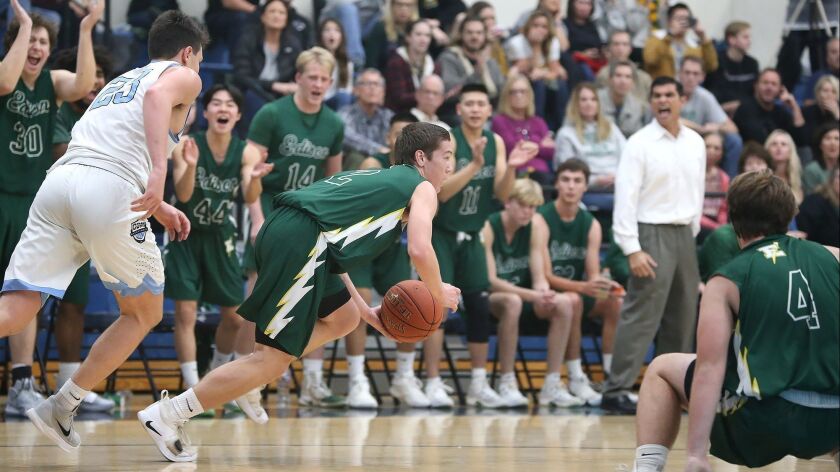 Kaden Headington
G | Edison | Sr.
Chargers coach Rich Boyce called Headington the heart and soul of this season's team, stepping into a leading role after he was the sixth man as a junior. His numbers weren't so bad either, as he averaged 18 points, 5.5 rebounds and four assists per game. Headington split the Surf League MVP award after helping Edison (19-11) share the league title in a four-way tie, and then earn a 64-54 tiebreaker win at Los Alamitos that knocked the rival Griffins out of postseason contention. The Chargers advanced to the CIF Southern Section Division 1 playoffs, where Headington helped Edison play eventual champion Santa Margarita close in the first round before suffering a 57-44 defeat, scoring a team-high 15 points.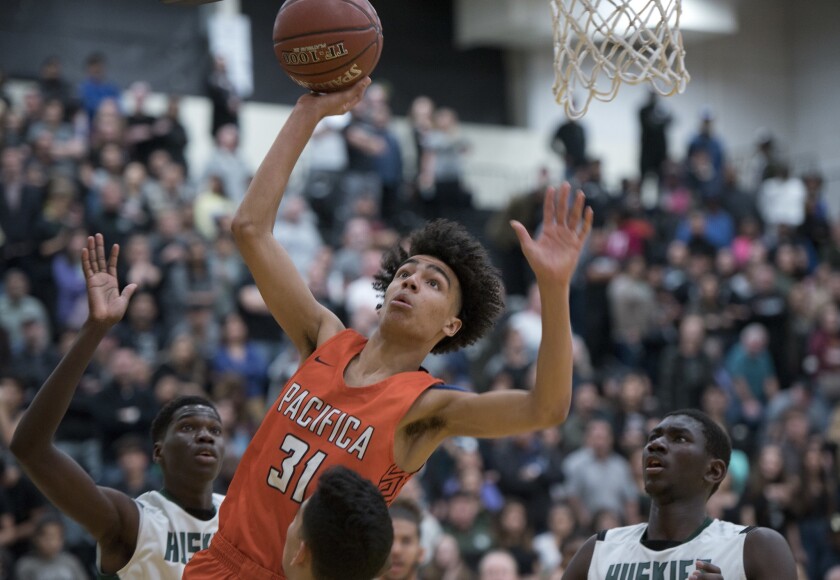 Houston Mallette
G | Pacifica Christian Orange County | So.
The Tritons' 6-foot-4 point guard became a clutch performer after transferring from Richmond Salesian College Prep. Mallette made a few big shots late in games, none bigger than when he banked in a three-pointer at the regulation buzzer in the first round of the CIF State Southern California Regional Division III playoffs. Pacifica Christian would go on to beat Bakersfield Christian 69-68 in overtime. Mallette, a first-team All-CIF Southern Section Division 4AA selection, finished the season averaging 14 points, 6.2 rebounds and 4.7 assists. He made 71 three-pointers and shot 36% from behind the arc.
SECOND TEAM
Position, Name, School, Year
F Solomon Davis, Pacifica Christian Orange County, Sr.
F Vincent Caiazzo, Ocean View, Sr.
F Dayne Chalmers, Newport Harbor, Sr.
G John Humphreys, Corona del Mar, Sr.
G Cooper Green, Sage Hill, So.
G Osman Hefner, Costa Mesa, Sr.
::
Support our sports coverage by becoming a digital subscriber.
For more sports stories, visit latimes.com/socal/daily-pilot/sports or follow us on Twitter @DailyPilotSport.
Twitter: @mjszabo
---