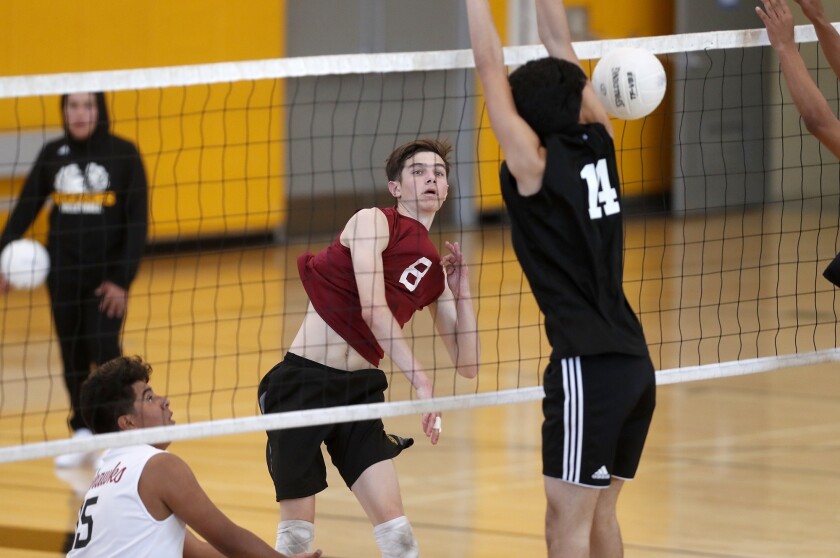 The Ocean View High boys' volleyball team has been in playoff mode for the past month.
After the first half of Golden West League play, the Seahawks sat at 1-4 in league play, buried in the standings on March 28.
The Seahawks knew then that it would be a long shot for them to make the CIF Southern Section Division 5 playoffs. Each time they took the court, it was a virtual elimination match.
In the regular-season finale on April 22, Ocean View dropped the first two sets at Godinez before rallying for the win that clinched the third automatic bid in the Golden West League.
Riding a wave of momentum, the Seahawks beat Santa Ana in the wild-card round before going on the road to upset top-seeded Hemet in a sweep.
Back at home on Thursday, Ocean View kept the ball rolling.
Kermel Anwell had a team-high 14 kills to lead the Seahawks to a 25-12, 25-13, 22-25, 25-19 win over La Quinta. Ocean View athletic director Tim Walsh said that the Seahawks will be making their first quarterfinals appearance since they made the semifinals in 2003.
Ocean View (18-7) will host Wildomar Elsinore (27-8) in the quarterfinals on Saturday. The Tigers beat Redlands Arrowhead Christian 21-25, 25-21, 25-20, 26-24 in their second-round match.
Ocean View's Hunter Miller had 31 assists, eight kills, 2½ blocks and two service aces. Jackson Petrovich had 10 kills and 18 digs. Devon Vu added four kills and two blocks, and Daniel Powell-Horan also had two blocks.
Five of the nine players on the Ocean View roster are seniors, and Anwell said that he was motivated to keep their senior season alive when the Godinez match came around.
"At first, we had nothing to lose," Anwell said. "I was like, 'You know what? This might be my last volleyball game ever.'
"This is what I was thinking about at Godinez, so I was like, 'You know what? I've got to play for my team. I know that they want it, especially Hunter and Jackson. Those two, for sure. I don't want to disappoint them and lose and see them cry because it will upset me, too.'"
Seahawks coach Joshua Nehls said that his team has played within itself, and it was the recipe for Ocean View to take out the No. 1 seed in Hemet on Tuesday.
"I think we were very prepared for them," Nehls said. "I assumed that they were going to be big guys that could rip balls, and I knew that we're not big guys that can rip balls all of the time.
"I said, 'We're going to beat them by being disciplined on our block and being smart on offense and making less errors.' We definitely won that battle of making less errors than them."
Having already swept La Quinta (16-5) on the road on Feb. 26, the Seahawks did not look past their second-round opponent.
"Coach has been preparing us," Vu said. "Ever since we got out of league, he's been telling us to not play comfortable, but to play confident.
"We're just trying to do our job. We knew that they were in CIF for a reason, and we had to take them out."
::
Support our sports coverage by becoming a digital subscriber.
For more sports stories, visit latimes.com/socal/daily-pilot/sports or follow us on Twitter @DailyPilotSport.
Twitter: @ProfessorTurner
---