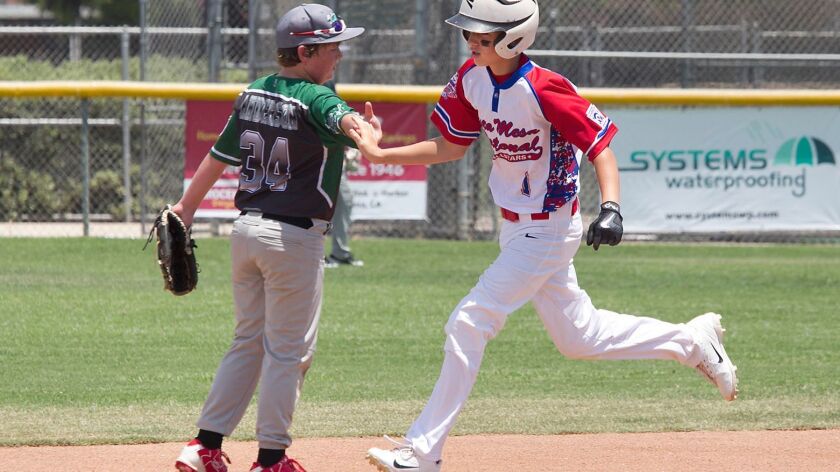 In the Little League baseball battle of Costa Mesa, the bid to make American great again was significantly challenged Saturday.
Costa Mesa National Little League interrupted the recent dominance of Costa Mesa American Little League with a 6-1 victory in the opener of the best-of-three Mayor's Cup series between Majors Division All-Star teams at Costa Mesa High.
Costa Mesa American had won the previous four meetings in the annual crosstown series, sweeping the last two Mayor's Cup showdowns to cut into Costa Mesa National's 12-8 lead in the 20 previously contested Mayor's Cup events.
The last two American victories in the series followed a string of eight seasons in which Costa Mesa National seized the Mayor's Cup trophy seven times, including six straight from 2007 to 2014. During those seven seasons of dominance, Costa Mesa National was 15-3 in Mayor's Cup play.
Costa Mesa National can regain the Mayor's Cup with a win on Monday at TeWinkle Middle School.
Saturday's victory was convincing for Costa Mesa National, which opened the scoring on a first-inning home run by Kaiden Kahkosko, amassed a 10-2 advantage in hits, and allowed only three balls to be hit out of the infield against four pitchers, who recorded eight of 18 outs with strikeouts.
"I thought it was pretty good plays in tough conditions," said Costa Mesa National manager Jason De La O, referencing temperatures that reached the low 90s. "It was hot and the breeze was kind of warm, so the energy level was tough to keep up. But we stayed focused, kept grinding and got the win."
Ta'iTa'i Grey-Uiagalelei went three for three with two RBIs and one run to pace four Costa Mesa National players with multiple hits.
Grey-Uiagalelei doubled in two runs during a three-run third inning that upped the lead to 4-0.
Dimitri Susidko, who had an RBI single in the third, was two for two with a walk, one run and one RBI in the leadoff spot for the winners.
Cullen Powers went two for two with one RBI and one run, while J.J. Kibin was two for three with a double.
Kahkosko started on the mound for Costa Mesa National. He allowed one hit in 2 2/3 shutout innings, before James De La O worked 1 2/3 scoreless innings, allowing one hit.
Grey-Uiagalelei struck out four in 1 2/3 innings. He walked three and allowed one unearned run.
National's Justin Cassingham retired the only batter he faced to end the game.
Garrett Emerson, who led off the bottom of the first inning with a single through the left side of the infield, added an infield hit in the fourth to finish two for two to highlight the Costa Mesa American offense.
American second baseman Brandon Davis made a leaping backhand stab of a line drive bound for center field to highlight the hosts' defensive effort.
James De La O, playing third base, slid to his right to snare a foul liner to highlight the National defensive effort that also included an unorthodox out at the plate. On the latter play, catcher Kibin received a pitch and ran toward a runner breaking from first base, prompting an American runner on third base to bolt toward the plate. Grey-Uiagalelei alertly broke from the mound to cover the plate, fielded a throw from Kibin in mid-stride, and applied the tag to limit American's comeback attempt in the fifth inning.
Six of the seven American runners that reached scoring position failed to score.
Monday's game is at 5 p.m. A deciding third game, if necessary, would be Wednesday at Costa Mesa High.
Twitter: @BarryFaulkner5
---