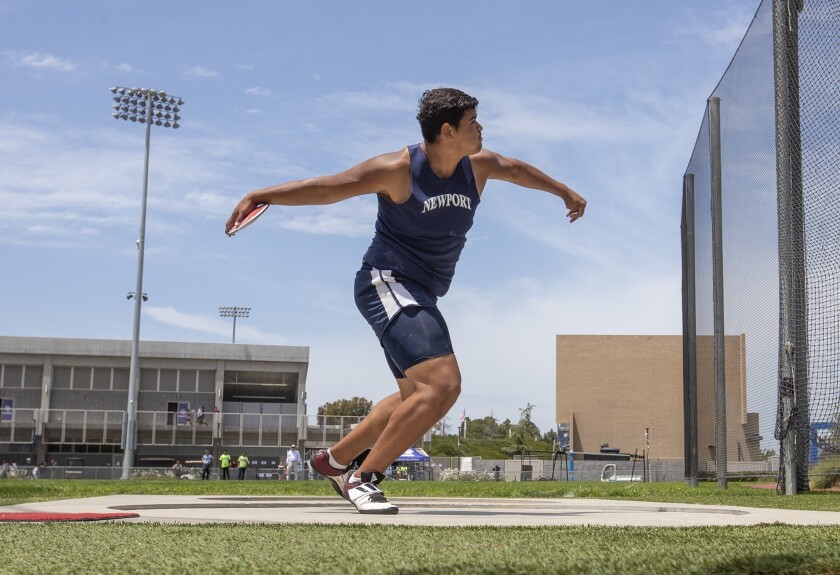 The track and field season ended on the highest of notes for several local athletes over the weekend in the New Balance Nationals at North Carolina A&T State University in Greensboro.
Newport Harbor thrower Aidan Elbettar and the Laguna Beach boys' mile relay team earned medals at the meet, coming home as newly-minted All-Americans.
Elbettar, a junior, became a double All-American, placing fourth in the boys' discus throw with a mark of 188 feet, eight inches on Sunday. He also took sixth in the shotput with a new lifetime-best throw of 63-2, which he unleashed on his first attempt on Saturday.
Elbettar redeemed himself after he did not advance to the CIF State finals in the discus throw. He had entered the state meet as the top seed in the event.
Sailors throws coach Tony Ciarelli said that he has emphasized the importance of being a "66-percent guy," or a thrower who produces solid results on two-thirds of his throws. He wants to eliminate the possibility of disappointing outings like the state preliminaries.
"He's had a couple of meets that weren't great, but obviously not as bad as the state meet was," Ciarelli said of Elbettar, who placed second in the shotput at state. "You get caught sometimes, and that's why we talk about it all the time in practice.
"When you have a prelims type of meet, you only get three throws, and you don't want to put all the stress on you that you have to make it your third throw."
Laguna Beach set the national pace in the mile relay earlier this season when it won the Arcadia Invitational in 17 minutes 27 seconds flat. The Breakers did not burn out at season's end.
Sophomore Mateo Bianchi, junior Logan Brooks, and seniors Ryan Smithers and Sebastian Fisher combined to run 17:28.82 to send Laguna Beach to a fourth-place finish on Sunday.
"It was a really good day for Laguna track," Breakers coach Tommy Newton-Neal said. "We've only had one person ever qualify for that meet, and to come out and get fourth place and be All-American, I mean two seconds off of second [place], is pretty amazing."
Newton-Neal said the only Laguna Beach athlete that has qualified for the national championship meet was Eric Hulst.
Smithers and Fisher will both run for Ivy League schools in college. Smithers is going to Yale, while Fisher will attend Princeton.
::
Support our sports coverage by becoming a digital subscriber.
For more sports stories, visit latimes.com/socal/daily-pilot/sports or follow us on Twitter @DailyPilotSport.
Twitter: @ProfessorTurner
---