Electric scooters have yet to officially debut in Glendale, but that may change come spring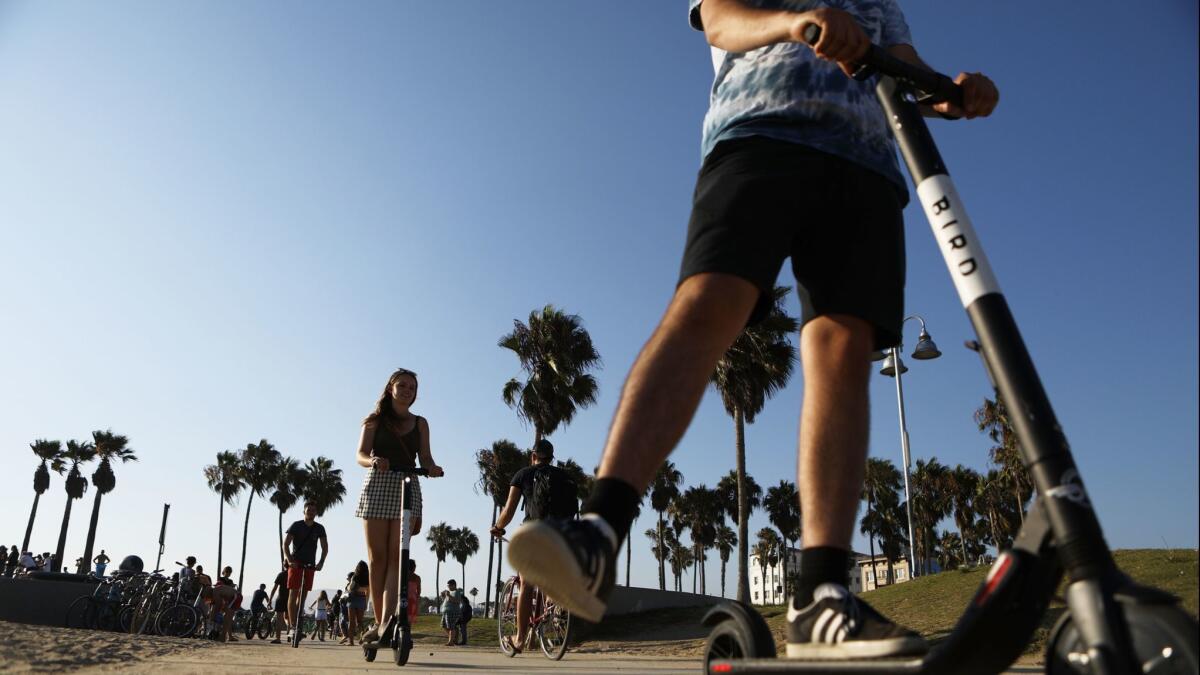 It will be months before the Glendale City Council is expected to take up the debate about whether or not to allow electric scooters in the city, but it hasn't stopped the efforts of at least one resident calling for their outright ban.
Tony Passarella was handing out fliers on Tuesday in the Pacific Community Center's auditorium, where the Glendale City Council held a special "City Council in Your Neighborhood" meeting. At the top of the flier was an illustration of a scooter covered by the international "no" symbol.
The council meeting was only informational, meaning no action was taken, and nothing related to electric scooters was on the agenda, save for a general traffic safety presentation by the Glendale Police Department.
However, it didn't stop Passarella from speaking out on the issue during the public-comment portion of the meeting, criticizing companies like Bird and Lime for pouring "hundreds of millions of dollars" into making electric scooters appear as an environmentally friendly alternative to driving.
"These dockless scooters … are basically a sale job, a con job by Silicon Valley," he said. "Micro-mobility, last mile … I mean, you can't walk a mile? It's really nonsense as far as I'm concerned."
He also said allowing the companies to operate would see sidewalks in Glendale littered with scooters, causing a potential hazard for people in wheelchairs or who are blind.
Electric or dockless scooters have started being used all across Southern California, from Santa Monica to San Diego and even parts of unincorporated Los Angeles County. The only requirements to ride scooters are a smartphone and credit card.
The appearance of scooters has given rise to safety concerns for both pedestrians and riders. Cities are left figuring out how to respond to scooters blocking sidewalks and driveways as well as riders zipping through pedestrians and traffic at speeds up to 15 mph — often without a helmet.
Cities like Beverly Hills and West Hollywood instituted bans, while some companies, like Bird, created "no-ride zones," where its scooters are prohibited. Los Angeles even limited the number of scooters that can be placed in the city as a stop-gap solution last year, while leaders figured out a more long-term option.
Electric scooters have yet to be officially deployed in Glendale, although that has not stopped riders from bringing them in from neighboring locales.
Dan Bell, a Glendale spokesman, said it's premature to talk about scooters because city staff members are still working on a request for proposal, where companies can submit their plans for how the vehicles would be deployed locally. The issue is not expected to go before the City Council until sometime this spring.
The council previously brought up scooters during a Dec. 18 special meeting, where the request originated. The meeting saw the discussion of a one-year pilot program that would cap the number of scooters in the city at 1,000 and establish operating hours for them.
The pilot program would also look at the possible establishment of designated scooter parking spots and outline a boundary for where they would be allowed to operate within the city.
Twitter: @Andy_Truc