Beverly Hills City Council approves six-month ban on electric scooters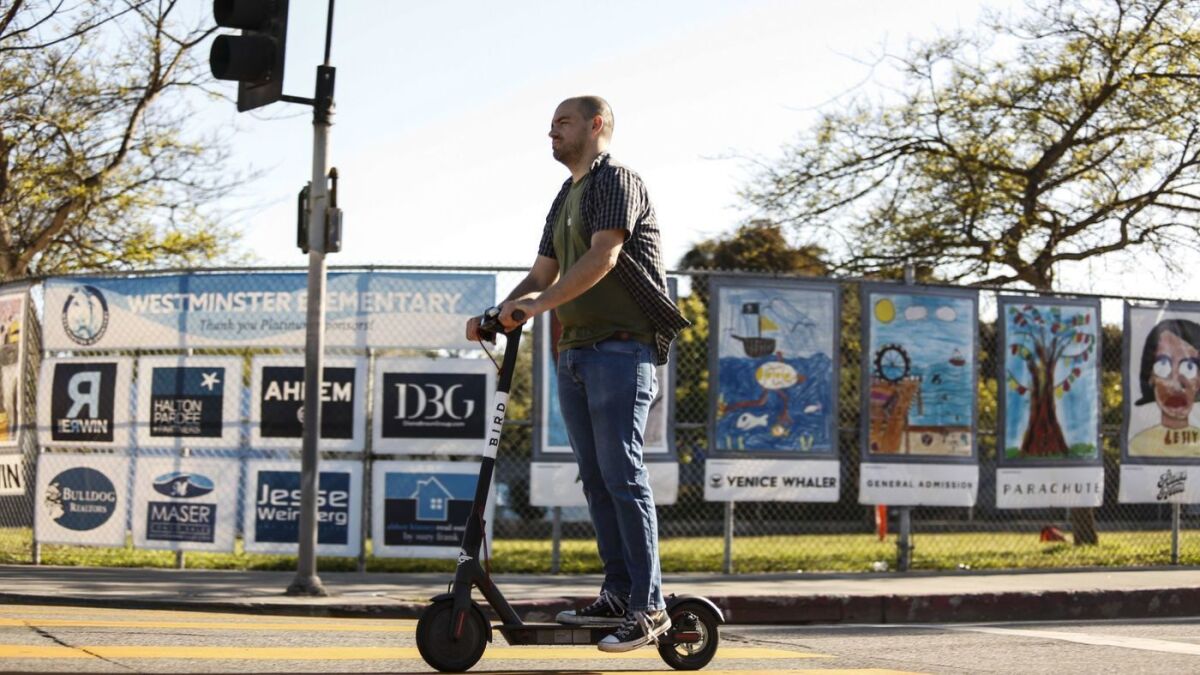 The Beverly Hills City Council on Tuesday banned the use of motorized scooters in the city for six months, citing public safety concerns as the two-wheelers have become more popular.
Under the ordinance, people are not allowed to ride the scooters — or leave them behind — on any public right of way. The council voted 4 to 1 during a special meeting to implement the ban. Vice Mayor John Mirisch was the sole dissenter.

For the record:
2:00 p.m. July 27, 2018A previous version of this article said Bird is based in Santa Monica. Bird is based in Venice.
City officials have noticed a dramatic uptick in recent weeks in the use of electric scooters, operated by scooter-share start-ups such as Bird, based in Venice, and Lime. The devices have popped up on sidewalks and street corners, and their riders have been involved in several traffic collisions in Beverly Hills, officials said.
Recently, police began cracking down on their use. During one week this month, the Police Department handed out more than 100 warnings and citations to riders for not wearing helmets or having a valid driver's license. Authorities have also removed scooters from sidewalks and streets when they blocked traffic or pedestrians.
In its vote, the council pointed to safety risks and the lack of outreach done by scooter companies. City officials indicated that they hoped to meet with representatives of the scooter companies to work on setting rules for their possible future use.
In the meantime, police will enforce a "zero-tolerance policy," including impounding the scooters and handing out citations for vehicle code violations, officials said.
Lime said in a statement Wednesday that it hopes to work with the city to roll out a scooter-share program that prioritizes safety while offering clean and affordable alternatives to cars.
"Beverly Hills has a history of embracing innovation, from self-driving cars to fiber optic technology. Last night, the city broke from this tradition by slowing down the adoption of innovative mobility solutions that would lead to fewer cars on the road, less traffic congestion and improved air quality," Sam Dreiman, Lime's director of strategic development, said in the statement.
Last month, Santa Monica approved a 16-month pilot program that will allow electric-scooter and electric-bike rental companies to continue operating in the city. The pilot, which begins Sept. 17, was framed as a fact-finding mission to help the city craft longer-term regulations.
Cities nationwide have struggled to draw up rules for the use of the scooters, which are popular among riders. They can find the nearest available one by using a mobile app, then rent it by scanning a code on the handlebar with their phone.
There are public safety concerns, as riders tend to drive and park on sidewalks, and not wear helmets. But advocates say the scooters offer a convenient, eco-friendly and low-cost transportation option. That's appealing to cities, which want to keep traffic and pollution down but have limited funds for public transit.
Both Bird and Lime charge $1 to rent a scooter, plus 15 cents per minute of use. Riders can abandon the scooters anywhere when they're done. Bird and Lime operate in dozens of U.S. cities and have attracted millions of dollars in venture capital funding.
alene.tchekmedyian@latimes.com
Twitter: @AleneTchek
---
UPDATES:
July 25, 4:31 p.m.: This article was updated with a statement from Lime.
This article was originally published on July 24 at 11:15 p.m.
---
The stories shaping California
Get up to speed with our Essential California newsletter, sent six days a week.
You may occasionally receive promotional content from the Los Angeles Times.