Scooters took over Venice and Santa Monica. L.A. County has a different plan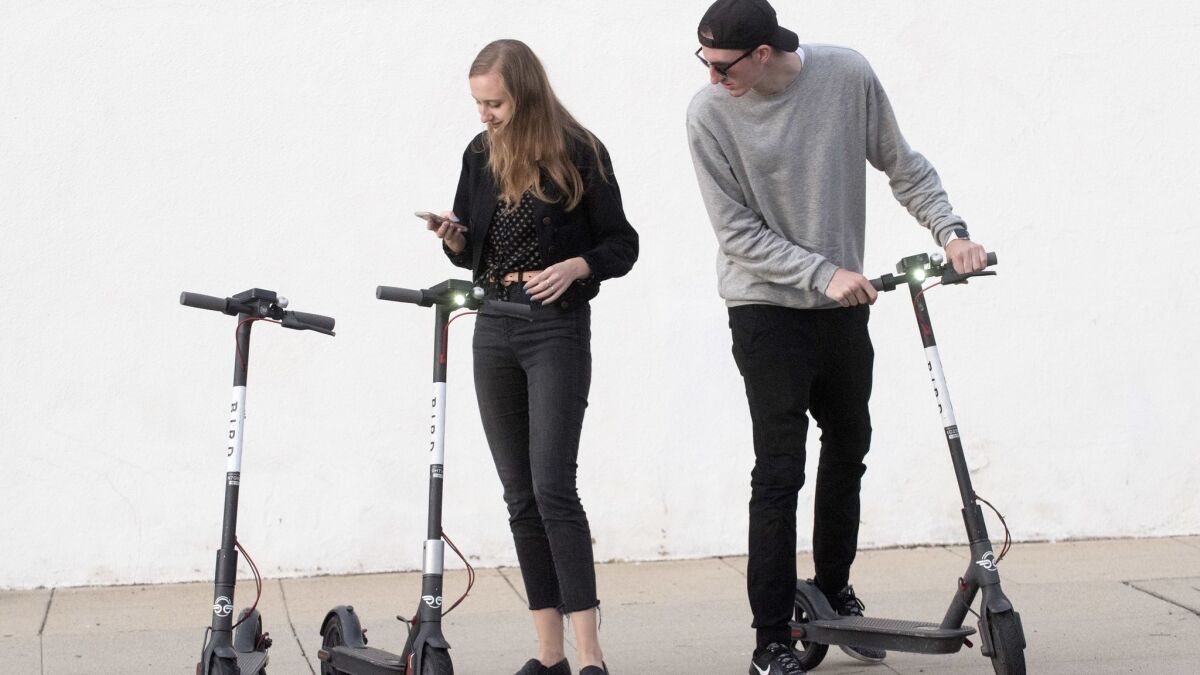 The flocks of electric scooters appeared one night late last year in Altadena and East Pasadena, surprising locals who found them perched, without warning, on sidewalks along two busy retail corridors.
"I came to work, opened the store — and they were there," said Paul Netherton, who manages the Full Circle thrift shop on Lake Avenue in Altadena. "I had no idea, and I had a lot of customers asking about them."
He and others soon learned that local start-up Bird — whose sleek, black scooters have sparked both wonder and rage in Venice, Santa Monica, Beverly Hills and other communities — had decided to expand its nest to a new spot: unincorporated Los Angeles County.
It didn't take long for county leaders to notice.
The Board of Supervisors moved last week to adopt what amounts to voluntary limits on the scooters, with companies agreeing to reduce their operations in unincorporated areas, while the county develops regulations.
The decision was an effort to head off the kind of confusion and frustration — for regulators, riders, business owners and residents alike — that have beset other communities as the industry has expanded.
In 2017, for example, Santa Monica-based Bird flooded its hometown with scooters, prompting the city to respond with an emergency ordinance and pilot program last year that helped control their spread. The city of Beverly Hills also impounded scooters after it, too, was surprised by the rapid deployment of them, prompting a legal fight.
Bird and Lime, another operator, have declined to comment on exactly where and how many scooters they've deployed. They also have declined to give a tally of rides.
But a Times review of data used in their smartphone applications offers a snapshot of how the companies have expanded from Westside neighborhoods into Los Angeles and increasingly into unincorporated areas, home to more than 1 million people.
That snapshot shows that the scooters that prompted the county's regulatory effort accounted for only a small fraction of the thousands deployed across the region.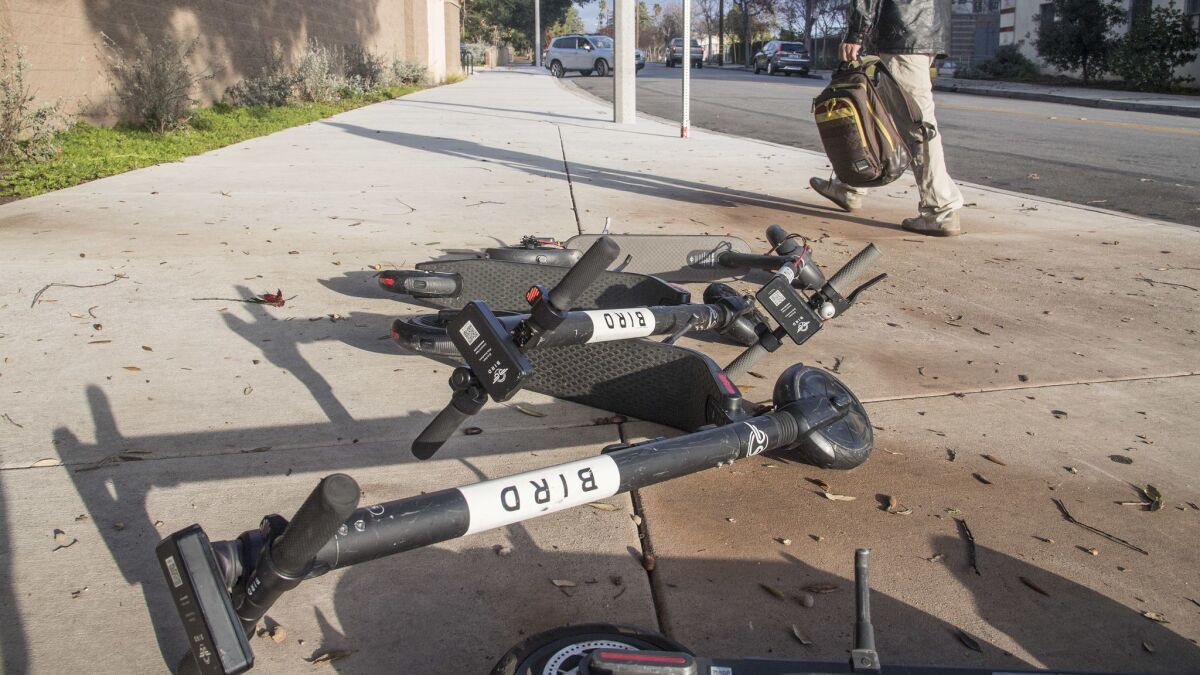 The Times reviewed details in the Bird app from Jan. 8 to Jan. 11 to count the number of unique scooters in the county. The tally is an estimate based on the last known location of each scooter. The Times developed a similar snapshot for Lime based on data sent to that company's app from Jan. 1 to Jan. 4.
The data show that only about 5% of available Bird scooters were in the unincorporated areas controlled by Los Angeles County. Roughly 2% of Lime scooters were in those areas, according to the analysis, which plotted the known locations using mapping software and totaled them within political boundaries provided by local governments.
Bird and Lime declined to comment on the data and cautioned that the figures could be inaccurate because their scooters are constantly in motion, as riders move them around the county, and as some get taken in for service or for charging.
"It's small," said Los Angeles County Supervisor Kathryn Barger, referring to the companies' footprints inside the unincorporated areas. Her district includes the neighborhoods that prompted the county's decision to regulate the devices.
"We should have something in play in the unincorporated areas," she said. "It is going to impact those people who are using them, and they are being used."
In addition to operating rules, Barger's plan also calls for a consumer-focused website with information about how to operate the scooters safely and in compliance with whatever regulations the county ultimately crafts.
The industry's rapid expansion has prompted complaints about haphazard parking and dangers to pedestrians and motorists. There also have been concerns about the safety of riders, who zip along on streets, bike lanes and sidewalks — and occasionally get involved in crashes.
The county's action comes several months after the city of Los Angeles unanimously approved its own rules in response to the scooters' rapid deployment throughout its territory.
Many of the devices remain largely clustered in Westside communities, and many cities within Los Angeles County have worked to craft their own regulations.
Long Beach, for example, capped the number of scooters that companies could deploy. It also required them to redistribute the devices to authorized zones each morning, in an effort to put them where riders are most likely to need them.
The public reaction to the scooters' appearance in Long Beach has been mixed, said Michelle Mowery, the mobility and healthy living programs officer with the city's Department of Public Works.
Some residents enjoy the freedom to scoot around, while others object to their presence on sidewalks or operation on sidewalks, which violates the law. Limits on their deployment, however, have softened the disruption, she said.
"It gave the public a chance to get used to them," Mowery said, noting the companies have largely complied with the rules, though the city still occasionally impounds scooters that get discarded outside approved zones.
According to The Times' data analysis, the largest concentration in the county's unincorporated areas is in Marina del Rey, where regulators have already been working with Bird and Lime, and in Altadena and East Pasadena.
Scores of scooters operated by Bird — which now operates across the nation and in countries around the world — showed up in those neighborhoods, along Lake Avenue and South Rosemead Boulevard, respectively, and prompted similar reactions to those in Long Beach, business owners said.
The number of Bird scooters in the area has since decreased as the company and the county began to cooperate as regulations are written, or as riders moved them, the data show.
The novelty began to wear off over time, as examples of riders discarding them on sidewalks increased and confusion about proper procedures remained.
"I don't understand what the rules and regulations are, when it's OK for me to move them, who's responsible for keeping them neat, orderly and out of the pedestrian" right-of-way, said Netherton, the thrift store manager. "There's just uncertainty and a little bit of annoyance."
That's precisely what the county hopes to address with rules that ultimately could allow the companies to continue to expand in other unincorporated areas, particularly around transit corridors.
"It's a great thing if it helps people to get around," said Debbie Rabalais, who manages Vista Paint in East Pasadena, adding that she hopes riders wear helmets and observe traffic laws. "It shouldn't be any different than anybody else."
---
The stories shaping California
Get up to speed with our Essential California newsletter, sent six days a week.
You may occasionally receive promotional content from the Los Angeles Times.