In response to complaints, Bird creates 'no-go zones' where its scooters aren't welcome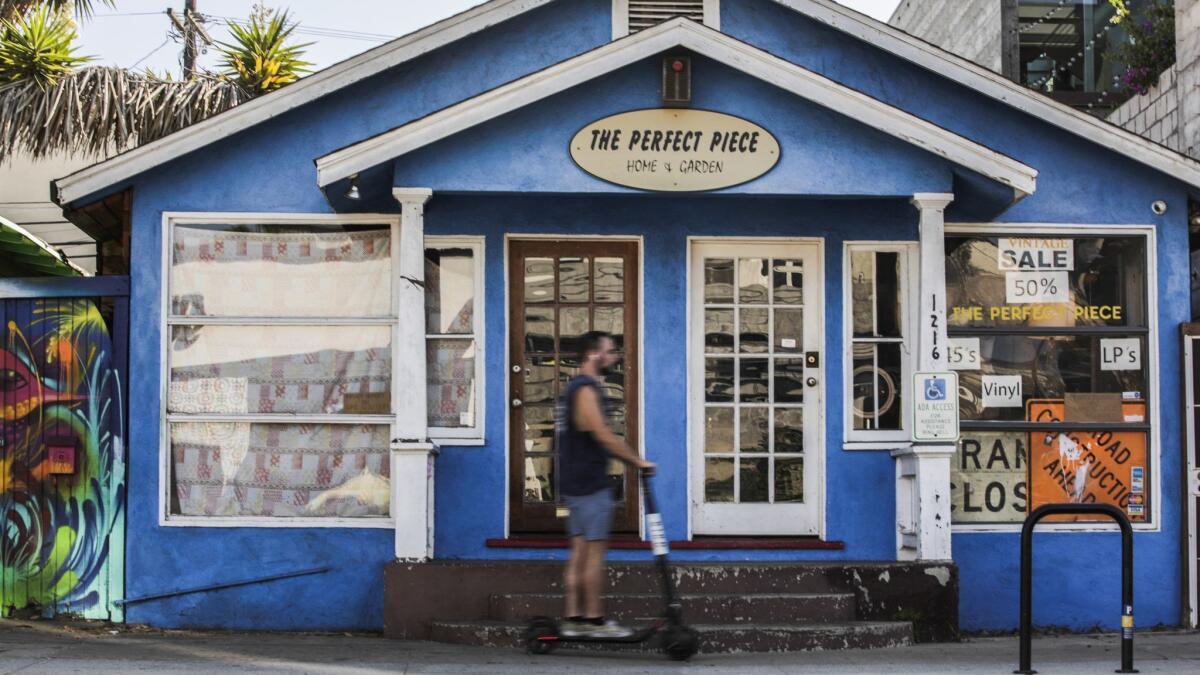 Earlier this year, dozens of Bird scooters appeared on Abbot Kinney Boulevard, parked in front of coffee shops, clustered at bike racks and left leaning against the walls of businesses up and down the Venice neighborhood.
When Ron Rosenthal discovered a knot of scooters tucked beneath the picture window of his cobalt-blue bungalow, which houses an antiques store, he called Bird with an explicit request: Keep your scooters off this property.
"One call was all it took," Rosenthal said. The scooters vanished.
The antique store, The Perfect Piece, is one of more than 40 locations across Los Angeles County where Bird has asked riders not to park or ride their newly ubiquitous rental scooters.
The restricted areas, sometimes called "no-ride zones," are shown in the Bird app's interactive map as translucent red shapes that trace city boundaries and property lines. As the scooters have begun to feel less like a fad and more like reality, the zones have spread.
Some ask riders to avoid entire cities — including Beverly Hills and West Hollywood, which have passed scooter bans — and some government property, including the infamously congested terminal area of Los Angeles International Airport.
Other zones dot Los Angeles like chicken pox, overlaid on tiny bungalows in Santa Monica and apartment buildings in Mid-Wilshire, next to barber shops and bakeries, and along quiet residential streets in the beach cities where Bird launched last year.
"If they want to make a profit on city sidewalks, that's up to them and up to the city," Rosenthal said. "But they can't do it on my property."
Rides cost $1, plus 15 cents per minute. Users sign up through the Bird app, connect to Bluetooth, and use the app's interactive map to find and rent a scooter nearby. The map shows the red zones, too, but doesn't explain the restrictions unless users click for more details.
Creating no-ride areas is "common practice" for Bird, spokeswoman Mackenzie Long said, because the company "works hard to be responsive to requests from our cities and communities."
For Rosenthal, the red zone did make a difference. The scooters never reappeared, but scooters from Lime, Bird's main competitor, are still appearing on his property despite more than two dozen calls, texts and emails, he said. He has hung a cardboard sign in his front window that reads: "No Lime scooters allowed."
For other neighborhoods and areas, whether the red zones make a difference is less clear. The app doesn't bar users from parking in no-parking areas, and doesn't notify riders when they scoot into a no-ride zone.
That may soon change. In a 135-page document submitted to the city of Santa Monica in August, Bird Chief Executive Travis VanderZanden said the company is working on technology that could notify riders when they enter a restricted zone by sending a push alert to their smart phone or automatically slowing their scooters.
California law prohibits motorized scooters on sidewalks, including the narrow pathways along the Venice canals. Bicycles, skateboards and scooters are also prohibited on the arched pedestrian bridges over the waterways. Earlier this summer, Bird added a red zone there.
That hasn't stopped riders from zipping down pedestrian-only pathways and revving over the arched bridges, trying to go fast enough to catch air on the other side, said Josie Scibetta, president emeritus of the Venice Canals Assn.
"I see Birds literally flying in the air, as fast as they can, and the kids are like, 'Yay!'" Scibetta said. "People aren't paying attention to the red in the canal area, just as they don't pay attention to the rules that you have to have a helmet and you have to be 18."
Cedars-Sinai Medical Center banned riders from parking or riding on its property in July after hospital employees watched riders zip in from nearby Beverly Grove and abandon their scooters on the sidewalk.
The riders were "creating tripping hazards and obstructing our patients' pathways, particularly for patients using walkers and wheelchairs," Cedars-Sinai spokeswoman Sally Stewart said in an email.
Burton Chace Park, a smooth expanse of grass near the boat slips in Marina del Rey, has long banned motorized vehicles on the narrow paths. Children and "busloads" of elderly residents walk on those paths, said Carol Baker, a spokeswoman for the county Department of Beaches and Harbors.
"It's basically not safe to have Bird scooters there," Baker said. "Fortunately, they got it."
Bird sent someone to the park to remind riders to dismount, Baker said. If they hadn't, she said, the county would have started ticketing. Since August, she said, no problems have been reported.
Rather than hire full-time staff members to collect the thousands of scooters left strewn across Los Angeles at night, Bird offers a bounty to anyone who can hunt them down. The company typically pays $5 for every scooter that is collected, charged and returned to a sidewalk by 7 a.m. the next day.
The independent contractors who hunt down the scooters and return them to the street receive direction from the company on where to leave them, in areas marked on the app as "drop zones."
Not long after that program began, Ricky Hirschfield noticed extension cords running out the windows of his 1913 apartment building a few blocks from Venice Beach. The cords ran down the shingled building and into the yard, where tenants had plugged in a cluster of Bird scooters.
"They were everywhere," Hirschfield said. "It's an old property. I'm worried about the building catching fire."
Hirschfield fired off an angry message to Bird and said he never received a response. But something had earned him a label, unique in Los Angeles, in the scooter app: "Property owner request[s] no drop zone on his property."
In other areas, the impetus is less clear.
Officials with Venice High School were not aware that Bird had asked users not to park or ride scooters there, and neither the Los Angeles Unified School District nor high school employees were involved in creating the restriction, said Los Angeles Unified School District spokesman Sam Gilstrap.
"There are a lot of activist organizations in Venice, so it could have been generated just about anywhere," Gilstrap said.
Wheeled vehicles are banned on many LAUSD campuses, but other schools do not have a no-riding or no-parking restriction in the Bird app. Bird bans riders younger than 18, but the scooters are wildly popular with teenagers who use their friends' and parents' accounts.
Along Grand View Boulevard in Mar Vista, Bird has asked riders not to park or ride past a 98-cent discount store, a bar, a restaurant, a yoga studio and a barbershop. But yoga students frequently ride scooters to class, an instructor said, shaking her head.
"They can be a nuisance," said Miriam Zlotolow, the owner of the shopping area, as she cleared tables after the lunch rush at the Grand View Market. "But I didn't contact them."
Across the street from CBS Television City on Beverly Boulevard, a pet shop, a music school, a barbershop, a carpet store and a handful of other storefronts are listed as a no-riding zone, to the surprise of the tenants.
"Are we really?" said Neal Lester, the owner of Lester's Carpet, as he looked at flooring samples with a customer from Kansas City. "We haven't had any issues."
Lester said he manages the building for his father, the owner, and handles issues for the building's tenants. None had complained, he said. The barbers found the scooters fun. The tailor shrugged.
A cashier at the Cake Monkey Bakery pointed to a sandwich board just outside the bubblegum-pink front door. It sits atop a jagged crack in the sidewalk that has tripped up pedestrians in the past, she said — maybe Bird wanted to alert its riders, too?
That's a nice thought, said customer Claudia Barragan, as she left holding a chocolate chip cookie. But if Bird were blocking out areas with damaged sidewalks, "there wouldn't be many places to ride around here."
Twitter: @laura_nelson

Sign up for Essential California for news, features and recommendations from the L.A. Times and beyond in your inbox six days a week.
You may occasionally receive promotional content from the Los Angeles Times.