Ceramicists take on loss of communication at Muckenthaler exhibit highlighting Korean contemporary art
Earlier this year, artist Young Shin Kim reckoned with how the pandemic was taking a toll on how she communicates.
She missed conversation, and it reflected in her artwork. She started making bowls using American and Korean alphabets as a symbol to restore communication. Although they may appear jumbled, each bowl contains words with meaning.
"I like to use the words that I'd like to have during these difficult times, like hope, family, joy, peace. There are 14 different words — not in order, but it's like a puzzle," Young Shin said.
In the installation, the bowls are propped on top of pedestals and corresponding pieces with the alphabet from both languages hanging directly above, casting double shadows on Muckenthaler Cultural Center gallery's white walls.
She primarily uses buncheong, a traditional Korean decoration technique for pottery. She's also taught the technique in the Fullerton center for more than a decade.
Muckenthaler's latest exhibit highlights the work of eight Korean contemporary artists who immigrated to the United States at different points in their lives. And the ceramic pieces featured from two artists, including Young Shin, address a loss of communication.
"Nestle into Nature: Movements Seeking Balance" is Muckenthaler's first limited-viewing exhibit since the pandemic led to the closure of the gallery. Groups of four at a time, who have made reservations prior to arriving, will be allowed to view the work. Since access is somewhat limited, the curator Sunook Park also put together a virtual show through a video and web page in both English and Korean.
The idea for the exhibit was developed last year before the pandemic. Park chose the artists whose work had a perspective on nature and what it means to be Korean.
He said he wants the show to offer hope during challenging times.
"Nature is sort of the ultimate comfort and what people rely on. It connects us. What we are seeking today is harmony and balance. I think the nature piece is really the ultimate goal, in my mind, for coexistence," Park said.
Yoon Chung Kim shows a series of ceramic pieces dedicated to her late husband and influenced by her fascination with nature.
After her husband passed away, she missed having conversations with him.
"He was a scientist in nuclear physics, and I'm an artist, but we still had a lot of things to talk about … When I was reading through his essays, letters and poems and things like that, I felt like I was missing his mind," Yoon Chung said.
Writing poems made her feel better and the series "Sending Writings" is a metaphoric gesture to have a conversation with him. She transferred her writing onto porcelain stones and waves.
For the series "J's Memory," she took her husband's writing and transferred it onto ceramic versions of fruit and vegetables he grew in their San Diego garden.
She also combined both of their writing in glass pieces in the "Poetic DNA" installation.
"Writing is so temporary to me, but making them into art pieces is putting it more into a permanent memory," she said.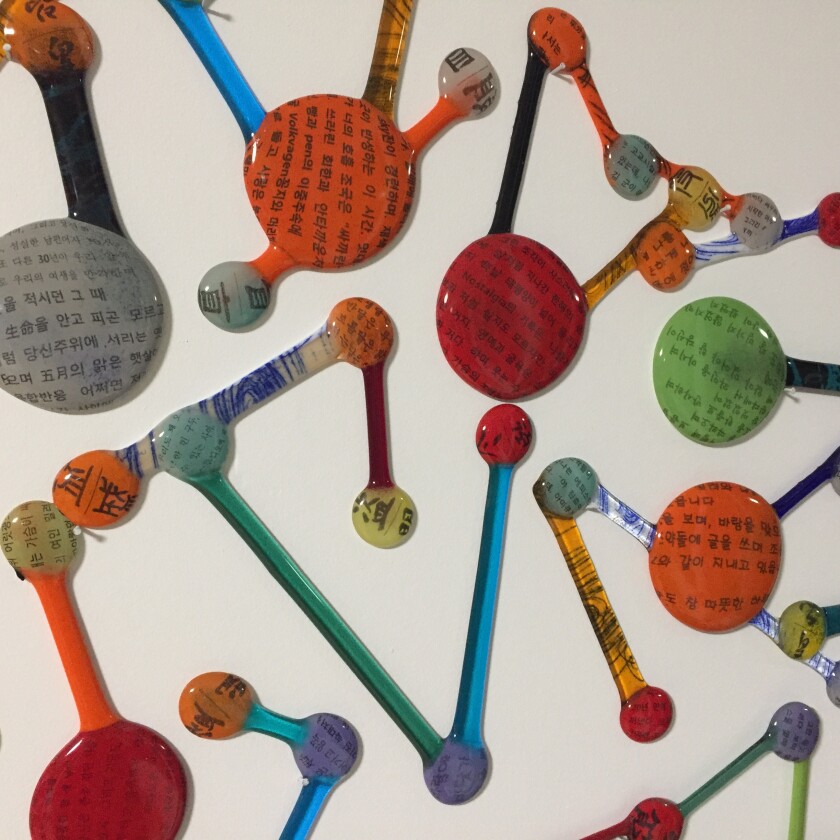 Her work is only featured in the virtual iteration of the exhibit, not in-person at the gallery. She's in her 70s and wanted to be careful about unnecessary travel during the pandemic.
Yoon Chung, who also curated an exhibition at San Diego City College this year, said she also had to pivot to video and it received a high number of viewers. She hopes that every show in the future offers in person and video options.
---
All the latest on Orange County from Orange County.
Get our free TimesOC newsletter.
You may occasionally receive promotional content from the Daily Pilot.