Angels to stay in Anaheim until at least 2050 after approval of controversial land deal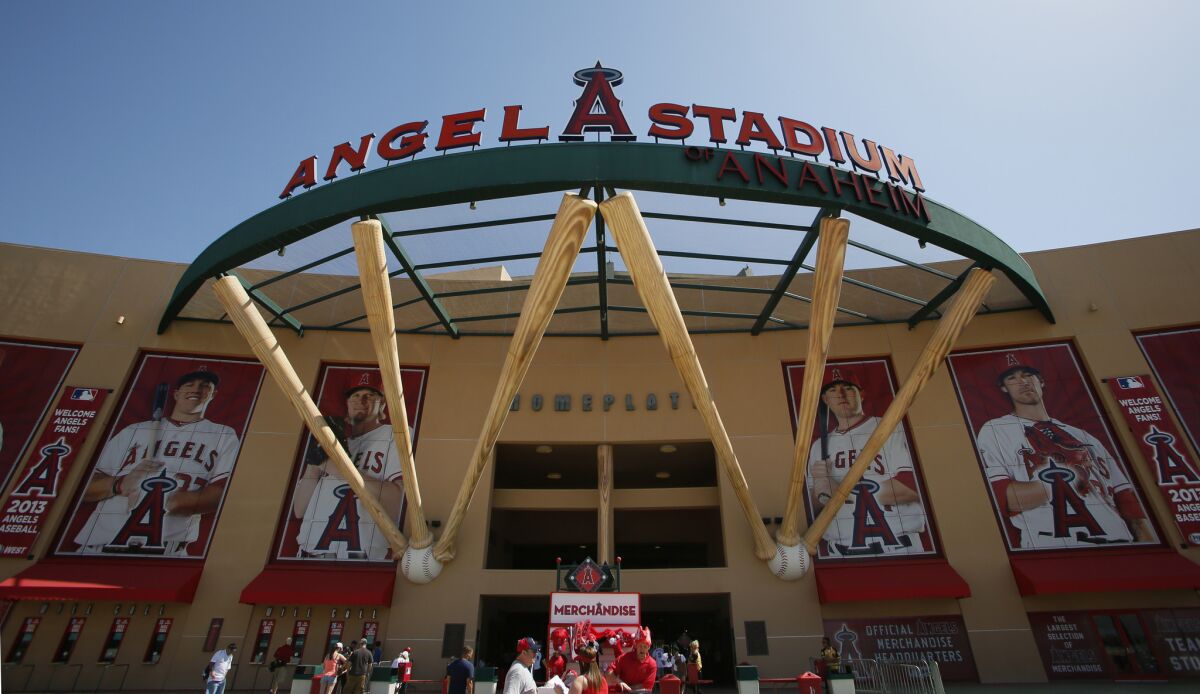 The Anaheim City Council moved forward early Wednesday morning with a controversial deal to keep the Los Angeles Angels of Anaheim in the city until at least 2050.
After a contentious, hours-long council meeting that went past 1 a.m., the council voted 5-2 to approve a series of agreements to sell 150 acres and Angel Stadium to team owner Arte Moreno's new company SRB Management for $150 million in cash.
The deal also includes about $170 million of "community benefits credits" for 466 affordable housing units and a seven-acre park.
The deal was originally tagged at $325 million before the city subtracted $5 million to retain some of the land for an existing water well and a planned fire station.
The deal includes options for the team to renew the agreement through 2075.
There will be a second reading of the deal at the council's next meeting. The sale likely won't be finalized until late 2021 or early 2022.
Healthcare workers and public officials want people to get their flu shots now. The arrival of flu season could have the healthcare industry battling two viruses at the same time.
Mayor Harry Sidhu said the deal was a "major victory" for Anaheim. Keeping the Angels in Anaheim was a crucial part of Sidhu's mayoral campaign in 2018.
"We have made history," Sidhu said in a statement after the meeting. "What have been far too many years of uncertainty and inaction in Anaheim are now over.
"We have secured baseball while freeing our city from the costs of stadium ownership. Our residents will benefit for years to come as valuable, underutilized land gives way to a stadium area we can all be proud of."
Council members Jose Moreno and Denise Barnes cast the only dissenting votes. Both took umbrage with various parts of the deal, including that the price tag was too low.
Moreno voiced opposition to Sidhu's suggestion that the deal represents fair market value for the land.
"When we say its market value was $320 million, we don't know that because we did not open it up for the market," Moreno said. "We opened it up to one bidder, and that was Arte Moreno."
Jose Moreno pointed out a city-commissioned appraisal that valued the site around $500 million if the city tore down the stadium.
Moreno also questioned the community benefits portion of the deal, claiming that the 466 affordable housing units are meager compared to the city's need.
"It's being highlighted how much housing is coming in for us here but it's not necessarily at the level we need right now," Moreno said.
Supporters of the deal have pointed to the 45,000 permanent jobs and 30,000 temporary construction jobs that will benefit Anaheim as the area is developed out into the planned Platinum Triangle, which will include shops, parks, homes and restaurants.
But Moreno said those jobs will largely just have low-paying wages, creating further economic strain on the residents of Anaheim.
"What I'm hearing from Council member Moreno is a lot of pavement pounding and a lot of yelling," Councilman Trevor O'Neil said.
Barnes at one point during the meeting proposed to table the council discussion until an in-person public workshop could be held to ensure residents' voices are heard. The city held three online town halls earlier this month.
The motion failed 2-4, with Moreno in support and Councilman Jordan Brandman abstaining.
Moreno eventually proposed to continue the item. He also hoped to have a public workshop before the final decision.
That, too, failed with the same vote as Barnes' proposal.
"I have read through many emails since Friday and the public has not had their right to be heard," Barnes said. "I think it's egregious that we are not discussing that first and foremost."
Moreno echoed those sentiments.
Orange County officials initially hoped that the county would be able to move into the next tier on Tuesday, but the average daily rate for new COVID-19 cases changed.
"I don't understand why we are rushing this deal," Moreno said. "The Angels are here until 2029, there is no longer a pressing urgent deadline … My goodness, we are in the middle of a pandemic and we are in the middle of discussing and being presented a very complex land deal with a lot of components to it."
The more than 250 public comments submitted by email were not read aloud consistent with how the city has run council meetings since March. Comments were provided to the council members and can be viewed online.
Barnes spent many of her turns speaking by reading aloud comments from the public.
The land deal has been mired in controversy for months.
Former Anaheim mayors Tom Daly and Tom Tait have been outspoken in their criticism of the deal.
The People's Homeless Task Force filed a lawsuit in February against the city, claiming that the city has violated state transparency laws by holding meetings behind closed doors and failing to provide negotiating records.
An Orange County Superior Court Judge denied the city's request earlier this month to throw out parts of the lawsuit.
---
All the latest on Orange County from Orange County.
Get our free TimesOC newsletter.
You may occasionally receive promotional content from the Daily Pilot.