Chamber Music OC looks toward future with a new venue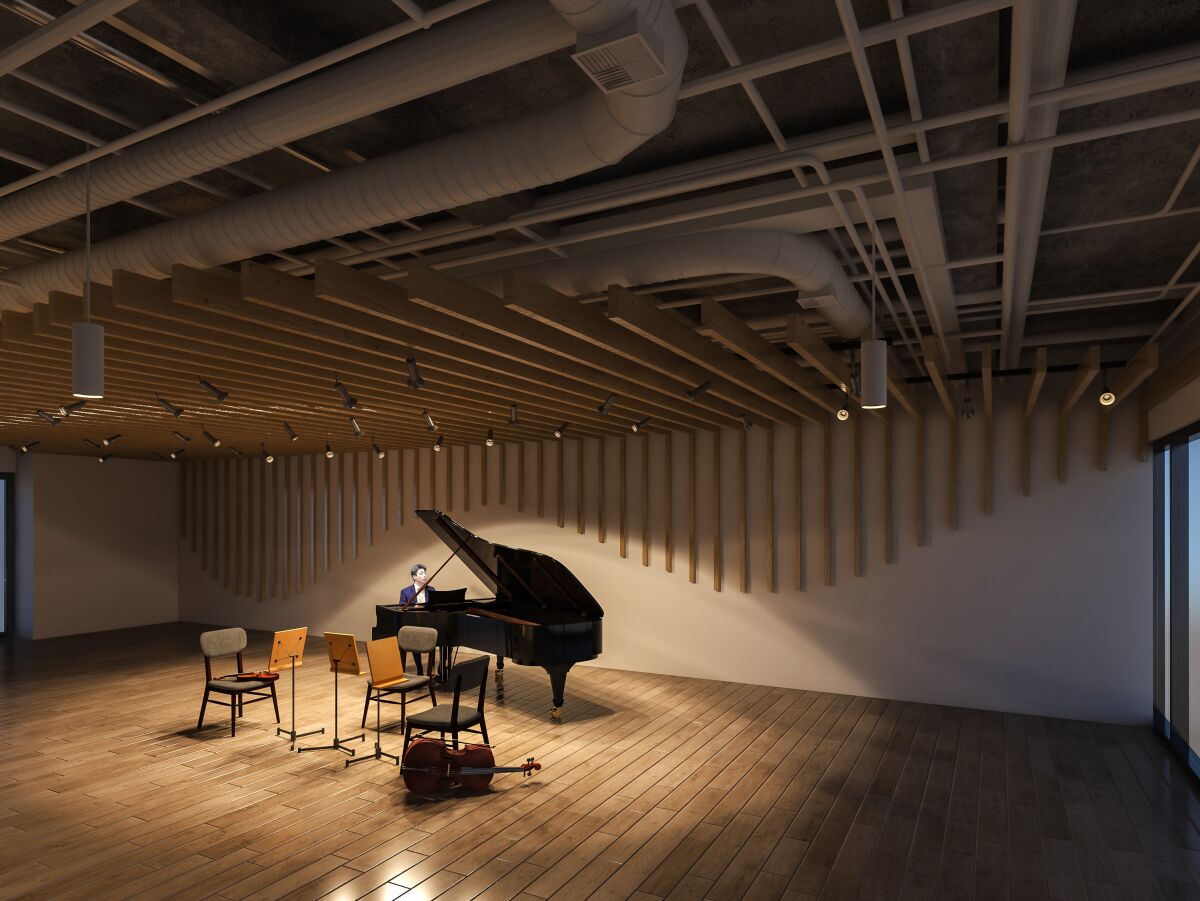 Gatherings or no gatherings, Chamber Music OC is keeping classical music going in Orange County.
The small chamber music organization bought a 4,000-square-foot property in August and construction is underway to turn it into a state-of-the-art facility. The Lake Forest headquarters will house the organization's performance space with optimized acoustics and 4k-resolution cameras enabling events to be live-streamed, a recording studio, multiple sound-proof practice rooms, administrative offices for staff, a common area and a kitchenette.
The property needed to be completely renovated and gutted. Since people in most cities aren't allowed to meet in person, cofounder and pianist Kevin Kwan Loucks said now is the best time for construction, which he estimates will be completed in early January.
"January is just a soft date that we established in the fall. It's flexible. We're taking our cues from health officials countywide and academia with some of our previous partners like UC Irvine and Chapman," Loucks said. "In case this drags on for a long time, we're planning on having virtual concerts with multiple camera angles and a director working the cameras. We know that it'll feel professional, like you're there in a lot of ways."
Chamber Music OC staff planned the venue as a space catering to the O.C. community — specifically artists, local organizations, classical music audiences and students who participate in educational programming. When city and health officials allow, the performance lineup will include guest musicians and a series of collaborations with dancers and spoken word artists.
"In large arts organizations, it can be really tough to start things that are new," Loucks said. "But I think that's ... the beauty and the benefit of being small and scrappy. You can implement things quickly and afford to take the risk."
Staff found support for the arts after the launch of their first capital campaign called Boundless. Loucks said they funded 75% of their $125,000 goal in two months. But they've also changed their business model to financially support themselves through educational programming and (in the future) rental opportunities of the venue.
The organization started in 2012 when Loucks and violinist Iryna Krechkovsky (who are married to each other) moved from New York to Irvine. The goal was to highlight chamber music appreciation and education. Staff, which includes cellist Ross Gasworth, who serves as director of artistic planning, and director of operations April Kim, who started out as an intern, transformed their free young artist program into a pre-college program with a pay model.
Although the coronavirus pandemic ended the concert season, it didn't put a stop to the pre-college program. In fact, this year was the organization's most successful recruitment cycle drawing in local kids and those living farther in Temecula and San Diego.
The curriculum is focused on portfolio development, essay editing, audition tapes and counseling through the college application process. In the past, the students have been accepted into music programs at Juilliard, Harvard, Stanford and Princeton.
"In a weird sense, this virtual world has put us all even closer together and access to musicians became even easier," Krechkovsky said.
They've recently partnered with Laguna Beach Live! and the Susi Q Senior Center to bring pre-college program students to perform for seniors through monthly Zoom sessions.
"It's an incredible opportunity for our young artists to engage with the senior members," said Kim, who helps facilitate the Zoom performances. "Our new headquarters will be a perfect place to gather different organizations just like this and bring our community partners to collaborate with."
Another new program launched this year includes visual artist-in-residence, which highlights an artist every year. For 2020-21, they've selected Seung Yoon Choi, a Korean abstract painter, and commissioned him to create an original work inspired by "If Beethoven Danced Merengue" written by Cristina Spinei and performed by Trio Céleste (the chamber music ensemble composed of Gasworth, Krechkovsky and Loucks).
"We're motivated to impart some of our knowledge to the next generation of musicians and really want to ensure that this art continues," Krechkovsky said. "Whether you're going to pursue it as a future career or not, what it can do and the value of the arts — we've seen it, we believe it and I think we're also committed to making sure we'll continue to do what we need to keep it alive."
All the latest on Orange County from Orange County.
Get our free TimesOC newsletter.
You may occasionally receive promotional content from the Daily Pilot.