Hidden haunts: A restaurant critic explores 3 recently opened Orange County ghost kitchens
Scroll through DoorDash, Grubhub and Postmates, and you've surely seen a ghost — a ghost kitchen, that is. Designed for online ordering and delivery, ghost kitchens operate from rented spots at shared commercial spaces such as Smart Kitchens in Irvine and the Hood Kitchen Space in Costa Mesa.
On the apps, you can sometimes tell the ghosts from the rest — they're usually that new concept you've never heard of. Often the people behind them are aspiring restaurateurs who use the lower investment costs of these spaces to test their ideas and themselves. But since the pandemic hit, you're more likely to see the other type of ghost kitchens, which aren't really "ghosts" at all.
These are brick-and-mortar restaurant chains who list themselves under a different name in the hopes of "catfishing" you into ordering rearrangements of their existing menu items. To them it's an easy way to rebrand and multiply their presence on the delivery sites. But for me, the ruse is, at the very least, disingenuous.
So I decided to hunt down some real "ghosts." And to make sure they weren't just figments of a corporate brand manager's imagination, I would cut out the delivery middleman and pick up the orders myself.
What follows are accounts of my experiences at three of Orange County's newest ghost kitchens and the stories behind them. They include the first foray into entrepreneurship for an amateur Cajun seafood cook, a seasoned Korean food executive looking to start his own brand, and an established Central American fried chicken chain that has discovered an opportunity to penetrate more markets.
POLLO CAMPERO
1560 S. Lewis St., Anaheim, CA, 92805
https://us.campero.com/
With over 400 worldwide locations, Pollo Campero is, without question, the most dominant fast-food brand to come out of Guatemala. You might have read the recent Los Angeles Times article about how the aroma of Pollo Campero's fried chickens now fills the cabins of resumed U.S.-bound flights from Central America as travelers bring back a taste of home. It speaks to the brand's popularity that this happens even though there are already at least 10 Pollo Campero brick-and-mortar locations in the L.A. area. Orange County, in the meantime, had none.
This changed last month with the opening of Pollo Campero's ghost kitchen in Anaheim. It operates out of a 200-square foot space rented from CloudKitchens by Uber's Travis Kalanick. Officially called a "digital kitchen," this is the first of 10 "ghosts" Pollo Campero plans to open throughout the country this year.
They are making the investment after seeing their online orders and delivery increase by more than 300% last year. The company is betting this trend continues, even as the pandemic subsides.
Campero USA's Managing Director & COO Luis Javier Rodas puts it this way: "The digital kitchen model, with a smaller footprint and efficient cost structure, has enormous potential to help us further penetrate markets and bring our chicken to more consumers in a convenient way."
If you do decide to pick up your online order at Pollo Campero's Anaheim ghost kitchen like I did, trust where your GPS takes you. Forge ahead even as you end up inside a block of industrial warehouses. Then, look for the dancing plastic tube man in front of the warehouse that says "Food Pick-up & Takeout" in large block letters.
Enter through the door beneath those words and walk toward the opening at the end of an empty hallway. Because a handful of other concepts operate here, tell the waiting attendant your name and that you have an order from Pollo Campero.
Finally, rush home to eat the chicken, which comes either grilled or fried in an addictive thin coating of batter spiced with a flavor that is unique to this chicken. Enjoy sides such as spears of fried yucca that eat like gigantic fries, a corn salad bursting with the color of confetti and a creamy bowl of beans that begs to be consumed next to a campfire.
Then, when you bask in the afterglow of the meal you just ate, be thankful that you didn't have to drive to any of Pollo Campero's L.A. branches, let alone LAX to pick up someone who has brought it back from Central America.
THE GOBAN
17951 Sky Park Circle Unit F, Irvine, CA 92614
http://thegobanbowl.com/
One of the owners behind the month-old the Goban is a gentleman named Joe. Though Joe declined to give his last name for this story, he did share that, for the last decade, he worked for a Korean restaurant chain that had branches in the U.S.
Then COVID-19 hit.
As the effects of the lockdowns rippled through the industry, the company — which Joe also declined to name — closed nearly all of its American stores. It was then that Joe left to create his own brand.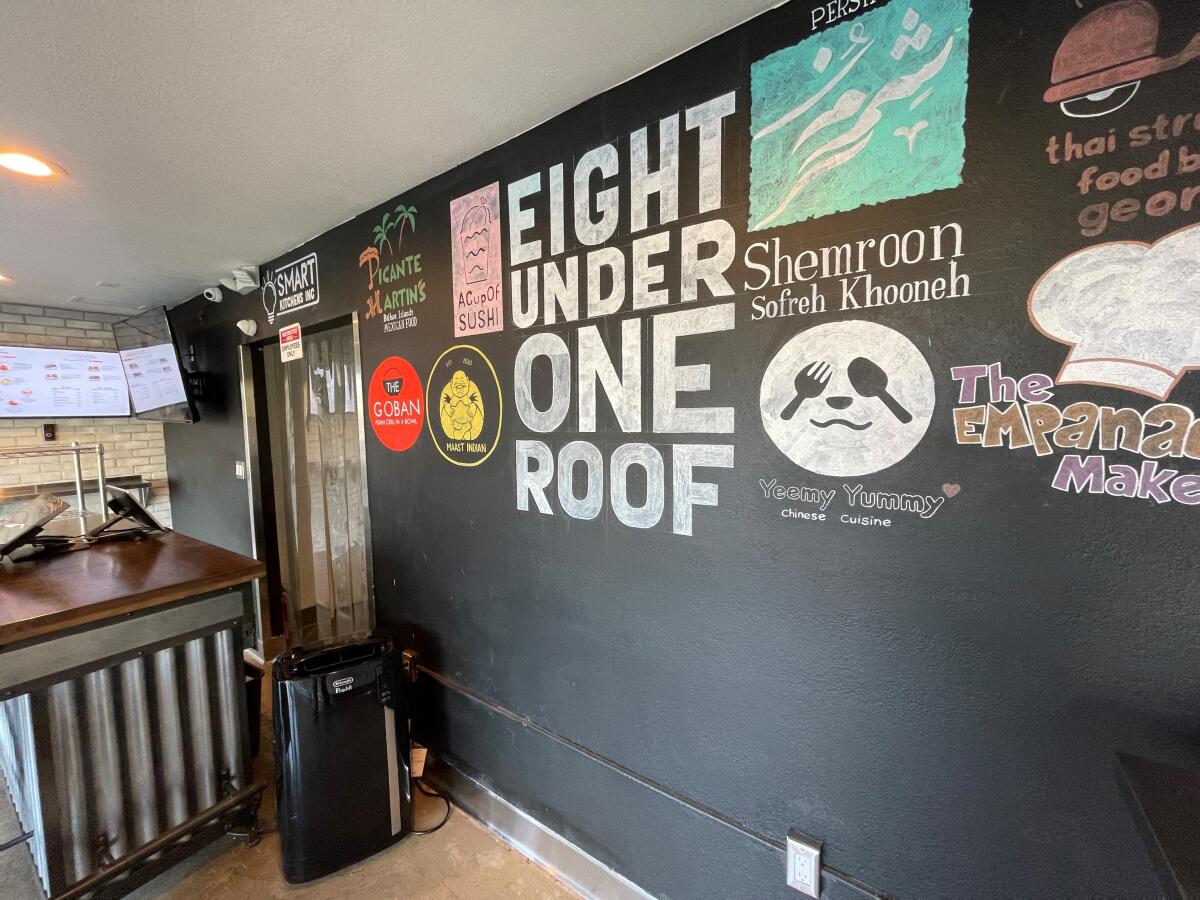 To test out his experience and the market without taking on too much risk, he decided to start with two ghost kitchens. Operating as the Goban, one cooks out of CloudKitchens' Long Beach branch and the other, Smart Kitchens in Irvine.
Being a tenant at these two different ghost kitchen spaces has allowed him to see their differences. But the common thread is the attractive low start-up costs and short-term leases that last between six months to a year. Rent, which includes utilities and cleaning fees, and the willingness of his landlords to help out with marketing and permits required by the city, have also made things easier for first timers.
TimesOC reveals where to get the best bento boxes — and what to look for inside them — in Orange County.
So far, the arrangement has been working well for Joe. And with no dishwashers, no bartenders, no manager, no front-of-the-house staff and no cashier, it leaves his skeleton crew of three to dedicate themselves solely to the preparation of the food.
He notes that this laser-focus on cooking and packaging seems to have resonated. In the few short weeks since the Goban opened, Joe has already seen repeat customers for his Korean bentos. The meals are sealed inside attractive paper boxes that look like gifts waiting to be unwrapped. And in the Goban's Supreme Combo Box, there's a farm animal sampler with strips of grilled beef called bulgogi, breaded planks of deep-fried pork called katsu, and easy-to-eat white-meat morsels of Korean fried chicken shellacked in a sweet and spicy glaze.
And because Smart Kitchens is centrally located within one of the densest business districts in Irvine, Joe has noticed that office park workers are using Smart Kitchens not for delivery but as a convenient takeout spot with online ordering. They approach it as though it's a veritable food hall or mall food court, sans the hall or the mall.
BUCK'S CRAB TRAP KITCHEN
350 Clinton St. Suite A, Costa Mesa, CA 92626
https://www.instagram.com/buckscrabtrap/
Before you order from Buck's Crab Trap Kitchen, stick a few beers in the ice chest. Though you can only do delivery or pick-up, this is the kind of food you'd typically eat in a nautically themed Cajun seafood restaurant with a lobster bib around your neck, a small wooden mallet in one fist and a sweaty bottle of cold lager in the other.
Barely a month old, the concept is already winning repeat customers on the delivery apps. But the story behind this newest tenant of the Hood Kitchen Space started a year ago when, like everything else in the world, owner Roosevelt Buck III's life changed. He lost his job coaching football at Citrus College early in the pandemic because, well, you can't coach football over Zoom.
With options drying up, Buck decided to move his wife and young son back to his hometown of St. Louis after he secured another coaching job at a high school there. But soon COVID-19 restrictions ended that gig too. It was then that he resolved to follow the entrepreneurial footsteps of his father and grandfather, who both own barber shops: He was going to start his own business.
He opened the first iteration of Buck's "ghost kitchen" with money from his own pocket. Though he had zero restaurant experience, Buck had been cooking seafood for family events for a decade. And in St. Louis, where COVID-19 curfews had forced traditional restaurants to close early, he saw an unmet demand. He would cook starting from 5 p.m. to 5 a.m. And with the help of his brother, they delivered the food themselves all night long to customers all over the city.
Seeing that her husband's spin on Cajun seafood was a hit, Buck's wife convinced him that they can make Buck's Crab Trap Kitchen work in California. So, they moved back to the Golden State and secured a spot they currently rent at the Hood in Costa Mesa. Though he isn't doing door-to-door delivery himself anymore, if you do pick up, it will be Buck who hands you the food. He and his wife are the only employees.
In the future he wants to hire help, expand to a food truck and hopefully open the brick-and-mortar restaurant that you picture in your mind when you hear the name Buck's Crab Trap Kitchen. But for now, Buck considers it a blessing that he has this opportunity at the Hood. He enjoys the family environment there and notes that he and his fellow tenants have become each other's customers after sampling each other's food.
And through online ordering and on-site pick-up, you can sample it too. Though it's unnecessary to do so, you can dip his deep-fried lobster bites — Cajun-spiced morsels of battered decadence — into the garlic-packed melted butter sauce they come with. Or you can taste some of his unshelled deep fried king crab legs, which are unlike anything offered by the Boiling or Kickin' Crabs.
Edwin Goei is a contributor to TimesOC.
All the latest on Orange County from Orange County.
Get our free TimesOC newsletter.
You may occasionally receive promotional content from the Daily Pilot.