More than pho: Discover 10 dishes in Little Saigon beyond pho and banh mi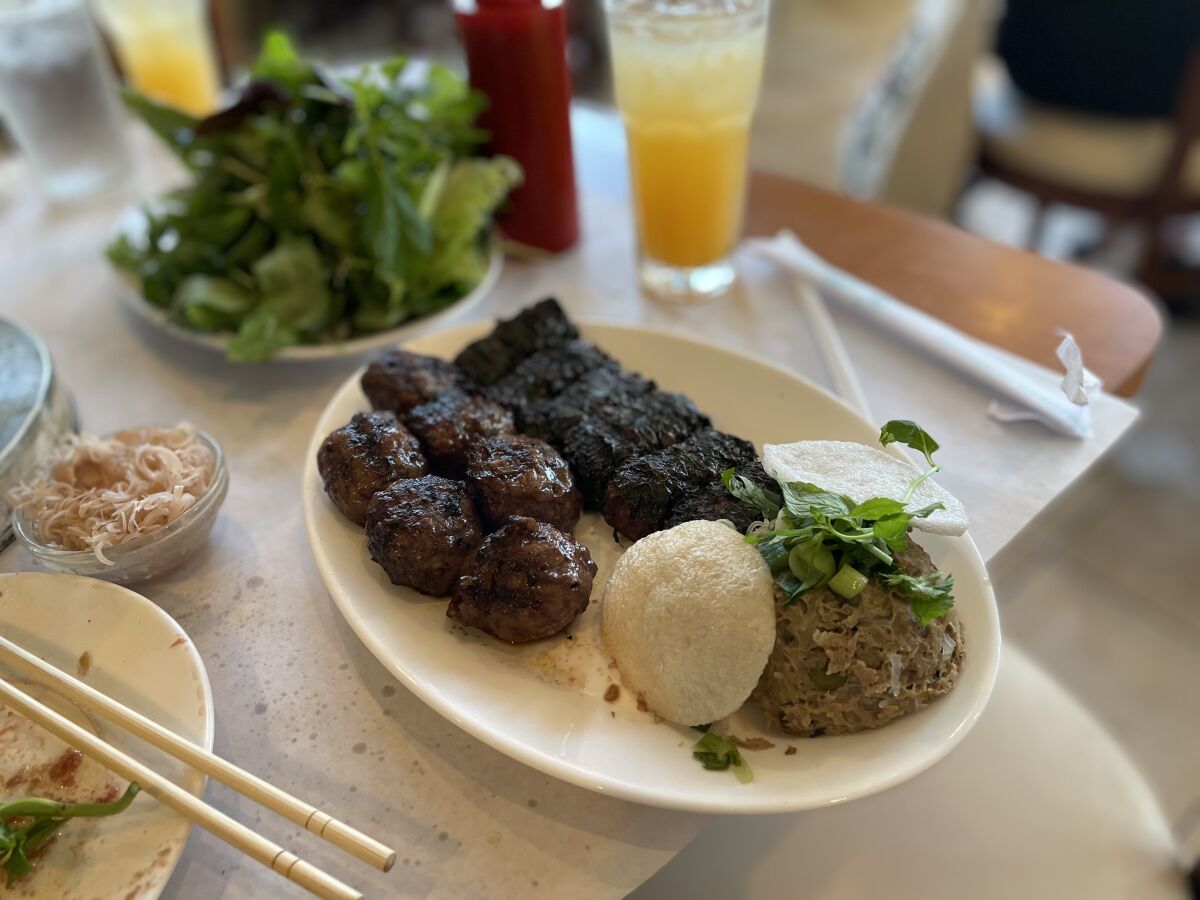 Orange County's Little Saigon, which boasts the largest Vietnamese community outside of Vietnam, has so much variety and depth in its food offerings that it would be a shame if all you knew to order were pho and banh mi. So let this article be a guide from which you can start branching out with 10 lesser-known Vietnamese dishes and where to get them.
Banh Bao
What is it? Banh baos are the Vietnamese versions of those meat-stuffed Chinese steamed buns that pervade Sunday morning dim sum carts. In Little Saigon, they're often found wrapped in cellophane next to the register at food-to-go or banh mi shops. The most common banh bao flavor has a filling made of pork mousse embedded with a bit of hardboiled egg and a piece of Chinese sausage.
Where to get it? Yummy Banh Bao, 15041 Moran St. Unit 106, Westminster.
On most days, Yummy Banh Bao has a constant queue of customers. As it's just a shop dedicated to producing fresh steamed buns until 6 p.m., the line moves quickly. The best deal is to get a box of nine baos rather than pay by the piece. The combination bao is the most popular. The xa xiu, filled with Chinese barbecue pork, is as good as those found at dim sum. For a splurge, opt for the one with the salted duck egg, which substitutes the regular egg in the combo for the more decadent yolk. But be warned: You won't be able to settle for the regular combo filling again.
Banh Beo
What is it? Banh beo, a delicacy from central Vietnam, is made from rice flour batter poured into single-serving saucers, which are then steamed and sprinkled with wilted scallions and pulverized shrimp. Before you dig in with a teaspoon, you splash on a few drops of its special sauce, then scoop out the contents as you would a cup of dessert gelatin. The texture is not unlike rice noodle but with a more pleasurable chew and clean finish. Since it's typically served eight to an order, it's perfect for sharing around the table, but there's no rule against consuming an entire tray by yourself.
Where to get it? Quan Hop, 15640 Brookhurst St., Westminster.
Like its more well-appointed big sister, Quan Hy, the more casual cafe-style eatery Quan Hop revels in the cuisine of Hue. But despite the more relaxed setting, it does not slack on presentation. The banh beo tray served here looks as elegant as a tray of French hors d'oeuvres.
Banh Cuon
What is it? Banh cuon is like those delicate rice-noodle rolls at dim sum called cheung fun. Both are made by spreading rice flour batter on a piece of cloth stretched tightly over boiling water, steaming it and then wrapping the product around fillings. Since banh cuon is as versatile as a tortilla, you'll see many different iterations of it in a variety of dishes. A typical application has the sheets enveloping ground pork and minced wood ear mushroom. It is then eaten with a sweet fish sauce dip.
Where to get it? Banh Cuon Luu Luyen, 14351 N. Euclid St. #1J, Garden Grove.
Perhaps more than any other banh cuon specialist in Little Saigon, Banh Cuon Luu Luyen is favored among enthusiasts who know where it's hidden in a maze of similar-looking storefronts. It offers its banh cuon in a myriad of ways: everything from plain to elaborate plates topped with Vietnamese bologna, bean sprouts, egg rolls, and fried tofu. But the best bite of all is the No. 11, banh cuon thit nuong, where the delicate sheets are bundled tight around lemongrass-scented grilled pork and vegetables. You ladle the ambrosial dipping sauce from the mason jar they give into your own bowl and then dip, eat and repeat.
Banh Xeo
What is it? Banh xeo takes its name from the hissing sound — "Xeoooo!" — when the batter of rice flour, coconut milk and turmeric hits the hot oil and is then swirled around to coat the surface of the frying pan. Stir-fried bean sprouts, pieces of pork, shrimp and wilted onion are thrown in and the now-crispy disc is folded over like a clamshell. Once this cross between a French crêpe and a Venezuelan arepa arrives at your table looking like an overstuffed omelet, the race to consume it while it's still hot and crispy begins. You tear off pieces of it, starting with the crunchy and lacy parts. You tuck it between lettuce and herbs, then dunk the impromptu wraps in the sweet-and-sour fish sauce and stuff it in your mouth. You repeat the process again before the sogginess sets in.
Where to get it? Van's Restaurant, 14122 Brookhurst St., Garden Grove.
Van's Restaurant isn't the only place in Little Saigon where you can get banh xeo. But just because there are other delis that offer pastrami doesn't mean you shouldn't keep going to Canter's. The same rule applies to Van's. It's so old-school, the tables are worn down from a thousand elbows. And if you get there during busy times when the busboys can't keep up with the demand for tables, you'll probably step on a few discarded herb stems and bits of torn napkin from those who ate their banh xeo here before you.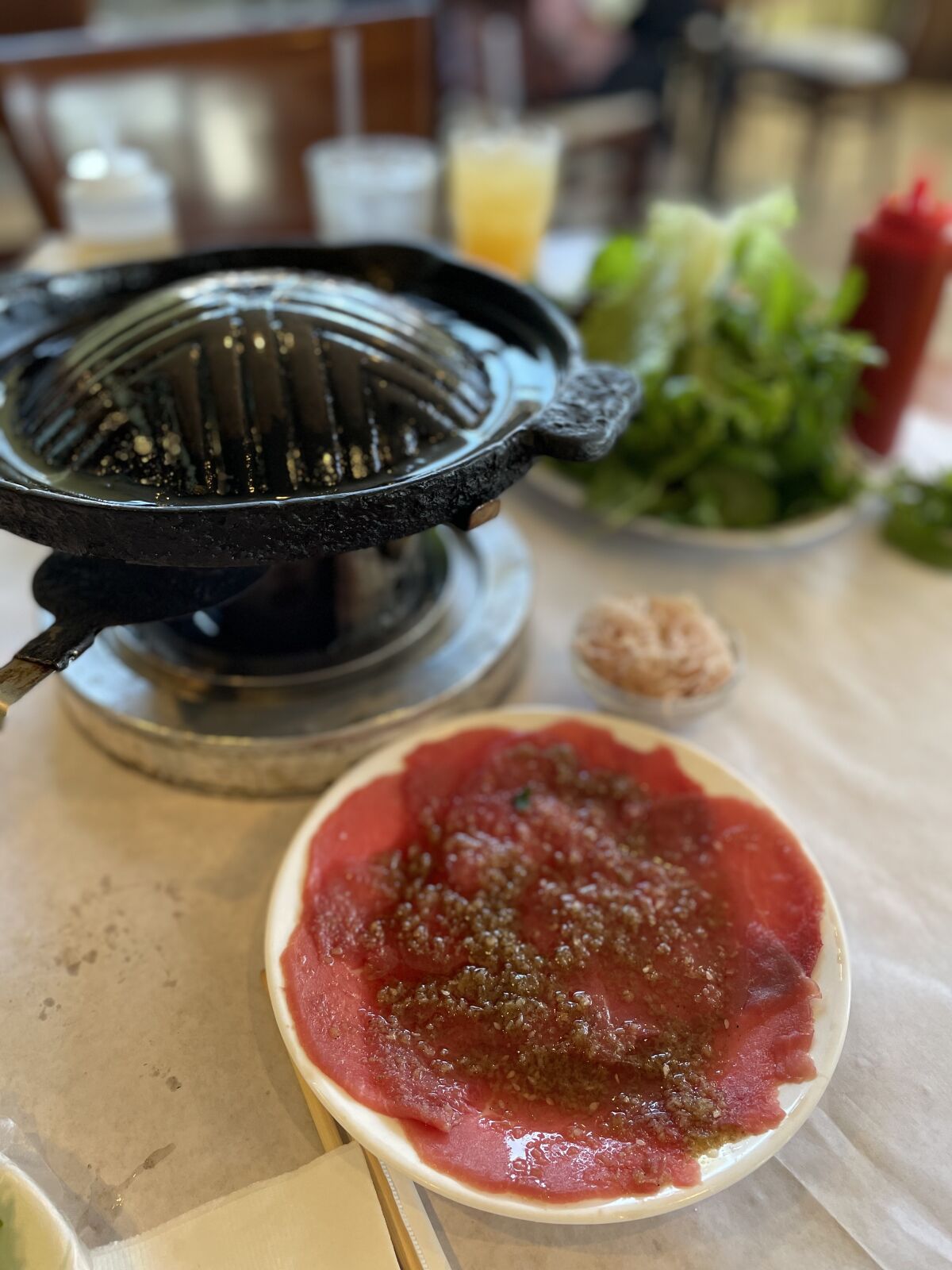 Bo 7 Mon
What is it? "Bo 7 mon" literally translates to "7 beef dishes," but it is, in fact, a multicourse beef tasting menu designed to showcase nearly every conceivable way of enjoying beef. It starts with a fondue where you swish paper-thin slices of filet mignon in a Sterno-fueled pot of vinegar broth. Next, a chilled salad with beef and shrimp arrives, followed by bo nuong vi, gossamer petals of beef you grill tableside atop a heated iron dome. You then tuck the cooked pieces inside wetted discs of rice paper with veggies and roll them into spring rolls. After that, you're offered the next three courses of beef in bite-sized morsels: bo nuong mo chai, seasoned spheres of ground beef encased in caul fat; bo nuong la lop, stubby meat stogies rolled inside lalot leaves; and bo cha dum, a steamed meat cake studded with peas that's aggressively seasoned with pepper. The beef bender winds down with a light bowl of soup featuring alphabet pasta, rice, cilantro and bits of more beef.
Where to get it? Thien An, 13518 Harbor Blvd. A6, Garden Grove.
Thien An is a special place to celebrate a special occasion with a special meal like bo 7 mon. It has been the go-to destination for this bovine feast for decades and will be for decades to come. Though there are two Thien An locations, the one in Garden Grove is better than the one in Westminster.
Cha Ca Thang Long
What is it? Originating from Hanoi, cha ca thang long features delicate pieces of seared whitefish yellowed by turmeric that's served with fistfuls of dill and onions atop a sizzling hot plate. You eat the hot components with the cold bun noodles, tearing herb leaves and dribbling everything with mam ruoc cham, a stinky, pinkish sauce made from fermented shrimp paste, which animates the dish.
Where to get it? Canton Restaurant, 8550 Westminster Blvd., Westminster.
You only need to order one thing and one thing only at Canton Restaurant: the cha ca thang long. Not just because it's the best thing the restaurant does, but also because the elderly waiters who work here speak little English. Communication is a real challenge. Luckily you need only point at the menu to order the dish. It is the first of three featured house specialties.
Cha Nuong Da Gion
What is it? There may be no Vietnamese dish more elaborate than cha nuong da gion, baked whole catfish. No matter where you get it in Little Saigon, the meal will be one of the most expensive things you'll eat in an area known for cheap meals. Also, more than any other dish on this list, you need at least three additional souls to tackle it, even if you opt for the smallest catfish. Baked catfish is meant to be a shared experience. The fish comes on a platter not unlike a Thanksgiving turkey. When you dig in, you scoop out equal portions of the shattering skin, the crispy shallots, green onions and roasted peanuts, spooning it into a round of rice paper you should have already softened by soaking it in the supplied hot water trough. Then you pile on some herbs, some soft bun noodles, maybe a few pickled carrots and daikon before rolling it up into a burrito. Dunk it into the very pungent sauce made with fermented anchovy, crushed pineapples, sugar and lemon juice.
Where to get it? Bien Hen, 14092 Magnolia St. Unit 121, Westminster.
Bien Hen serves snails, quails, frogs, goat, deer and wild boar, among others. But everyone who comes here knows you must order the baked catfish above all else. Consider yourself lucky if they haven't run out of the smallest-sized catfish. But bring a few extra friends or family members in case the large catfish is the only option.
Com Tam
What is it? Com tam refers to the grains of rice that have shattered during the threshing process. In the old days, they were regarded as subpar and sold for cheap. But as it turns out, com tam was the good stuff. When these smaller grains were cooked, they attained a more interesting chew than the whole grain and a mouthfeel reminiscent of couscous. Now there are restaurants that are centered around broken rice. A typical com tam meal is served with an array of proteins, sometimes as many as 10 on one plate. Next to them will always be some sweetened fish sauce to douse, freshly cut raw vegetables to nibble and a bowl of broth to sip.
Where to get it? Com Tam Tran Quy Cap, 16175 Harbor Blvd., Fountain Valley.
Com Tam Tran Quy Cap is far enough away from Bolsa Street that it's immune to the bustle of Little Saigon proper. Parking in the area is a breeze. But the com tam combo plates here are as massive as you'd find anywhere. One portion can easily feed two ravenous people. Every protein is cooked to exacting standards, but their tau hu ky is a notch above all others. It's made of shrimp that's mixed to a light-as-mousse paste, wrapped in flaky-crisp tofu skin and sliced to look like a golden catcher's mitt.
Hu Tieu Nam Vang
What is it? Originating in China's Guangdong province and filtered through Phnom Penh, hu tieu nam vang is a noodle dish whose distinguishing factor is that there's no distinguishing factor. It can be had with rice noodles, yellow egg noodles or chewy clear noodles made from tapioca — or combinations of all the above. Your choice of noodles can then be either submerged in a clear pork-based soup or served "dry," dressed in a flavorful soy-based sauce. Toppings also vary wildly but can include ground pork, sliced pork, pork cracklings, shrimp and fishcake. Any restaurant serving hu tieu nam vang will also go for broke on the condiments offered. Most pride themselves on a signature chili paste, a hellish concoction of crushed dried chilies swimming in oil as red as pepperoni grease. But there will also be pickled garlic, pickled green peppers, hoisin, soy sauce, fish sauce and white pepper — all paints to use on the blank canvas of noodle and soup. Hu tieu nam vang is also not usually available at dinner time. Most places start serving it for breakfast and close up shop by 4 p.m.
Where to get it? Hu Tieu De Nhat, 9972 Garden Grove Blvd Ste. F, Garden Grove.
Hu Tieu De Nhat is technically in Garden Grove's Koreatown, but it brings in its loyal Vietnamese customers from all over O.C. regardless. It distinguishes itself from other hu tieu joints by serving its noodles in metal bowls, but what you'll notice more than anything is the quality of the proteins, especially the fishcake, which feels rustic and homemade.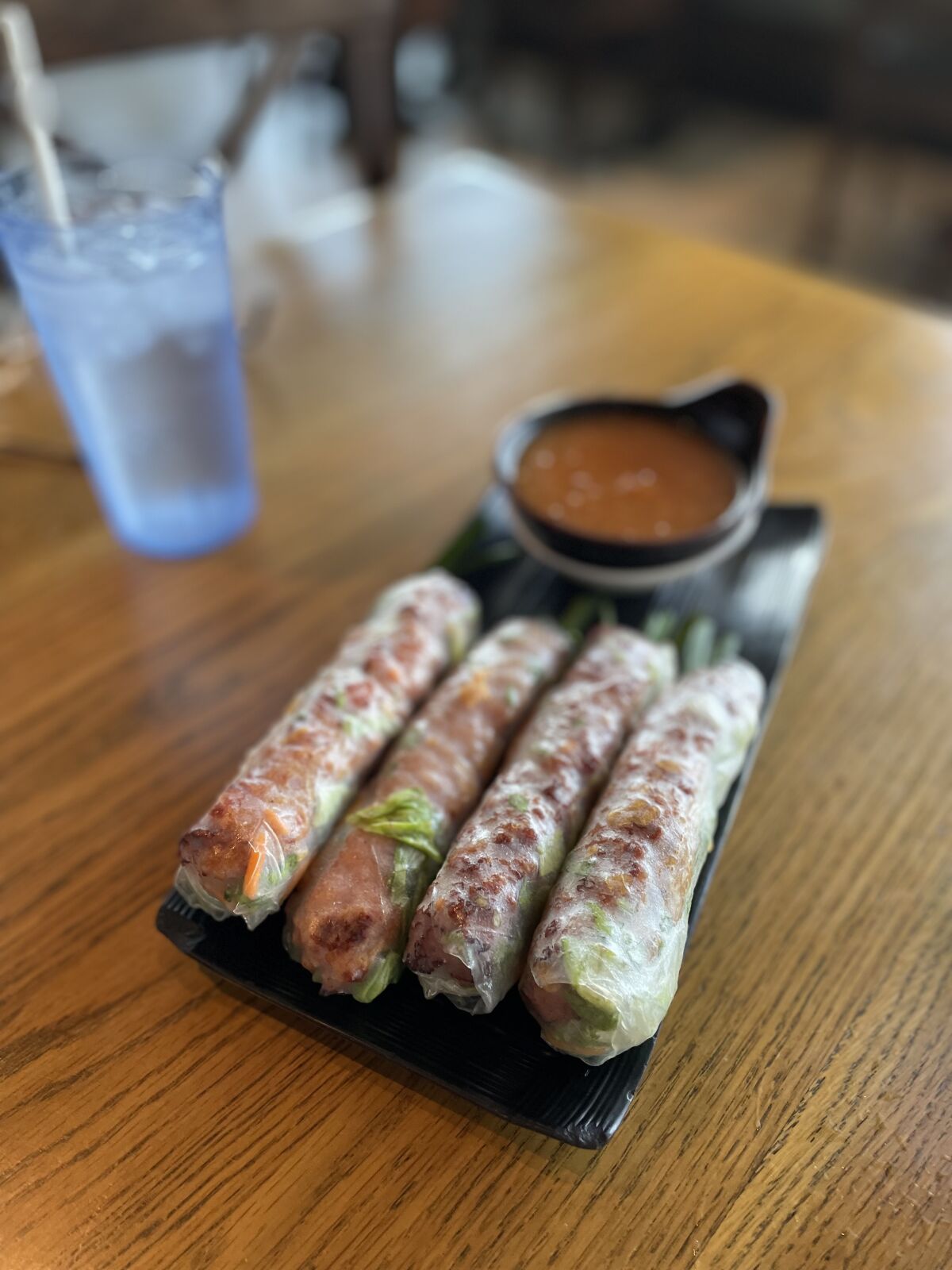 Nem Nuong Cuon
What is it? Nem nuong cuon is the ultimate spring roll. Inside a tightly wound cylinder of rice paper hides lettuce, crunchy egg roll skin, cucumber, chives, and nem nuong, a chewy-firm sausage made of pork or shrimp that isn't quite a Slim-Jim and not really SPAM but something in between. The roll is meant to be dunked into a warm, orange-colored dip that has a consistency between sweet-and-sour sauce and glue. You want every bite to have sauce sticking to it.
Where to get it? Brodard, 16105 Brookhurst St., Fountain Valley.
Plenty of restaurants offer nem nuong cuon, but the one that invented the dish, Brodard, holds the real secret to its success: the dipping sauce. No other purveyor has come close to deciphering the closely guarded recipe no matter how hard they try to reverse-engineer it. The sauce for sure has garlic and ground pork. The rest is best left to the imagination or written off as magic.
Food writer Edwin Goei is a contributor to TimesOC.
---
All the latest on Orange County from Orange County.
Get our free TimesOC newsletter.
You may occasionally receive promotional content from the Daily Pilot.