'Broadway Divas' serve off-Broadway realness at Segerstrom
There is "off Broadway" and then there is "off off off off off Broadway."
On Feb. 19, Segerstrom Center for the Arts presents its first drag brunch, "Broadway Divas," hosted by Miss Clair Voyance, who bills herself as "everyone's favorite off off off off off Broadway star."
With a bachelor of fine arts in musical theater, Voyance is no stranger to the arts. She is also no stranger to Segerstrom for that matter.
"This is my third year now doing events at Segerstrom," said Voyance. "We've been doing Halloween shows there alongside their 'Rocky Horror Picture Show' screening the last two years."
Voyance is an Orange County-based drag queen who has performed as Elphaba from "Wicked" and Elsa from "Frozen" and was featured in Rolling Stone for her role as Winifred Sanderson in a "Hocus Pocus" drag show.
"I have always been drawn to the arts, especially Broadway," said Voyance. "Drag has always been something that was there for me, but I never really grasped that it was something that I could do and that I could use as another expression of my love for theater and as an outlet."
As a child, Voyance was enchanted by Bette Midler as Winifred Sanderson, particularly Midler's performance of "I Put A Spell On You." Then while in college, Voyance did a production of "La Cage aux Folles," the Jean Poiret play eventually adapted into the film "The Birdcage."
"I went into drag, officially, for the first time," said Voyance. "It was kind of another moment like 'Hocus Pocus' where it was game over for me."
Voyance said the experience made her fall in love with theater all over again.
"Broadway Divas" at the Samueli Theater in Costa Mesa features an all-star drag cast that includes Leeko Rae, April Showers, Big Deelish, Mama St. Merman and Penny Dreadful who will all perform songs from the Broadway songbook in full cabaret style.
"We have an incredible cast," said Voyance. "We have five dancers, we have costumes and sets, quick changes and props and videos … the whole thing."
The audience can look forward to songs from "Funny Girl," "Hello, Dolly!" "Into the Woods," "Sweeney Todd," "Mary Poppins," "Moulin Rouge" and "Frozen."
The latter musical is currently playing at the center, and "Let it Go" is a specialty of Voyance, who said "Broadway Divas" will open with an homage to the Broadway production and national tour.
"I have always been drawn to feminine characters, especially female voices. It feels like an honor when I get to do these roles, or these songs or recreate these production numbers," Voyance said. "I feel like I get to have a little piece of that strength."
Each ticket includes a complimentary glass of champagne for guests 21 and older and a meet and greet with the performers after the show. Floor seat tickets include access to a catered brunch buffet spread that includes assorted pastries, mini quiche Lorraine, roasted breakfast potatoes and applewood smoked bacon.
The first drag brunch at Segerstrom comes at a time when legislators in a handful of states are pushing bills that would restrict or in some cases criminalize drag shows. The Segerstrom's boldness isn't a surprise to Voyance.
"I have to tell you, I have felt more cared for and safe and open and able to express myself and my craft at Segerstrom than I have at a lot of places," said Voyance.
Voyance said Segerstrom invited her in and made sure she had a seat at the table every step of the way, which as an artist, she said, is a dream come true.
"It does come at an important time, because Segerstrom is a Broadway national touring production venue and a lot of the audience that they have is not going to be going to the nightclubs on Saturday night to see a drag show," Voyance said. "Something that was important to me and why we named it and themed it as 'Broadway Divas' was to be able to bridge that gap. I wanted to be able to reach out my hand to an audience of people that may not go to a drag show on their own and have them come into my world and have fun."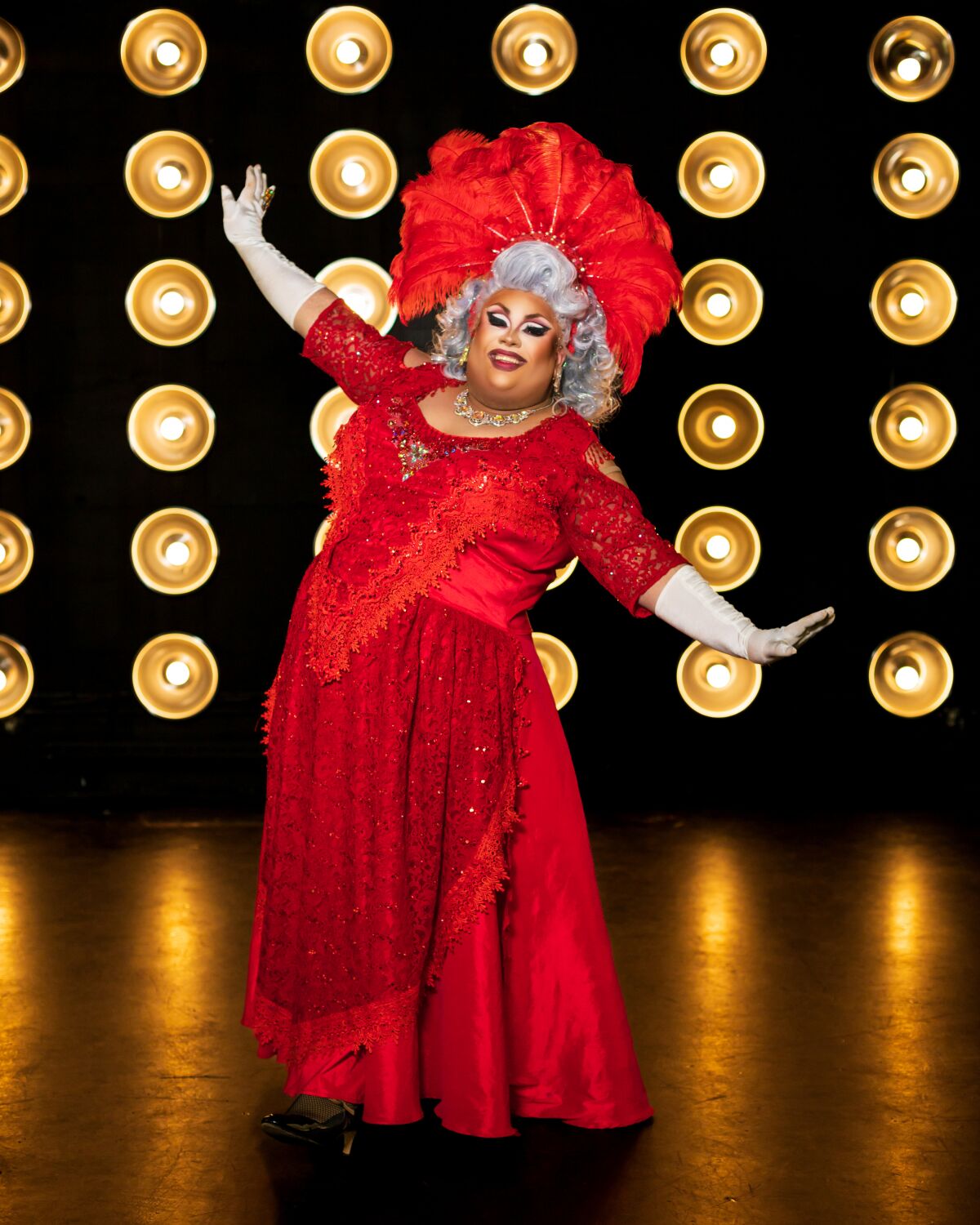 Doors open for brunch at 10:30 a.m., and check-in for loft seating opens at 11 a.m. The performance begins promptly at noon.
Voyance said she is most excited for the "Wicked" medley at the show's end, which she says will be worth the price of admission.
"Come for the costumes alone," she exclaimed. "Come to see if I can paint myself green in eight minutes!"
All the latest on Orange County from Orange County.
Get our free TimesOC newsletter.
You may occasionally receive promotional content from the Daily Pilot.